The crew and guest had one in a lifetime experience with a pod of playful Pacific White sided dolphins.
Yesterday was another magical day on our trip northward along the coast of the Baja California peninsula.
After a couple of dives in kelps, surrounded by shy and curious looking harbour seals, we were visited by a pod of Pacific White-sided dolphins.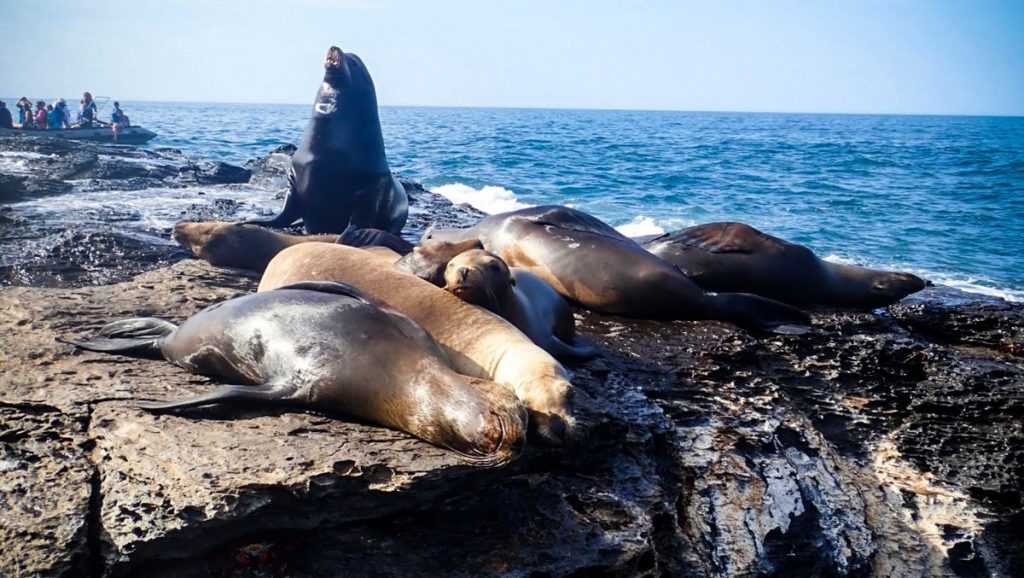 The dolphins went crazy!
These little dolphins came really close to the back deck platform and were swimming around the Belle Amie until the skiffs brought back the divers from the dive. The dolphins went crazy! They started playing in the wake of the skiffs, leaping out of the water, breaching and speeding.
The divers jumped in to join them, and instead of scaring them away, it just doubled their energy to play around! I quickly changed in the wetsuit (water is 15 Celsius!) and joined the party with the remaining guests from the boat. Now, these dolphins are the cutest dolphins I have been swimming with. They have a small, curved body, with a banana shape dorsal fin and a short snout, almost inexistent which make their face looks round.
The black and white colour pattern makes them look like pandas dolphins! These guys were the most playful pod, as soon as I dove down a few meters, they would start spinning, circling me, and keep eye contact.
I started to spin on myself, which just made the dolphin go faster and closer, I could have almost pet them.
They would have played with us for another hour, but we started to feel the bite of the cold water, so we went back on the skiffs. They followed us back to the Belle Amie, and they were still around when we lifted the anchor and after we had a fantastic dinner and a beautiful sunset. What another epic day!
Divemaster Yann, Nautilus Belle Amie