The Sea of Cortez in Mexico welcomes the unexpected! Our crew and guests had an incredible time diving both well-known locations and unexplored dives sites worth revisiting.
After far too long away from the ocean and work, we are on the way out to sea!
Our original plan was to head to our beloved Socorro, but the park did not open in time and there was a storm headed in that direction. So, we decided to sail into the Sea of Cortez Mexico.
Twenty-two eager divers and twelve even more eager crew members are heading out for the first time after several months in lock down. We have studied the guidelines of the World Health Organization and undertaken training, and have implemented many new protocols to keep guests and crew safe. We are now sterilizing continuously, fumigating all cabins with a machine out of the Ghost-Busters, separating dive groups with staggered dives 15 minutes apart, and observing social distancing while dining.
We have implemented plenty of new electrical touchless sanitizing stations and are washing our hands regularly. We also ask our guests to monitor their temperature a week before boarding the boat.
We are here finally on our way out! Our first destination was the Montaña rock for a check out dive, but the swell was big and stored up, so we dove on the sand with rocks to get our gear together. It was… a check out dive. And no more.
Mantas are back at La Reina
So about La Reina. When I arrived in Baja California back in 2001, it was the go-to place if you wanted to see giant pacific mantas, the same guys as we have down in Revillagigedo. It was even proven the same mantas at La Reina also visited Revillagigedo. During the peak time diving in the Sea of Cortez (July to mid-November), I could almost guarantee to see manta here each day.
Then, out of the blue, they disappeared in 2004. Maybe because of fishing or just that they decided it wasn't the right place to be, I don't know.
All that changed a couple of years ago when we returned to La Reina with the Belle Amie's little sister the Under Sea. I remember I was giving the dive briefing, saying "You used to see mantas here", and while we where diving a very friendly small female manta kept us company.
Las Animas! Coldwater and pretty low viz
The next day we steamed up to a dear spot of mine that brings back memories of when I dove on an old wooden Liveaboard called the "Don Jose". Unfortunately, Don Jose is now retired, the always standing captain Jose went to unexplored seas, and the owner and very dear friend Tim also left to explore new destinations last November. I have seen so much here and have so many good dives and memories. This time we were met with fairly dark, cold and low viz water.
A local fisherman we talked to said a week ago it had been crystal clear. When we arrived, we noticed that there were so many sea lions- more than I have ever seen!
Taking a closer look, I realized they were darker and much smaller than the Californian sea lions, and their sounds were different. They were Guadalupe fur seals! I would estimate about 200 of them.
When we mentioned it to the local fishermen, they admitted that they have never seen them here at Las Animas before! We had some great shallow dives with them, and a bonus was a group of 200 spotted dolphins that came by for a hunt.
Exploring new sites in the Sea of Cortez
I think as divers, we always wonder what is on the other side or the next corner and we are eager to explore. That is one of the reasons I am still working with Nautilus, we always explore and invite guests to come along!
Sometimes, like today, it is not so fantastic. When I managed to set the divers on what I saw as a rock flat sand bottom- we did see garden eels (a lot!) and mobiles though.
After 10 minutes we decided to go up and relocate to some real rocks and got into a nice bait ball with green jacks. A big Mahi Mahi, or Dorado as we call them here, passed by. Everyone saw it except me because I was looking at a stingray.
We tested new dive sites, like Santa Cruz Island, which is definitely worth visiting again. My best dive was a coordinate that Captain Gordon said he had dived with me a million years ago. I said, let's go then to your imaginary rock. We found it on the sonar dropped a weight attached to a buoy.
I splashed .. it was green, dark, then darker…. and at 90 feet boom! At least 90 foot viz. Lots of fish, a black coral forest, and some massive groupers.
I had NOT imagined this one! It was a keeper and I really want to return to what I call Gordon's Rock, or Jose's Rock from the old captain of the Don Jose.
Blue whales and mangrove
After talking to the local fishermen that we met on the way, we were told they had seen blue whales in the channel of Isla San Jose and mainland Baja. It was a beautiful sunset cruise down the island, but no luck with the whales this time.
The next day we did something different between dives and took the opportunity to visit the lagoons and mangroves in San Jose. We did some snorkeling and finished the day with a night dive.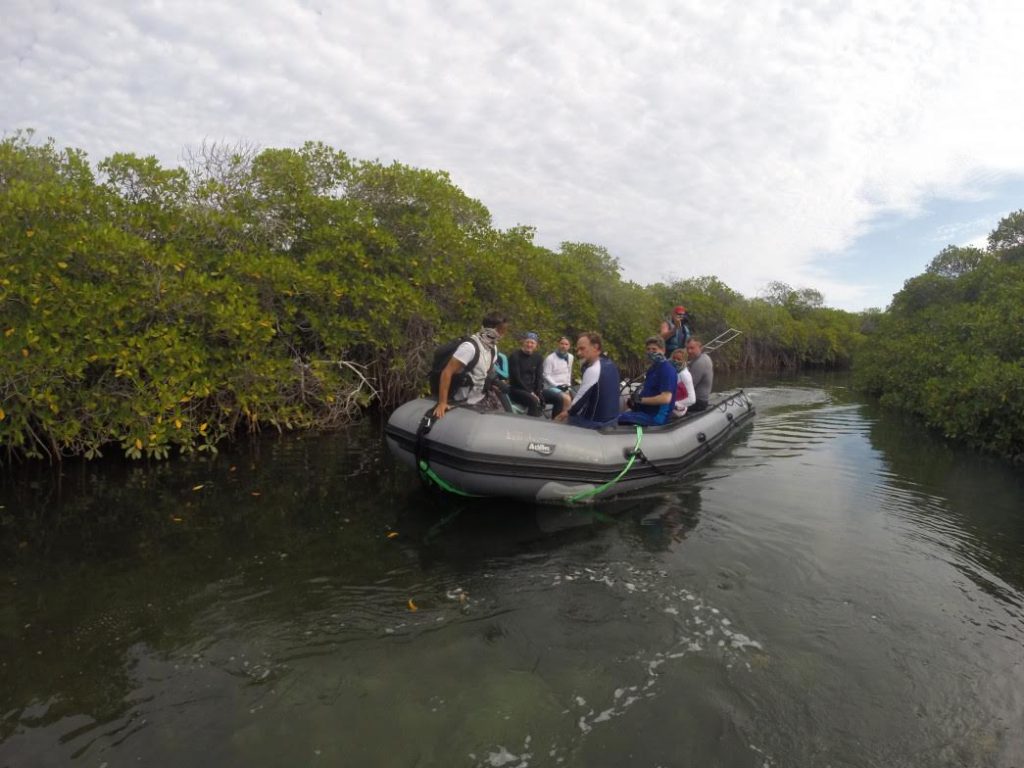 It was supposed to be Socorro a trip but as the parks still have been closed our only option was to go and explore Sea of Cortez. We got in 7 days diving instead of 5. We had a very mixed group of divers that brought a huge positive energy with them on board.
I was so happy to meet up with some of the hard working Nautilus family and crew. We have eagerly waited to get out again at sea, see each other and honestly, to make a living after such a long time on shore. The Sea of Cortez Mexico is a pearl to explore, so if you come for a trip to Socorro, I warmly recommend spending a few days in this vast sea.
As a last gift, on the last day, we managed to get in the water, snorkeling with the congregating Mobula rays.
I must thank all the positive guests on this trip and my very hard working compañeros. On the next trip, we will sail on an exploratory journey up the Pacific coast of the Baja peninsula from Cabo to Ensenada- very much looking forward to that!
Diveguide: Sten "Vikingo" Johansson