The Hammerhead Shark must have thought "What a Weird Diver, he is not Interested in me as I Swim Beside Him??" Guest Blogs. Roca Partida January 21, 2011
Roca Partida…
In the morning we arrived here… what an amazing place. A rock sticking out to the Ocean. Amazing dive: we have seen White-tipped sharks, a silver-Tipped shark swimming by at some distance, some spotted a Hammerhaed in the distance. On the 3rd dive I am pretty sure, that it was a Galapagos Shark may 10 meters below us!! Really amazing watching these sharks in nature… And let's not forget all the beautiful fishes, swimming around… you feel like you were in a aquarium. I love, love, loooove it.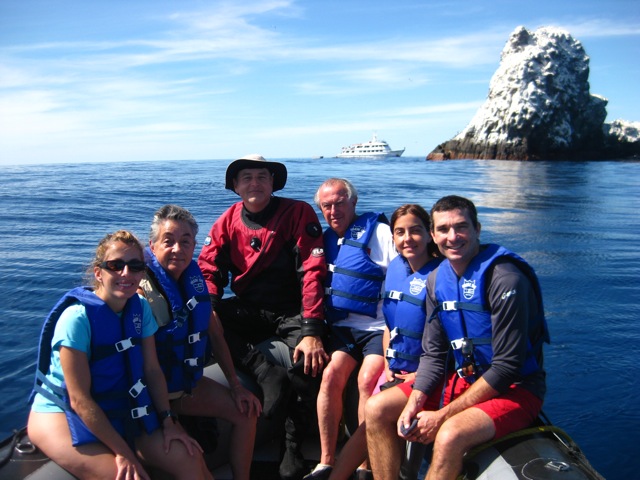 Although I am not afraid at all down there, diving… I would so much go swimming… Silly maybe, … better let's go diving again. Whales were swimming by today… far… I am hoping to see some close still. I am optimistic.
Thanks cocinero Enrique for the good food at all times ! Just fabulous. There is not much more to say, actually.
Tanja B. (Germany /Mexico)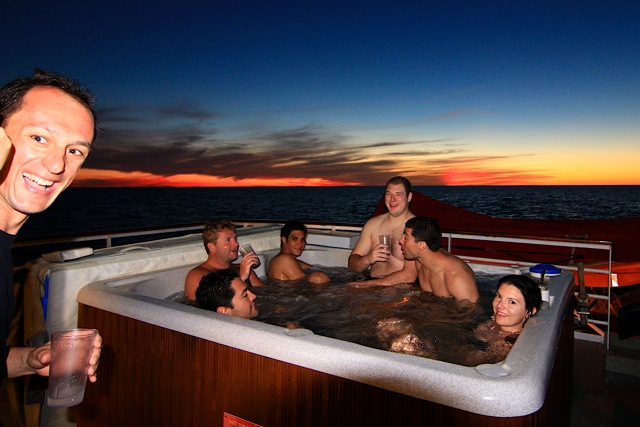 Roca Partida,
How can i say? many hours of travel , jet lag , for what ? A rock painted with guano …. That's the first view …. At list it is an amazing place, so calm and exciting at the same time… See you in few minutes, i have a rendez vous with whale ;-)).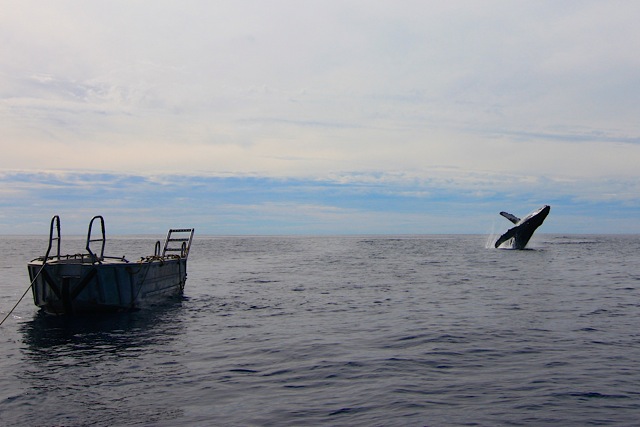 …
The show continues.  We are watching the sun rise over Roca Partida right now with a mother and calf humpback close by.  Looking forward to another amazing day of diving.  Yesterday we had perfect visibility and a number of encounters.  Roberto and I had about 8 large Silver Tip and Galapagos Sharks all around us on the last dive.  I am still waiting to see my first hammerhead.    Sam Meacham
19-01-2011
Rencontre avec le requin baleine
J'ai parcouru plusieurs continents et mers a la recherche du requin baleine, il m'a toujours evitee, et voila que c'est la ou je l'attendais le  moins que je l'ai trouve: roca partida premiere plongee de la journee! Fabuleuse rencontre, surtout qu'il nous en a bien fait profite. j'oublierai presque les quelques marteaux qui tournent dans le bleu…
Claire… toujours aussi emerveillee 😉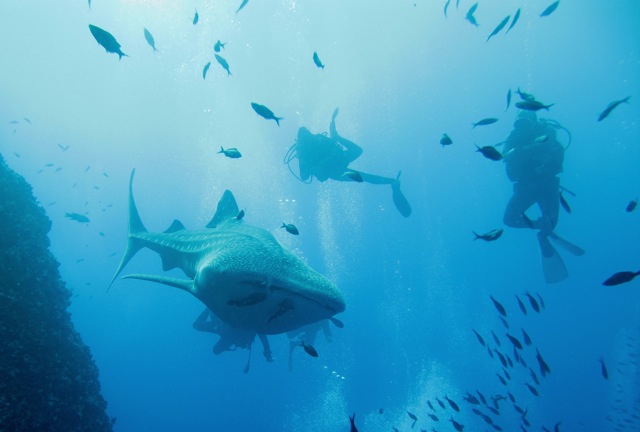 It just does not stop.  Whale shark on this mornings dive.  It was doing the tour de Roca Partida leaving us all in the dust.  We surfaced to humpbacks galore.  Roca Partida is yet one more maravilla de Mexico!  Maman YTQ!!!
Amazing Dives today … a – ma – zing..
First dive : whale shark… I did not count on this at all … one of my dreams coming true. Also a Hammer-head shark. Amazing for me … I did not see it for a while…. He was swimming right beside me, and I did not care, until Christine (from the crew), kind of shouted at me… I turned around… and there he was 🙂 … already swimming away… He must have thought: Weird diver… not interested in me at all… hmm…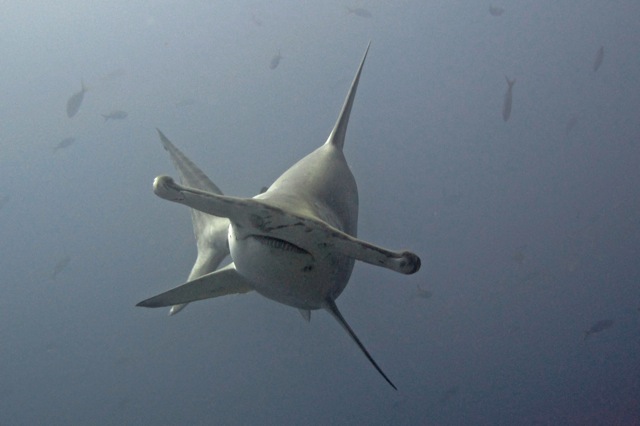 This first dive was accompanied with some personal criticism… a couple of things went wrong… I fooled up with another during the dive… and that really (!!) upset me… I can get really angry with myself… But hey… the Dive was great anyhow… and afterwards, I had a good talk (although whining) with a Dive Master… so – everything is just fine. Thanks Joel, for listening!! Chido – mil gracias 🙂
The next two dives were great. I love to be down there  – just floating. Watching sharks swimming by… I have never imagined that in the first place. Discovering Revillagigedo with the Nautilus Explorer… worth repeating in the future !!!
Tanja Bevc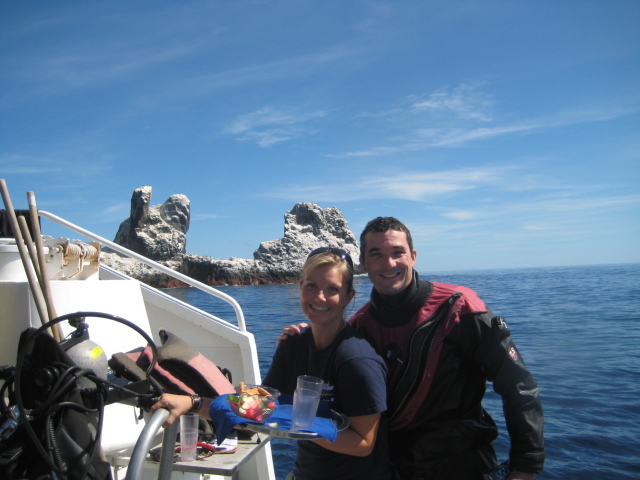 What a day!!! On the first dive this morning we were greeted by a 18′-20′ whale shark that circumnavigated Roca Partida several depths at reasonable depths. This encounter provided many close-up photo opportunities. On the other dives, we encountered several silvertip and Galapagos  sharks. A very nice day, indeed!!!!!
Mike Millet
Dublin, CA