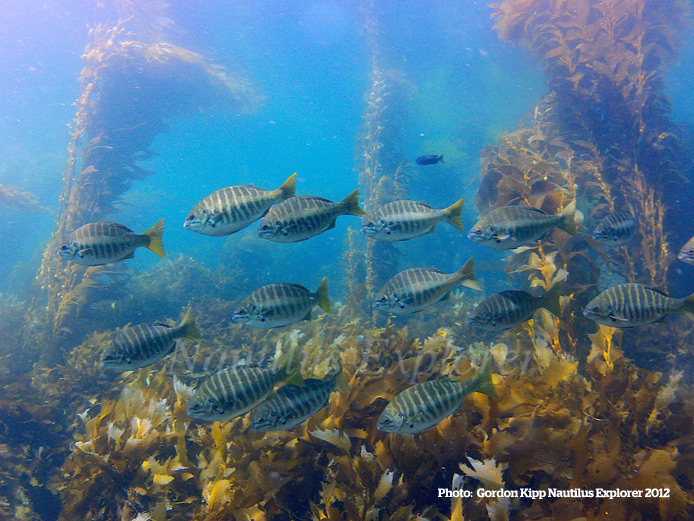 Tomorrow I will board the flight home from this wonderful trip to Guadalupe Island. Being a fourteen year old girl it has been a once in a lifetime experience seeing sharks that are 10 times bigger than me with gnarly jaws in my face. After seeing the Great White sharks I can now say that another adventure is checked off of my scuba diving bucket list!
The crew has been incredibly friendly and helpful, making sure I'm having a good time and getting me anything I need. As exquisite the crew is, the Nautilus Explorer is even more phenomenal.  I spend most of my free time on the sun deck soaking up the warm Mexican rays, or in the lounge/salon reading the many books and watching great underwater movies from the huge selection!
The scuba diving was so fun at the small islands San Benitos, Cedros, and San Martin. It was my first time diving in kelp, and it could easily top a coral reef when the sun light shines through the underwater cathedrals. I saw a variety of life in the kelp forests including playful, friendly Sea Lions, Guitar Fish, Bat Rays, and so much more. I have had an amazing trip, and I hope to return again soon!
-Samantha Mauro, 14
—-
Bueno, ya acabamos el ultimo buceo de otro viaje un sentimiento agrio-dulce..agrio porque se acabo el viaje pero dulce en el sentido que todo termino super bien y todos estamos sanos y salvos gracias a Dios muy importante siempre darle gracias el ultimo buceo también tuve el lujo de bucear con mi mentor original, Joel, que diversión volver a bucear juntos aunque la mar estaba un toquesito mas frio de lo normal pero he visto que ese toquesito de frio ayuda a inyectar energía, yo siempre salgo saltando y pegando gritos (para calentarme) y aunque no lo creas, esa energía es contagiosa!!  No puedes creer cuantas personas en este viaje están pegando gritos de, lets do it!, creo que fue el tigre que empezó esos gritos energéticos.  Bueno, hablemos un poco sobre nuestros encuentros culturales he mencionado mi amigo especial evgeny de russia que me ha estado dando consejos para mi vida personal, y también me ha podido traducir una articulo en una revista russa que no entendia pero
tenia fotos de ballenas belugas, y resulta que hacen una experiencia bien parecido a el que hacen con delfines, en captividad, pero evgeny dice que las belugas no las capturan, sino las entrenan a llegar de la naturaleza para estar con los turistas, pues están libres y son blancos y nos gusta mucho también el color blanco pues, evgeny me dijo que si quieres a algo, lo tienes que liberar y tal vez te venga a visitar si tienes sardinas para darle de comer no se exactamente como interpretar eso para mi vida personal, pero mi hermano tiene otro dicho, si quieres a algo, liberalo si se devuelve, es tuyo para siempre, si no se devuelve, cazalo y matalo diferentes teorías sopongo algo difinitivo es que los animales si se pueden capturar y tenerlos presos, eso esta bien provado, pero la alma jamas se puede capturar, pues a cada uno lo suyo y ojala que los animales que se salgan de sus cuevas a adventurar encuentren exactamente lo que estén buscando, sea donde sea, sea lo que sea, sea para quien sea.