What was the zodiac inflatable doing underwater at Roca Partida?? Wait a sec. It was a WHALE SHARK!!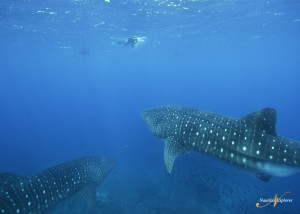 After the first dive all divers came out of the water with large smiles on their faces. Everybody was talking at the same time about the marine life they saw (how big, how many, what types?). After that, a very good, hot breakfast and another dive, better this time because a manta came around and apparently some hammerheads.  And it went on, and on like this the whole day. Amazing lunch, amazing dinner, I think I didn't eat this well in years and I'm eating like crazy. Today I really went over the  top because I kept pretending that this is my last meal and then because I survived, THIS is my last meal and so on. The crew is spoiling me rotten, Carmen suggested that I should write a Diver's wife guide to Socorro and tell other wives how they can have fun on a diving boat. People just watch over me and do all my whims. I'm really having a blast.
– La sua majesta de roca perdida Cristina
ROCA PARTIDA DAY 2
The divers just saw a whale shark? They will tell you more about it. Short description of the life on boat: The bed sheets just got changed today, how crazy is this, we're on a boat; a diving boat for that matter, and we get our sheets changed midweek. Back home this doesn't happen and the cooking is not this good either. If Juan Carlos ever writes a cookbook I'll buy it. I love this boat and this trip.
– La sua majesta de roca perdida Cristina
Ciao familie,
Suntem bine, chiar foarte bine. Totu-i foarte frumos si curat, mancarea-i de vis absolut si oameni is foarte simpatici si atenti. Ne simtim amandoi foarte bine. Daca ne-ati vedea fetele acum un ne-ati mai recunoaste asa de tare luminam.
– Ghina si Miai
Day 2 at Roca Partida was quite the ending to our stay at this dive site. I was feeling rather jealous of all the other divers who had seen hammerhead sharks on a number of occasions and some also saw mantas. I felt so left out and unlucky.I suited up for the last dive here hoping and praying that luck would finally come my way. I kept scanning 180 degrees' hoping to see SOMETHING. As I looked up towards the surface I noticed one of the zodiacs very near the rocks. But wait, what would the zodiac be doing by the rocks? In fact, what would the zodiac be doing underwater? Then the reality started setting in. I was looking at something really really huge. I tried to signal Stu and Dalia but neither were looking my way. Then I made an executive decision, it would be each diver for him/herself. What turned out to be a whale shark swam very slowly past me, at least it seemed to swim by slowly. The fact is, I had to swim as hard and as fast as I could towards it to get a closeup look. I went through several hundred psi but it was worth it. I was able to catch up to it and managed to get close enough to see its little eye scanning me.
My first Whale Shark. I am still pinching myself. More than feeling very lucky, I feel very humbled by the experience!
– Krys.