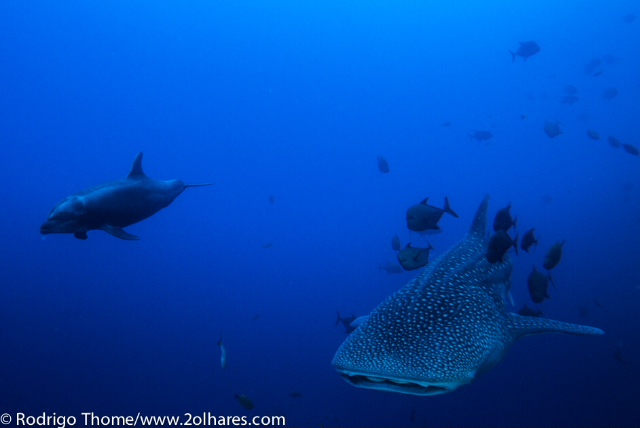 Dive day two of our current Socorro expedition has us diving famous Roca Partida. A guano covered rock in the middle of the pacific ocean, seeing it from the surface is slightly underwhelming. As soon as you back-roll off our dive tenders and dip beneath the surface though the rock comes alive. Roca Partida is a place you can see 5 or 6 different species of sharks on a single dive, while being surrounded by schooling bonito or yellow-fin tuna. Bottle-nose dolphins and giant pacific mantas are also frequent visitors. Today we had all of the above at one time or another.
The dolphins were very active this morning and spent a lot of time with the divers, swimming circles around us while they inevitably drew us deeper and deeper. If you could take your eyes off the dolphins you would probably see silky, Galapagos, silver-tip, hammerheads, and/or white tip reef sharks above, below or somewhere nearby.
On two of our dives today we had a very young whale shark circling the rock repeatedly, giving everyone a chance to enjoy some quality whale shark time. A huge school of bonitos that seemed to go on forever were as mesmerizing as snowflakes are when driving through a heavy snowfall, as they emerged from the blue and enveloped you before disappearing once again into the blue from where they came. The schools of creole fish, as well as cotton-mouth and big eyed jacks seemed to take up the rest of any available space. A great day of diving and planning two more days here before we head over to Socorro Island.
– Captain Gordon Kipp
Weather topside: overcast today, air temp 27C, light wind Diving conditions: current varying mild to strong at times, visibility also variable, 40-80 feet, water temp 24C.