To our surprise an adult humpback whale showed up out of the blue and was very curious about us.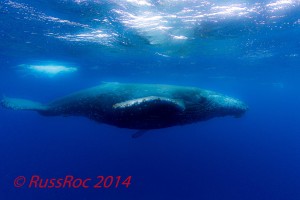 Today was our second day here at Roca Partida, the infamous bird-poop covered lava tube that is our mecca of big animal diving. Yesterday was a little slow by Roca Partida standards and we were hoping for an improvement today.
Right away with our first dive things were looking up, with a big school of hammerhead sharks circling in the blue not far off the rock, with the odd galapagos and silver tip shark as well cruising around near the wall. Second dive offered up more of the same, hammerheads, galapagos and silver-tip sharks.
If sharks aren't a big enough animal for you, then there are also the humpback whales. Tis the season at the moment for whale watching. We made several whale watching boat trips today, and enjoyed some great moments above and below water. We witnessed several full breaches by one adult humpback, as well as lots of playful breaches by some of the calves in the area. On one occasion we were in the water when  a mother and calf swam by before they disappeared into the blue. Then, to our surprise, another solitary adult appeared out of nowhere. He was very curious and ended up circling the snorkelers for about 15 minutes.
He would dive down and swim under us, before coming up for a breath only 10 meters away, circling and diving and giving everyone an amazing show.
A beautiful day of big animals, followed by cold beer in the hot jacuzzi surrounded by the aroma of chicken and beef kabobs grilling on the barbeque. Another day here at Roca tomorrow before we head to Socorro Island.
Captain Gordon Kipp
surface conditions: a beautiful sunny day with a light breeze and a smooth sea with no more than a gentle swell.
air temp 80-85F, cooling to 74 at night.
diving conditions: visibility variable with up to 100ft at times then diminishing in some colder thermoclines and upwellings. Current moderate to strong. Water temp 75F.