Today was our first day at Guadalupe Island for this trip. We saw over ten individual great white sharks, and even some dolphins and a sea lion! This morning was nice and steady, with several sharks in the area, but after lunch, they must have decided to step it up! We had breach after breach and some very large sharks in the area. "Persephone," a large female (4.5m/14ft) with lots of gruesome battle scars stayed with us all day and dominated the surface action. It was a great start to the trip.
–DM Martyn, the Nautilus Belle Amie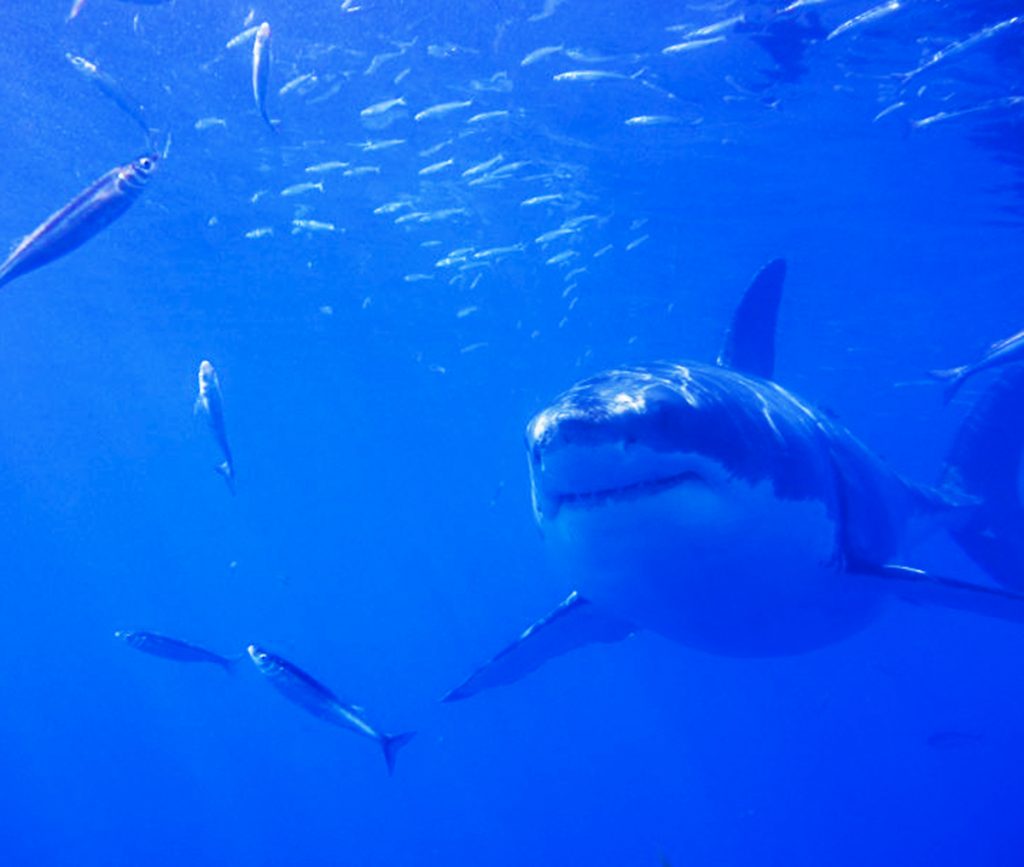 ---
A big group of people from Sweden made it all the way to Guadalupe onboard of the Nautilus Explorer… obviously, 21˚C is not cold for them! Anyways, they came here to see great whites and they certainly did! Two good days of cage diving, even if this morning we got the tail of Hurricane John, creating a little bit of swell. The sharks didn't care about the swell, and at least five individuals came to say hello. One female and all the rest males. We are looking forward to having the grand finale tomorrow! Who knows, maybe Deep Blue!?
–DM Mirko, the Nautilus Explorer  
---
It is the first day of our third trip out in Guadalupe 2018 season. We arrived yesterday and we had a magnificent view of the island. This morning we put the cages in the water and the first divers dived in at 6:30 am. We saw only one shark in the morning, but after midday more sharks showed up and were getting very close to the cages. We were all smiles. Then we had taco night and shared our experiences with the guests.
The second day of our trip, we started a little late as we were waiting for the wind and waves to go down a little bit. As soon as we started to go down with the cage, we saw a beautiful male great white (which we haven't identified yet). He was curious, and really active, with a tag on his left side. He stayed with us the whole day, so it was a happy day! We also saw also another male, "Mickey," (this one we identified in our book) and a female (still to be identified).
–DM Ari, the Nautilus Explorer
---
We got to the island yesterday afternoon, and today was the first day of diving. It was amazing! Early this morning the first male appeared close to the surface cages and guest started to jump in. Once the submersibles start to go down the guests were really excited, and when first round came out, they were so happy and impressed with this beautiful and perfect animal that they filled up all the open spots in the surface cages! During the day we had a really exciting show with the sharks, "Poseidon" showed up and started to go after the bait and he gave us a nice show. Let see what the sharks offer to us tomorrow!
–DM Luis, the Nautilus Explorer
📷 By Divemaster Mirko