We are on our way back home after an amazing three days of diving and photography at Guadalupe Island. We started out in San Diego where we met Cindy (who was just as friendly in person as she was on the phone), and you get the distinct impression that it's not just a job for her. She really does care about your trip. We also met Martin Graf (the owner of Shark Diver) and Tony (a divemaster), who were both quite friendly, helpful and knowledgeable.
The bus ride to Ensenada was comfortable and fairly quick. We passed through customs without too much trouble and soon we boarded the Nautilus UnderSea and were on our way. The seas were somewhat rough going out which made a few folks a bit queasy, but they all recovered and were well enough to dive the next morning when we reached Guadalupe Island.
To say that the dives were amazing is a complete understatement! For me, it exceeded all my expectations. We were almost instantly surrounded by sharks and they were CLOSE! You could have actually reached out and touched them… if that were safe and allowed. There were more than enough chances to get outstanding pictures from the cages as well as on the top deck and I did! I have filled three flash drives full of pictures and videos.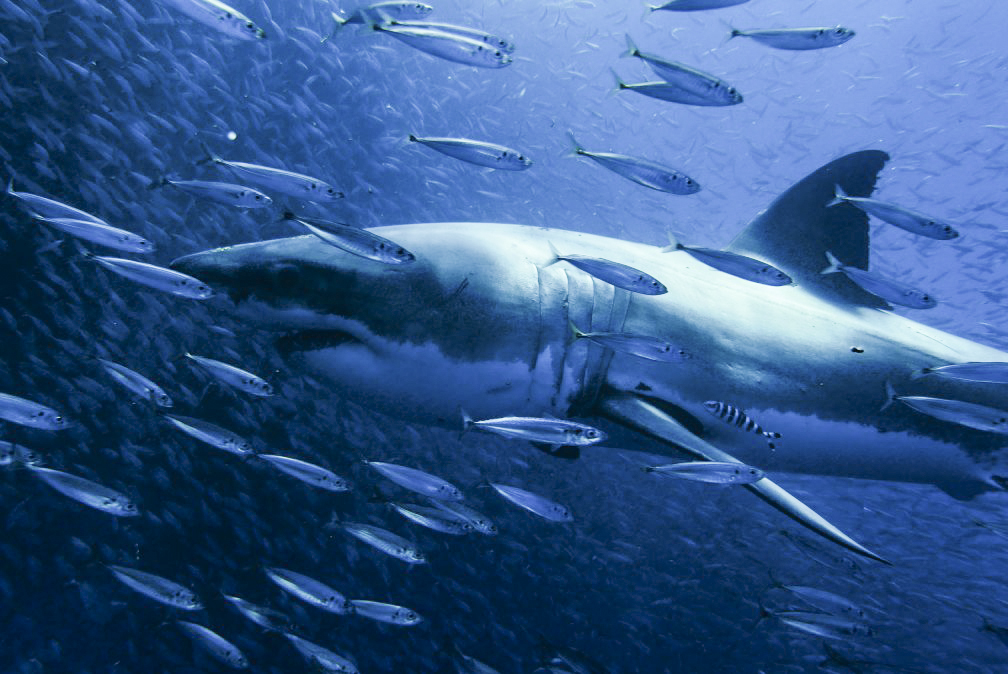 On the last day, the seas were too rough to safely get into the cages so Tony, Rofolo and Captain Vicente wrangled the sharks in as some stood on the upper deck while others preferred to stand on the lower deck with the wranglers and get some really good breach photos.
I cannot say enough about how well we were treated during this trip. The food prepared by Chef Felipe was outstanding and more than most could eat. Osa, our host, would not allow anyone to do anything for ourselves, insisting that it was his job to make us comfortable. Our shark wranglers were superb in getting the sharks to come in to try for the bait and give us a show. There were actually other boats in the area doing the same thing but our guys outdid them all. Rodolfo and Tony who are both divemasters were our main wranglers but the Captain and first mate Julio also took turns on the wrangling platforms and did just as good a job when they were there.
Nicole Naisby of Marine CSI was our resident shark expert with a Marine Biology degree and a vast knowledge of the sharks that we are seeing and she was fantastic.
One of the things I really appreciate about this company (and I researched a few before I decided on Shark Diver and Nautilus) is that they not only take you on a once in a lifetime adventure, they educate you about the sharks and their habits as well as get in the cages with you. They answer any and all questions you may have about the sharks in a matter of fact manner…..which I like.
My wife Deb, was feeling a bit ill on the second day so she retired to our room to lie down. When it was time for dinner, I was about to take her's to her when Rodolfo told me that he had already taken care of that and she was eating in the room. The attention to detail and our well being was outstanding.
I really can't say enough good things about this whole trip and the company in general. The adventure was beyond amazing, the food was outstanding, the crew absolutely went the extra mile to accommodate and the company itself was fantastic. Oh……and let's not forget the stars of the show……the sharks! They cooperated as well giving us all a trip that is beyond comprehension for most. I highly recommend this adventure to anyone who has a fascination with sharks or the sea in general.
–Keith & Deb Hughes, Anderson, CA, USA
Cover image by Martin Graf of Shark Diver