Amazing trip to Guadalupe Island – the sharks were spectacular. The trip started with a beautifully calm Pacific Ocean with cloudless, sunny skies. Once we arrived, everyone was excited to get into the water to be the first to see "the big ones." "Bryn Penny" (#182- female) gave us an amazing show, coming close to the cages and showing off her size. She was very inquisitive and circled the cages the entire dive. A few heart pumping moments when a few of the sharks took the bait, giving divers in the surface cages a great show.
Second day was slow, especially in the morning but near the end of the day we heard a shout "SHARK – Lucy's here!" She was the star and saved the day! Massive shark, bringing her entourage of pilot fish with her. Other sharks that were frequently visiting the cages were "Ropey," "Andy" and two or three unidentified sharks.
The crew has been fantastic with Captain Lowell setting the standard. Divemasters Jessie, Victor, Arturo, and Hector were there to help get us into the water safely, putting on the weights, handing us cameras, and pointing out the sharks while we were in the cages. After getting out of the cages, Maria and Nubia were always there ready, with a smile, to serve us warm coffee or hot chocolate – thanks! Enrique, the chef – wow! Great meals, especially the fresh fish. We are all excited and eager for the adventures that await us in San Benitos with sea lion colony! Priceless memories.
–Jennifer Perfler, California
---
Had a wonderful time with the crew and all the dives. The crew was fantastic at making sure we were comfortable and always well fed. Getting a chance to see white sharks within a few feet is a thrill. It is amazing how each of the sharks have their own personality and the behavior of the fish around the cages changes when there's a shark approaching. So grateful for the hot tub and hot showers (hint: fill your suit with hot water before jumping in!). Cannot wait for the next part of our journey south!
–Win, Canada
---
Na twee luie dagen op het zonnedek zien we haar eindelijk: La Roca Partida. Eenzaam torent ze omhoog in de Pacific, klaar om haar geheimen prijs te geven. De Nautilus Explorer is de enige boot op deze locatie, een onverwachte meevaller! 22 duikers is echt wel het maximum om de Roca op een aangename manier te verkennen. De eerste duik winnen we al het grote lot. We zien de eerste Chevron manta en tegelijkertijd dansen white tip reef sharks in het rond, vechtend om het beste plekje op een van de balkons van deze imposante rots. De langousten hokken gezellig samen in een van de vele grotjes. Gigantische exemplaren die je zeker nooit in een restaurant vindt omdat geen enkel bord groot genoeg is! De 4 duiken volgen elkaar in snel tempo op en lossen de verwachtingen meer dan in. Met dank aan de ganse crew die er alles aan doet om elke dag met plezier in het logboek te schrijven.
–Stef, Peter & Marijke, Amphora, Belgium
---
It was very humble to be next to these sharks, and it is very intense. I don't know if after this I should be less or more afraid of the sharks by seeing how quiet and powerful they can be, but I can definitely say I love them more than ever after this trip on the Nautilus Belle Amie to Guadalupe Island.
–Neil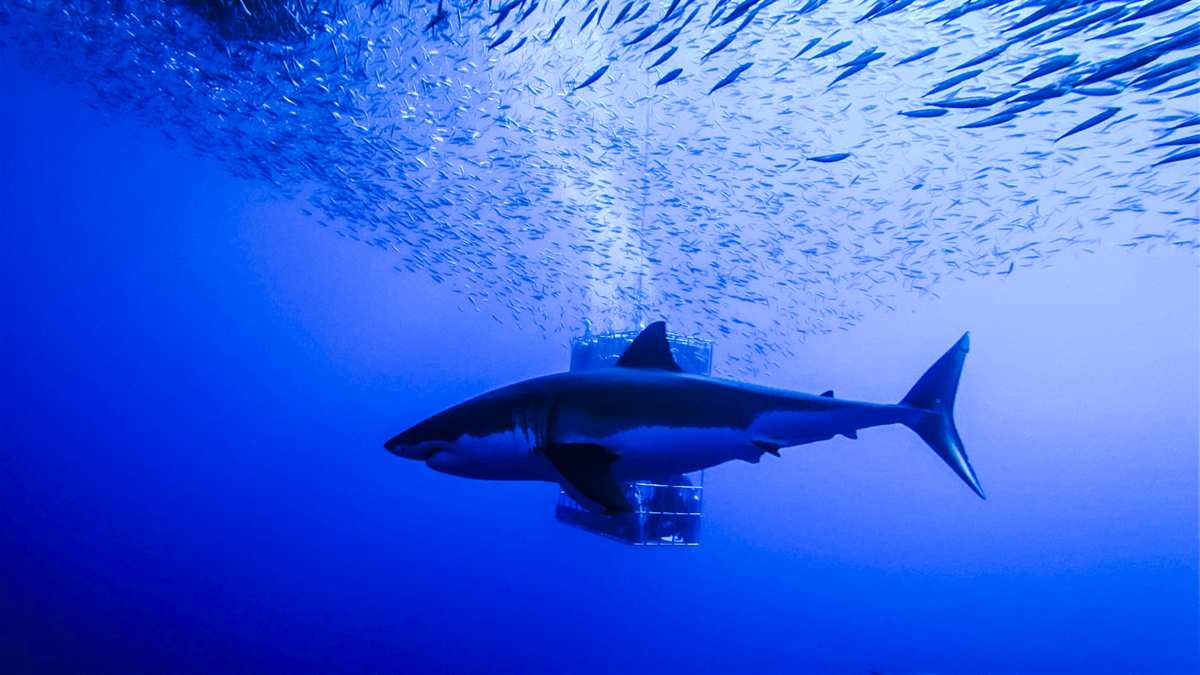 ---
What amazed me most about diving with Great Whites is the pure calmness the sharks exhibited near the cages. They are known as an apex predator but what I saw is an amazing tranquility when in the water with them. The initial adrenaline you feel when you see them for the first time is so very intense it is hard to imagine duplicating above water.
–Michael Elrich
---
I've wanted to see Great White Sharks my whole life and took the plunge to see them in Guadalupe. It has exceeded my expectations 100 times over, memories have been made that I will never forget for the rest of my life! Until next time!
–Joe Douglas
---
I had very high expectations on this lifetime bucket list of a trip. Wrangled a week away from the hustle and bustle of real life and booked. Not only were my expectations met, the dive crew, staff and captain of the legendary Nautilus Explorer blew my expectations out of the water. The level of service was first rate, the dive crew were not only knowledgeable but a blast to just hang out with between dives. Overall, I would have to rate my experience as a solid 10, and will be a collection of memories and experiences I will never forget. Oh yeah, and the sharks… worth the wait of a lifetime. I am ready to book next year with my teenage boys. Thank you all very much for the trip to end all trips!!
–Jeff Scanlon
---
Number one on the bucket list complete. Seeing Great White sharks in person at the Island of Guadalupe. The sharks did not disappoint to say the least. Such a surreal experience to witness first hand the grace, beauty, and power of these magnificent animals. Each day ended with a feeling of contentment and that it really couldn't get much better. Sure enough each day surpassed the last. Beyond stoked. But the trip was made infinitely more enjoyable by the staff of the Nautilus. All I can say is that each member worked tirelessly from sun up to sun down and beyond. Amazing ship, staff, food, and overall experience. Absolutely top notch.
–Theodor Ecklund
---
Diving with the great white sharks of Guadalupe: I would describe this as a life experience that you will carry with you for the rest of your life! I've been to several trips on boats before and the Nautilus Belle Amie's crew has an excellence in guest service, treating us with such an energy and organisation that makes us feel loved and cared in every single detail.
–Regina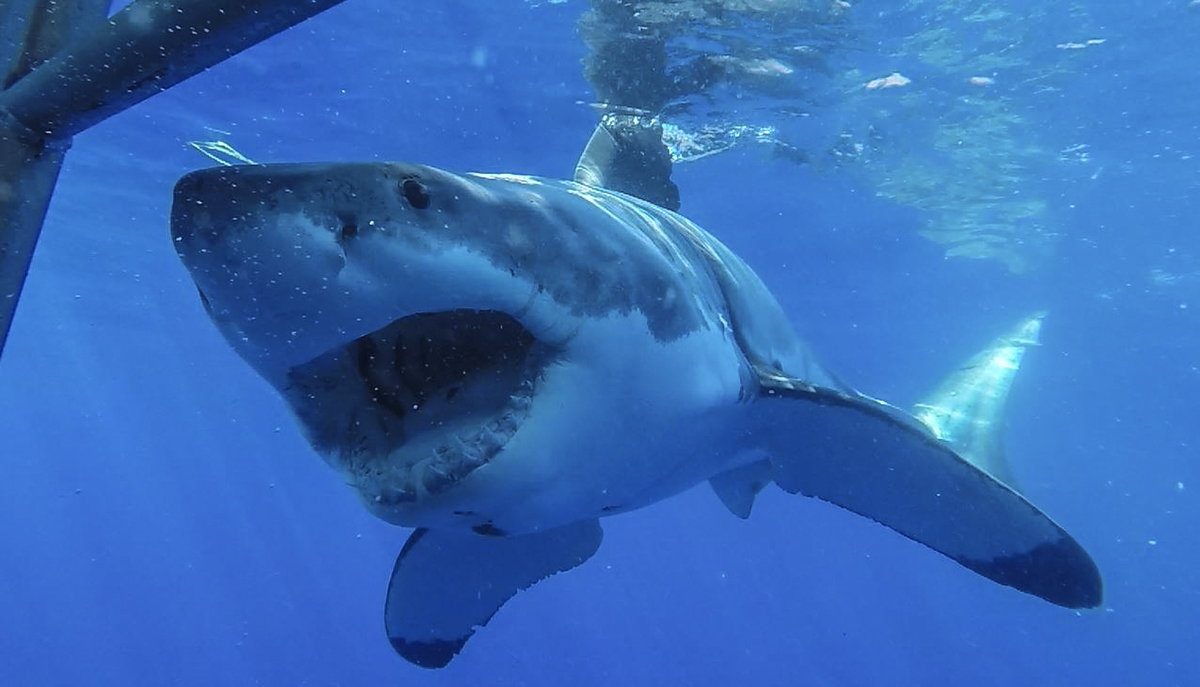 ---
This trip lived up to the advertisement in every possible way. The crew is awesome, kept us fed and made sure nobody missed a meal while we were diving, hot drinks available as soon as we got out of the water, the food was excellent, safety was primary concern with divers constantly getting in and out of the dive cages. And, the diving was incredible. I have been diving many times before and come away disappointed with what I did not see but one this trip we had three incredible days of cage diving seeing some the biggest sharks in the world. Day three was the best with essentially nonstop shark action from start to finish. This is easily one the best dive trips I have been on. Highly recommended.
–Bob Rushman
---
Nothing short of incredible. Seeing these huge sharks up close is awe inspiring and somehow makes you much less afraid of them. Can't recommend the trip to Guadalupe Island enough. For shark enthusiasts, it really is a dream come true. And for non-enthusiasts, I can't imagine this experience wouldn't convert you. The crew are fantastic and take such good care of the guests. Moments after coming out of the cage, you have a hot drink in your hand while taking a warm shower. They even bring your breakfast out on the deck so you don't miss any of the action at the surface. Stop what you're doing right now and book this trip, you won't regret it! It's undoubtedly and unquestionably the most fun I've ever had in a wetsuit.
–Kai Madden, Tarrytown, NY, USA
---
The trip exceeded my already lofty expectations. It is difficult to put into words how powerful an experience it is to be up close and personal with the Great White Sharks underwater. The quantity and quality of shark sightings was extremely high despite coming towards the end of the season. There was only one dive out of about 10 without a sighting. Most dives included close encounters with the sharks coming within feet of the cage.
The crew and boat also exceeded my expectations. The room was of good size and well maintained. The boat was extremely comfortable. The crew was passionate about their work, approachable, fun to be around, and always helpful with any need or want. This was my first liveaboard experience, and I also enjoyed getting to know other people from a wide variety of backgrounds who have a shared love of Great White Sharks. Highly recommend this experience and will likely find a way to make another expedition with this operator.
–James Kelly, La Jolla, CA, USA
---
There is nothing I can say about the sharks and the experience of being in the water with these majestic beasts that hasn't already been said. It is as magical as anyone thinking about making the trip can imagine. I can easily tell you that the experience provided to the guests on the Nautilus UnderSea is outstanding!! Celebrating a 50th birthday at Guadalupe, and considering myself no stranger to dining, service, hotel, B&B and all vacation accommodations, etc., I can tell you that the entire crew provides the finest, most attentive, professional and friendly service you could want. They are also just as excited about the sharks as any guest.
Today, ever single person on the boat, guests and crew alike, had the biggest smiles on their faces all day once the Great Whites arrived. There must have been five or six different sharks keeping us entertained all day. Oh, and don't forget to look up once the sun goes down. The night sky at Guadalupe is as beautiful as what you see below the water.
–George "Shorty" Bieber, Parkerford, Pennsylvania, USA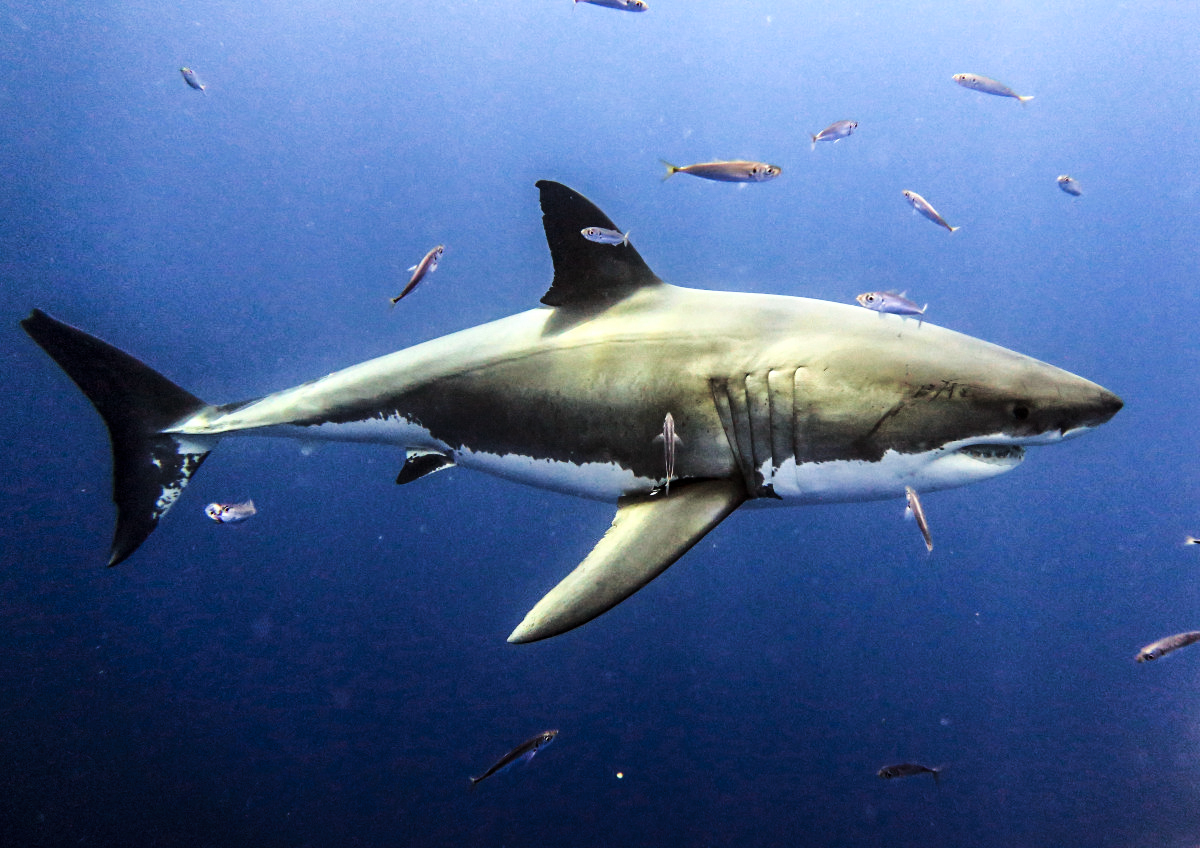 ---
Wat een ervaring! Vanuit een kooi uitkijken naar de beruchtste van alle haaien… En dan zien dat het eigenlijk slimme en nieuwsgierige beesten zijn, maar wel met heel veel tandjes… toch maar niet buiten de kooi zwemmen dus! De trip op de Nautilus Explorer is om nooit te vergeten. Geweldige spectaculaire duiken, een zeer toegewijde crew, die constant voor je klaar staan. Heerlijk eten en heel fijne hutten om bij te komen van alle gebeurtenissen. Super!
–Bas, the Netherlands
---
I cannot express how memorial and awesome this trip has been. If pictures can tell thousand words, it still won't describe how incredible the trip has been. The crew on the Nautilus UnderSea did a fabulous job making sure that all guests were entertained and knowledgeable about all the great white sharks. They made everyone feel right at home. The food was great and was kept warm on the side when I was to busy diving with the sharks. The last few days has cause my face to hurt because of the amount of laughing and smiling with other guest and crew on board. Not to mention the high fives when seeing all the sharks (especially "Lucy" #18). Will plan another trip here. Maybe for my 50th! I went by Jorge as we had three Georges on the boat!!
–George "Jorge" LeBleu, Terrace, British Columbia, Canada
---
Guadalupe! Just like living in paradise and I don't wanna go home! Over 30 minutes of Great White Shark interaction with "Bryn Penny" was one of my best (perhaps the best) experience of my (diving) life.
–Juergen, Germany
---
About a year ago I dived the Bahamas, at Tiger Beach. I thought it would be hard to find any other places to get such an experience. But now I've got that spot. Guadalupe! Crystal clear water, a perfect liveaboard, great team all around and probably the most exciting predator in the world, the Great Whites. Amazing to get up the first morning and be at the place that I know so well from TV.
Just the view when a Great White comes out of the blue, swimming slowly facing right to you and passing by in a short distance is worth the long distance flight and the whole trip. Would be so good if everyone could share an experience like this, just to know that these creatures are not what people think they are!
–Uwe, Germany
---
My husband and I scheduled this trip sort of last minute, but we are so glad that we did! We had done some shark dives before in Fiji with bull sharks and hammerheads, and it had always been a personal goal of mine to go diving with Great White sharks. Our time at Guadalupe Island was a dream come true, we saw several different sharks during our stay there, some which were well known to the crew ("Ropey" and "Johnny" spent lots of time with us) and some which were new. They got incredibly close to the cages, and I was able to truly appreciate how huge they are compared to us. They really are impressive and beautiful animals. The highlight of our stay there is when a ~16 ft female identified as "Bryn Penny" swam close to us and spent hours with us on our last day. Overall the trip has been awesome. Excellent weather/visibility, a wonderful crew and ship, and a fun group to dive with. Nautilus has made this an excellent experience for our first liveaboard. It is definitely worth the trip!
–Sara, Austin, TX, USA
📷 by the incredible Scott Kinsel (scottkinsel.com)