By Martin Graf. When it comes to sharks there are few people on the planet who have spent as much time face to face with these magnificent creatures. Martin lives and breathes sharks and has overseen our Isla Guadalupe white shark dive site for nearly 20 years.
Here is my day one report of our first trip. All is well. The crew is doing a fantastic job and everyone is having a great time.
After a relatively smooth crossing we arrived at Guadalupe Island last night for our first Great White Shark Expedition of 2019. Today we started diving at 6:30 am and everyone was excited when we saw 3 different shark before 7 am. What a start to the season! Andy and Luca Arnone were the first 2 sharks that showed up, with Luca staying around all day, displaying his awesome bait stealing ability. The wranglers had their work cut out for themselves.

This season we started using a submersible cage for the certified divers who wished to go down. It gave a different perspective, but the main action remained at the surface where we had a total of 14 different sharks by the end of the day. Besides Luca Arnone and Andy, we also saw Mau, Monkey, Renegade, Paul Walker, Joker, Rhett, Brutus, Sgt. Pepper, Neptune, Mike and 2 new individual males.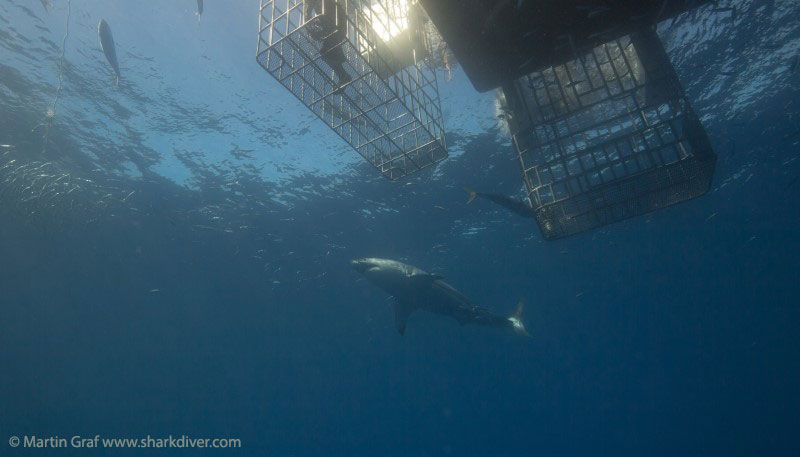 It's awesome to see that our regular sharks made it back and are alive and well and we always love to add some new "friends" to our database. Today was only our first day and we already had 2 new sharks. Last year we encountered over 50 new ones. How many will we see this year? I never get tired of coming to Guadalupe and see "my" sharks.

We ended the day with a dinner under the stars. The crew is taking awesome care of everyone.
– Martin Graf