Imagine diving in incredibly biodiverse remote waters, surrounded by protected species swimming freely in their natural habitat, all the while enjoying the best facilities on board a luxury yatch.
Welcome to Cabo Pulmo!
Home to a Marine Protected Area, it is a world-renowned example of a true conservation success story. A hidden gem located on the tip of Baja California Sur, Cabo Pulmo remains comparatively untouched by mass tourism despite being one of the most biodiverse places in Mexico, boasting the only coral reef in the region.
Cabo Pulmo, part of UNESCO World Heritage
Cabo Pulmo National Park, nesting in a unique landscape shaped over the last 25,000 years, was added to the UNESCO World Heritage list in 1995 because of the significant diversity and importance of the marine species that inhabit the area. Today, the national park is home to 6,000 marine species. Over 2 decades ago, the local community, together with a coalition of scientists from a local university, partnered with the government to create what is today a national marine park, in which fishing is prohibited since 2000.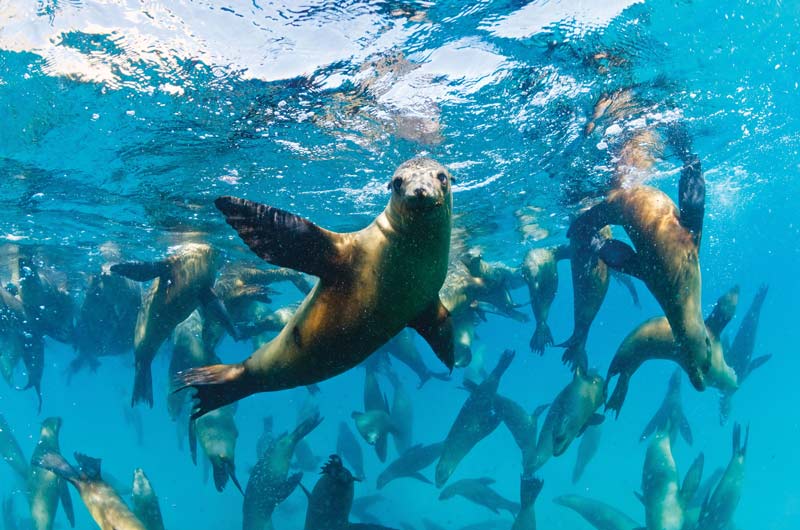 The reef, which has 11 coral species, acts as a breeding ground for the hundreds of species endemic to the Sea of Cortez. This includes, but is not limited to, sea turtles (loggerhead, Galapagos green turtle, leatherback, hawksbill, and olive ridley), sharks (bulls and lemons), mobulas, eagle rays, marlin, sailfish, groupers, snappers, and even transient orcas! But the stunning natural richness of this area is not limited to its waters. The park is home to 392 species of plants, 44 species of mammals, 29 different reptiles and 95 kinds of birds – including redtail hawks, peregrine falcons, and pelicans.
Cabo Pulmo Diving with Bull Sharks
Bull sharks have been spotted in Cabo Pulmo over the past few years, and sighting reports are increasing every year. Now, they can be seen almost all year round, especially from September to December, and seem to prefer the shipwreck "El Vencedor" dive site. There are also several Cabo Pulmo Diving sites where they may be observed mating, resting or hunting. The increasing numbers of these predators in the Park's waters is relatively recent and their more frequent presence represents the fruit of the Cabo Pulmo community's conservation efforts around the reef.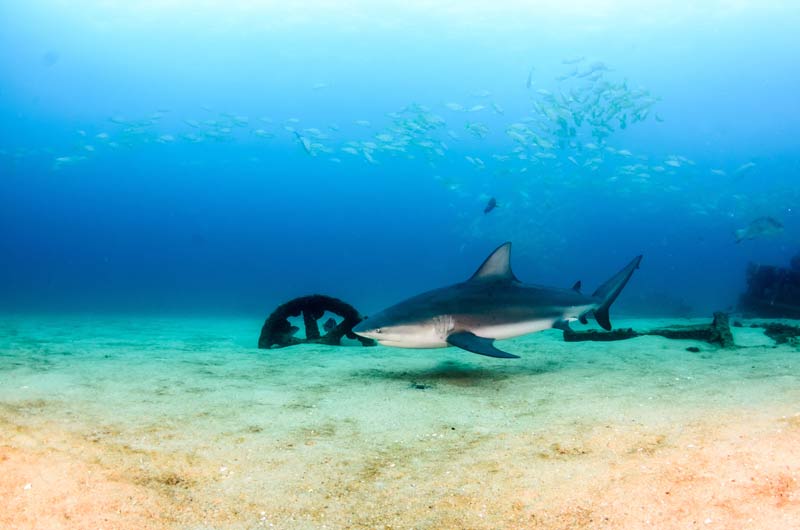 The abundance of life in these waters has been known since the 19th century, when the area began to be fished for an array of commercial species including fish, lobsters, snails and oysters. With the passing of time, the local fishermen started to become aware of the increasing scarcity of resources and animals. They decided to shift their livelihoods to more sustainable activities. They stopped fishing commercially and became tour operators.
Nature-focused activities in the area are unlimited!
Cabo Pulmo best diving season
From September to December, the crystal-clear waters offer greater visibility, and our liveaboard trips are the best way to observe the vast flora and fauna of this impressive place.
Although our liveaboard trips are primarily geared towards diving and suitable to all levels of experience, the great water conditions mean snorkelers can also enjoy Cabo Pulmo's underwater beauty. Whilst beginners will be required to dive with a divemaster, experienced and self-reliant divers are welcome to have the complete freedom to explore the reef by themselves if they choose to.
Join us in Cabo Pulmo for a unique diving expedition and discover why the famed ocean explorer Jacques Cousteau called the waters "the world's aquarium". It is a unique place on Earth that prides itself for limiting human impact, maintaining a healthy wildlife population and showing what conservation at its best looks like.