Join hundreds of Mobulas with an ecotour with Cabo San Lucas Dive Center by Nautilus
Can you imagine witnessing this breathtaking spectacle? The Mobula experience is one of the most magnificent wildlife performances on earth and it will change your relationship to the Ocean forever.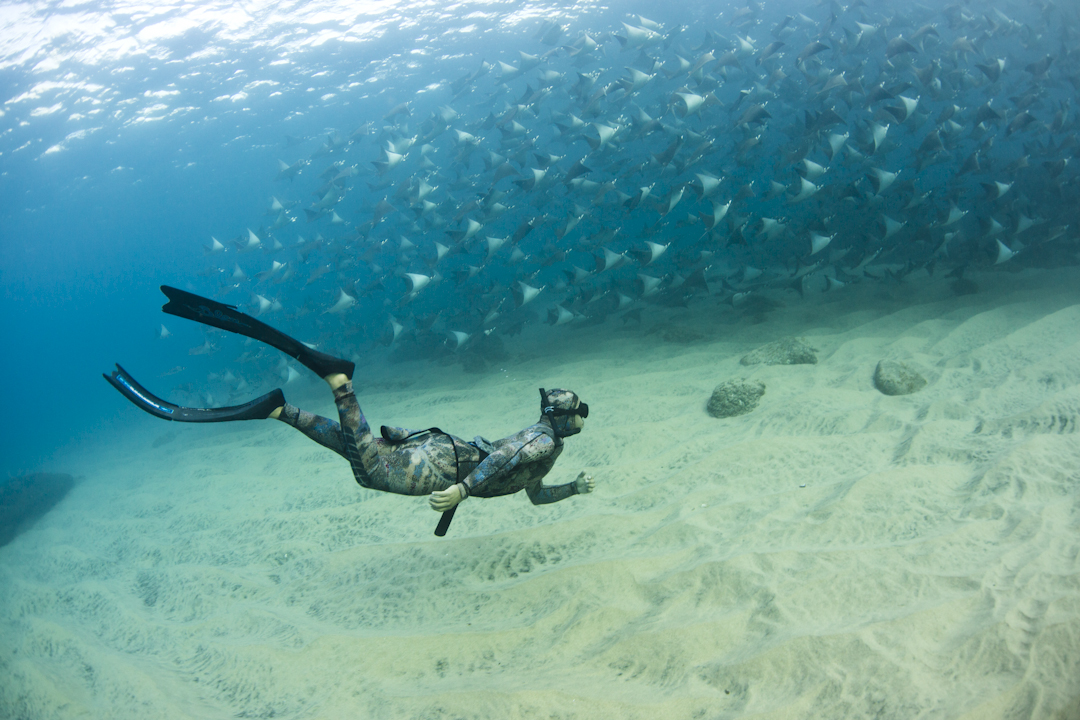 © Dave Valencia
A sight unlike any other
Take a deep breath. Jump in the water. Open Your Eyes. Here they are, before you. Hundreds of Mobula rays elegantly flapping their wings and swimming alongside each other in mesmerizing circles. These rays aren't just a treasure to see underwater, they're also quite the aerobatic performers, and can be seen leaping high into the air before crashing through the surface with a loud bang!
"Hundreds of Mobula rays elegantly flapping their wings
and swimming alongside each other in mesmerizing circles"
These stunning animals – close relative to sharks – travel together in large schools, sharing their joy of gliding and jumping together. From May through to August every year, the dance of the Mobulas is an intense experience that if you are lucky enough to witness will stay with you forever.
Being surrounded by these majestic creatures is an natural event everyone deserves to experience once! Not just because it is incredible, but also because these beautiful animals and their current status deserves a greater understanding from the general public.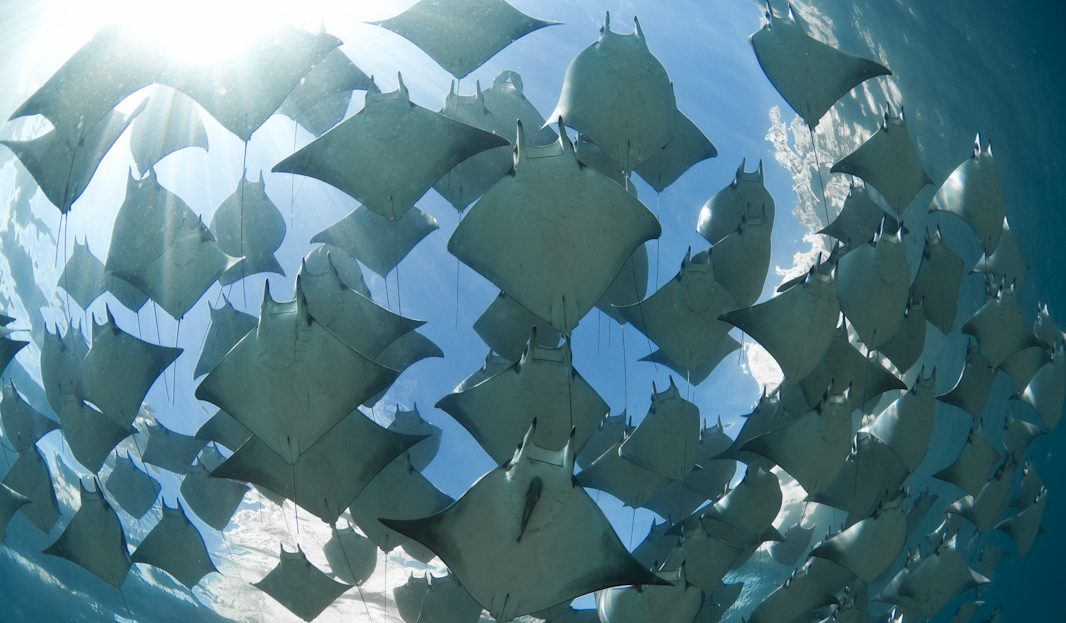 © Dave Valencia
Dive with Mobula rays through sustainable ecotourism
Without healthy oceans, these wonders of nature may disappear one day. We must do everything in our power, together, to safeguard what makes this wonderful planet we call Earth, so unique. We must all commit to the task if we want to make considerable progress. Not one country, one community or one person can do this alone. We must all come together.
"Safeguard what makes this wonderful planet we call Earth,
so unique"
Ecotourism is a fantastic way to experience the great Mobula ray migration whilst learning more about them. Going on a sustainable snorkelling tour is a great way to connect with nature and support the development of coastal communities without depleting or damaging the valuable resources of the Ocean.


© Dave Valencia
Want to try the experience ?
It's never too late to book a trip for this summer to support sustainable ecotourism in the region, which also directly helps the conservation of these rays! If you're interested in seeing these majestic creatures, you should head over to our Dive Center in Los Cabos (Mexico's Baja California Sur) and join one of our tours to go freediving or snorkelling with these playful Mobulas that congrate here on their annual migrations from May through to August every year!
Nautilus runs ecotourism experiences and our aim is to make sure our guests leave not only having experienced one of the greatest wildlife show on Earth, but also having learned valuable insights about these wonderful animals.

We offer three departures daily :
• Early Morning excursion-7:30am- For those early risers that would like to have the ocean and the mobulas all to themselves. This time is best for snorkeling with calmer conditions. The schools can be sometimes observed over reef at this time in the morning, but usually in the open ocean.
• Late morning excursion- 10:30am- Mobulas at this time will be moving outside of the Bay of Cabo San Lucas and be found near the surface of the water. We will search for jumping rays and dark shadows in the water – usually a sign of their presence.
• Sunset Excursion- 4:30pm- During the evening, Mobulas will return into the bay of Cabo San Lucas and schools will begin to be very active on the surface. Guests will observe the acrobatic side of these rays – expect to see them jumping everywhere. Photographers will be challenged to get the "money shot"- mobulas jumping in front of the arch!
We offer courtesy hotel pick up and drop-offs in Cabo, The corridor cabo san lucas and San Jose del Cabo.
Visit our website seecreaturescabo.com & discover all the local experiences, excursions, adventures & schedules awaiting for you.
Book online today or contact our office at (604) 241-1918.
The migration of a lifetime
Migration is a key characteristic of many shark and ray species, especially pelagic (open water) species such as whale sharks, mako, blue sharks, and Mobula rays. Their annual migrations take them thousands of kilometers across oceans, passing through international waters (the high seas) and many countries' Exclusive Economic Zones. This means that during their journey, each area they pass through is subject to varying jurisdictions and law enforcement mechanisms.
This is a perilous journey in which they are exposed to many small scale and commercial fisheries. Whilst some countries have good fishing management plans and conservation initiatives in place for endangered species, they do differ from country to country, especially when it comes to monitoring and enforcement. This means that efforts of one country at preserving endangered species may be hampered by the lack of another.
Strengthening international and global collaborations on key conservation issues for endangered species is critical. Marine conservation is highly complex and challenging because marine species don't know physical borders and therefore are exposed to higher risks of over exploitation. We believe that conservation can only work through a global, collective effort and ecotourism has a lot to provide in terms of raising awareness and driving sustainability.
#SaveTheMobulas
We at Nautilus Adventures are part of a growing community of conservation. Nautilus Adventures is heavily focused on sustainability and giving back. It is at the heart and soul of everything we do. We want to have a significant, positive influence on the people and environment around us. We want to be there for an extremely important cause-to protect our wildlife and wild places!