WHAT A CHANCE OF A LIFETIME THAT WAS. An opportunity came up with some friends to go snorkeling and swim with mobulas and orcas in the open ocean of the Sea of Cortez.
After doing some diligent homework, the trip was set up with the Nautilus Gallant Lady based on safety and the generous accommodations amongst their staff and crew on board.
Never seen an orca ever in my life, I wasn't sure what to expect. Spotting them was a 50/50 chance during our 7-night and 8-day expedition. Knowing that going in, there was a possibility we might not see them and accepted that. I was really hoping that we were able to see them. Looking for them in such a vast open ocean can be looking for a needle in a haystack. I remained optimistic.
After 2 wonderful days of swimming with mobulas for hours, watching humpbacks, sea turtles, fin whales, pods of dolphins, dolphins every day, dolphins everywhere, even a pod of several hundreds of dolphins, bioluminescence, not to mention the gazillion stars above the Lady and so much more. On day #3 we were fortunate enough to be greeted by the orcas.
I couldn't believe what I was seeing.
Was this really happening?
Yes, yes it was!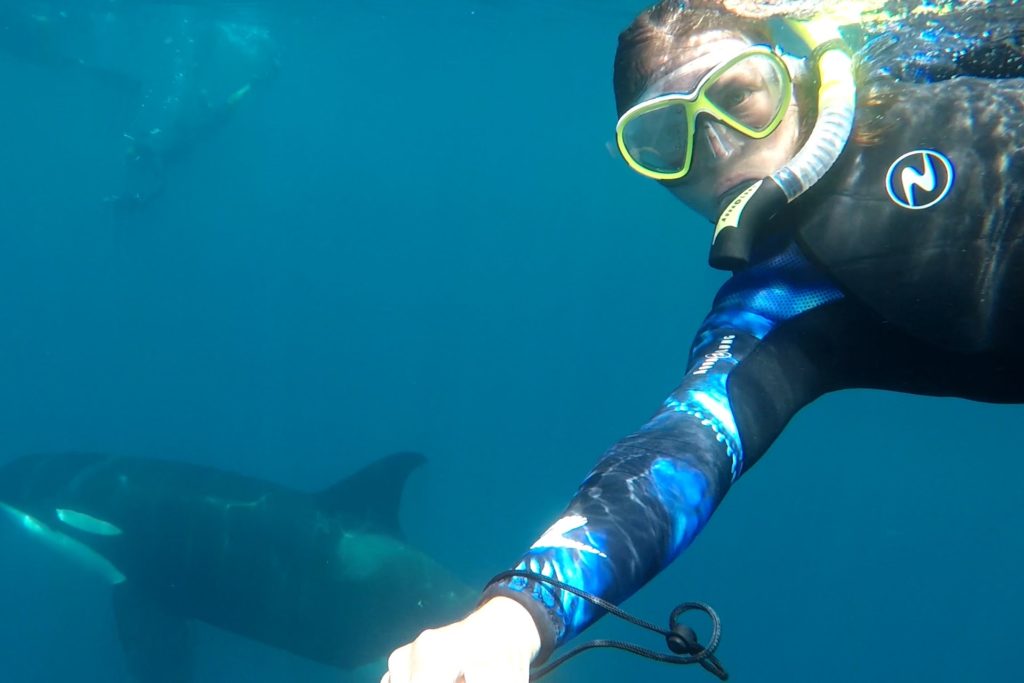 Although I feel very comfortable in the water, I was nervous on my first jump. I'm not going to lie, my first jump sent a feeling of vulnerability throughout my body. That feeling was valid because feeling nervous comes from the unknown. Until you do it for the first time, then you will want to do it again and again. Then there is no turning back. I guarantee it.
I was like, "OMG! I am in the middle of the freaking ocean with an Orca and her baby."
Seeing a baby swimming with their mother in clear open water was out of this world.
Juan and Celina are very safe and extremely respectful of the Orcas space. We spent hours observing them. About 6 hours in fact. Watching the baby's tail slap, breech, and spy hop. We watched them feed each other sea turtles while the babies still continued to splash the water with their little tails. We watched them well into the sunset with the ultimate ideal conditions.
It couldn't have been more perfect.
The next day, on day #4, we woke up in daylight and headed out on the zodiac.
Again, at 9 am, they showed up and observed them for 11 hours this time.
For 2 consecutive days straight, we had orcas.
This was the same pod of 6 from the previous day. 4 adult females with 2 babies.
Not only did we watch them for 11 hours, yet again, but also watched them well into the sunset. What set aside day #3 and day #4 was, that on day #4 we watched them hunt a dolphin.
Watched them hunt, watched how they all worked together and watched the whole event from the start to the end. All of this took place about 50 yards at most in front of the Gallant Lady.
As some guests wanted to hop right in the zodiac and "Go….Go…Go."
Juan and Celina said, " no guys, we need to let them eat just like you ate your lunch. We need to remain respectful."
I found that to be highly respected as these wild animals have their own lives too.
The crew on the Nautilus Gallant Lady, all work really well together as a team. Their communication among themselves is great. Safety is ALWAYS the #1 priority.
I love how there are 2 female crew members and liked the extra estrogen on board.
The boat is very clean and sanitized. Trust me, I was paying very close attention to that.
The food is exquisite. Truly out of this world. Poncho works very hard in the kitchen. The portions are larger than what I am used to. The flavor is, "poppin". Everything is made fresh. You will not go hungry. Especially with Silvia's daily fresh-made cookies.
This trip has above and beyond exceeded my expectations. When I book my next Liveaboard, it will definitely be with Nautilus.
I will truly miss everyone because everyone feels like family now.
Stephanie, California onboard the Nautilus Gallant Lady