We arrived yesterday after a long but calm crossing from San Benitos Island kelp  islands and did our first dive of the season back at Socorro and San Benedicto islands in 28 C water (81F). Our 1 st dive at the boiler gave us Dolphins and mantas.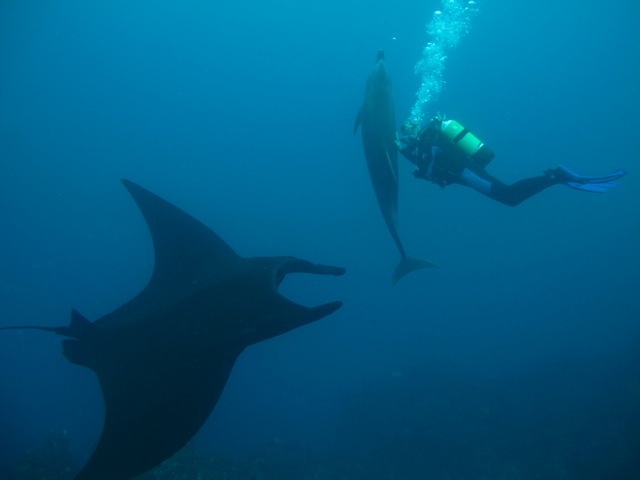 Today at Cabo Pierce every dive has been given mantas and one of the dives we dropped in to a big group of 75-100 hammerhead sharks. Diving is really good.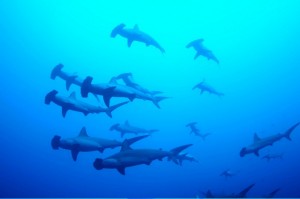 And it is great to be back to these islands. I am just a little bit sad to see some divers deciding not spending their time diving in the water, blaming on light , current. or depth or what ever it can be to blame on. I know that you wont see this fantastic animals sitting hanging lip in the saloon, you will see them only in the water. I had a small little group last dive, we had non stop two dancing mantas following us all the way up at our safety stop and here we got several wahoos and big school of yellowfin tunas speeding by us, all in the after noon sunlight! What a dive to finish the day with!. And so nice to be back again.  this is my 6th season in this amazing place on the Nautilus Explorer.
dive guide Sten
Surface conditions: sunny , a calm wind moderate waves.
Underwater conditions: a thermaclime at ca 25m. But sometimes shallower it was clear blue water above ca 30 m viz in the thermaclime 15 m.
Finally after two good transit days we made it!!!! We are in Revillagigedos…..first dive site….THE BOILER….
I went for snorkel today, and I think was the best decision, I saw a school of dolphins playing around me…I love them, there are one of my favorite animals, so I was going crazy..well a little bit more….
Then close to the boiler there were three big Mantas, I got really close to one in particular couple of times..I didn't have to worry about my depth or anything else, I was just focused on her.
And for ending the day, when I was waiting for the divers to be back with my tray of drinks I saw a manta breach!!!!!!
What a day…….eh!!!
hostess
Silvia:
Two dives completed so far at Pta Tosca. A few mantas around, and our regular pod of dolphins with the really friendly ones who come visit
all the divers. So two great dives so far. There's a long swell coming from the south and the usual WNW swell that is still long and fairly low. Wind is light from the North.
Captain Gordon
I have worked as a chef at sea for 20 years and the Nautilus Explorer is only the second boat I have crewed on!  It has been an exhilerating experience.  At first, I thought they wanted me to cook the sharks!  Hahahaha!  I am not an avid diver and would not normally have the chance to see all the things I have on the Nautilus.  From the the snow capped mountains of Alaska, to the rainforests of BC and everything down to Mexico – it is beautiful.  I can see the wonder of the West Coast from the window of my galley, from dolphins, whales and mantas to otters, seals and sharks.  I feel honoured to be a part of such a great team.   Chef Enrique
AND…..    2 OLDER BLOGS FROM A COUPLE OF DAYS AGO THAT WE MISSED POSTING..   ENJOY….
4 november 2010 18:53
We have left Guadalupe and San Benito behind us and are sailing towards Socorro. The first day at Guadalupe we had some shark action, the usual favorits where around, Lucy with her bended tail and Shredder with his ravished dorsal fin. (Apparently Shredder earned his name for biting through the anchoring rope of a fishing boat, leaving it in shredders). The second day we were a bit unfortunate, a high swell started rolling in. The cages changed in to banging shaking machines and the sharks, .. well I don't know where they went, but they were not around. The divers complained, try this! try that! move to an other place! Off course we explained that we are not in a zoo and that we are dealing here with free animals that we know relatively little about. And when Lucy decides that today she is not going to look at those crazy creatures in their awkward cages, then there is simply nothing we can do about it. Then day 3, the ocean had settled down a bit. First dive of the day, Shredder is back, and this time not alone. He has brought a girlfriend, an enormous female that has not been tagged and we cant find her in our identification file. Is she new to the area? It sure looks like, she behaves as if she has never seen cages before. She is coming up close and staring at each one of us. Analyzing…Considering… Not like Shredder, Shredder knows us and we know Shredder. The dive master who usually sit like proud kings on top of their cages retreat like hermit crabs. On the last dive of the day a third shark joins, exited divers coming up from their dives, the surface cages are continuously  occupied. What a great day to finish a season of shark diving at Guadalupe.
Jeroen Dive Master on the Nautilus Explorer
With the divers out of the water, I decided to take advantage of some free time. I quickly donned my mask, snorkel, and fins. And not worrying about water temperature, jumped in and started swimming towards a small group of fur seals enjoying the warm mexican sun shine in the kelp forests of San Benitos Island. Fighting my way through the canopy of the kelp was quite a workout! Realizing that its quicker and a lot more fun to dive down and swim through the the kelp. I soon found myself flying through a beautiful forest and around every corner, instead of birds, there were schools of fish! I soon found myself 5 feet away from a group of seals. Doing my best sea lion impression, I cautiously approached closer, they didn't seem to be scared and quickly started swimming circles around us. They moved like they were made of water. What a awesome experience! Its the closest thing I've experienced to flying and I loved every second of it. Tough to believe I was working eh? Looking forward to my next underwater experience down in Socorro.
Gabe, deckhand.