Diver Pauly from Chicago.  This is my second trip aboard the Nautilus Explorer.  The staff is exceptional as usual.  We've done two days of diving so far and can't complain at all. Saw a pod of Sperm Whales just out of Cabo San Lucas and a pod of bottle nose Dolphins shortly later.  When we hit the water, the temp was great and the sea life plentiful.  So far I've seen a lot of White Tip Reef Sharks, several Silver Tip Sharks and a Whale Shark at Roca Partida.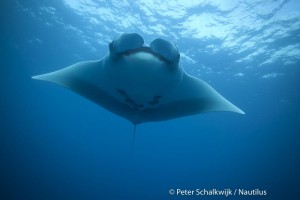 Diver Robert Volck from Chicago.  After 15 years I was finally given the opportunity to take a true, real trip, an honest to god vacation.  As the time approached I started getting nervous as this would be the first time I had been away from home for a significant period of time leaving my dogs (kids), the love of my life, my partner Michael whom I miss very much, my family, and friends.  We boarded our flight and headed to Cabo San Lucas, Mexico. What an amazing place.  So many first for me this trip.  We did some small touristy things before finally making our way to the vessel we would call home for the next week, The Nautilus Explorer.  The first day was a water crossing heading out to the first dive site which was amazing.  I was gung-ho ready to get wet and get in the water.  The crew of the Nautilus Explorer has been nothing short of amazing making this trip a vacation by catering to our needs all day long from food, to beverages to clean towels when we get in from a dive and of course more food.  We eat constantly! You'll NEVER go hungry here. So far the dives have been beautiful seeing everything from Eel, trumpet fish, and most amazingly today day two of diving, a whale shark! On on travels here were were escorted by multiple bottle nose dolphin swimming right off the bow of the boat.  We also saw several humpback whales breaching the water as well.  This has truly been a breath taking experience to date.  More to come.  Thank You Paul Anest for making this trip possible for me and to Michael, if you read this blog, I miss you and love you very much!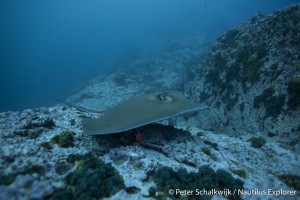 I should have gone diving today!!  And of course the one I missed was the one where everyone saw mantas, sharks, hammerheads.  At least I saw the whale on the surface swimming about.  It doesn't look like much from the surface, but I hear it's a pretty lively place below!!!  I can't wait until tomorrow – I'm going in for sure!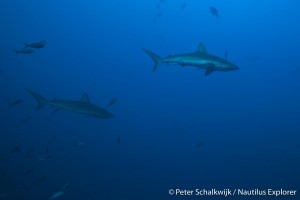 Three dives at this amazing dive site aren't nearly enough to begin understand the vast quantities of remarkable life at Roca Partida.  We started the day with noticeably calm conditions at the surface, making the entry into the boat and ride out to the site easy and fun.  Once we rolled back into the water, the impressive show began and continued throughout the day.  First dive, we entered negative directly on top of eleven white tip sharks of varying sizes–then managed to find a hammerhead, silvertips and, of course the star of the extravaganza, a giant manta coming to welcome us to the area. Colorful fish filled the water at all depths like confetti, groups of green eels protruded from each crevass–no minute of the dives were void of creatures to observe and enjoy!  Dive three was my personal favorite–in addition to the two hammerhead sharks that crossed my path, I was finally able to see my first whale shark!!!!  It approached slowly from the distance, but with 90 feet of visability plus, it was clear early on that we had a whale shark interested in showing off its spots!  It was a fantastic day and I can't wait to dive there again tomorrow!
Divemaster Christine