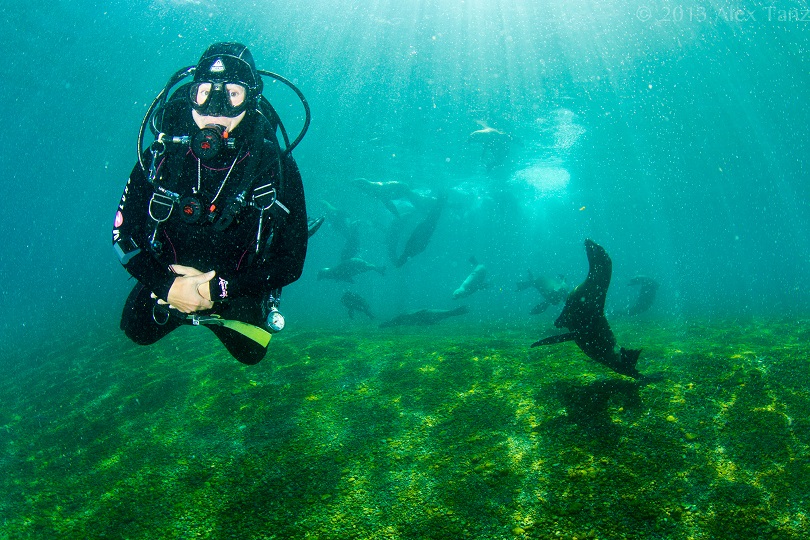 Date: Aug 14, 2013
Location: San Benitos
Dive 1: 0800 ˆ Peck Rock (north end of East Benitos)
Temp: 63F
Viz: 90ft
Wx: light wind from NW, overcast
Seas: 3-4′ nw'ly swell
Comments: Good dive, lots of fish life, a few sea lions around. Found a long stretch of fishing long-line and recovered it onboard. Guests enjoyed it but not enough to want a second dive there.
Dive 2: 1100 ˆ North point of East Benitos (formerly the Enchanted Forest)
Temp: 63F
Viz: 90ft
Wx: same as above
Seas: same
Comments: This divesite used to be our most healthy kelp forest. Now there is absolutely no kelp there, or anywhere else around the East Island except for a small patch at the South end. Dive was enjoyed by everyone nonetheless with nice bottom topography and a few sea lions playing with some of the divers. Strong current. Moderate fish life including some amber jacks.
Dive 3: 1415 ˆ South end of East Island
Temp: 63F
Viz: 60-80ft
Wx: light breeze,  sunny
Seas: calm
Comments: Dove off the stern to a small kelp patch. We found a small colony of Guadalupe fur seals who interacted with all the divers. Everyone really liked it.
Dive 4: 1700 ˆ South end of East Island (same site as dive 3)
Temp: 63f
Viz: 60-80ft
Wx: light breeze, mostly sunny
Seas: calm
Comments: Only 8 divers this time as the cold water is keeping most guests to 3 dives a day. Fur seals still around playing, a turtle, as well as a curious harbour seal. Again everyone very happy with the dive.
Activities/evenings: Departed for Cedros immediately after dive 4 and will arrive around 2100 and anchor overnight on the east side. Played video Blue Planet after dinner.
Overall: Good day with some solid diving, just a little lack of kelp. Guests are very happy overall although a little surprised at how cold the water is. Main thing keeping them happy here at San Benitos is the pinniped interaction.
– Juan V.