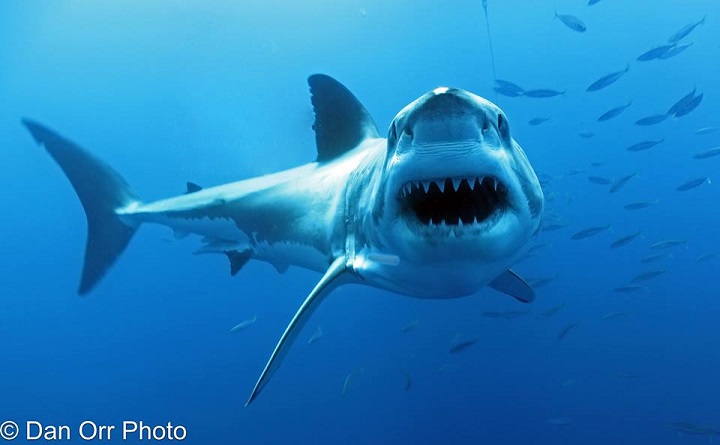 The white shark population at Guadalupe Island appears to be stable.  We see the same sharks year after year (touch wood).    There is good surveillance and enforcement by the Mexican authorities.   Unfortunately the same is not always true for other parts of Baja California and we have seen disturbing photos of butchered white sharks in the Sea of Cortes and other areas.   Hearty deeply felt well-done to the Mexican authorities for tracking and intercepting 2 containers of poached sharks being shipped out to Korea.  article below.  Safe diving.
– Captain Mike
This note was published today in a major newspaper in México City: http://www.milenio.com/cdb/doc/noticias2011/fa5d6a9e631c24257f0d9b3fa7769e2d
 It says that two containers of marine produce bound to Korea were confiscated last Tuesday morning in Ensenada.   Among the confiscated products there were 16 pectoral fins, 5 dorsal fins and three semi-caudal fins belonging to white sharks.
 It was a coordinated action between the Navy belonging to the Unified Center for Attention of Maritime and Port Incidents (CUMAR in Spanish) and the Maritime Customs office in Ensenada.  This marine products are banned for fishing.
After the analysis and review of the containers at the Customs Office at the Port, the General Attorney at Ensenada witnessed the act along with personnel from the Ministry of Agriculture, Animal Husbandary, Rural Development, Fisheries and Foods (SAGARPA in Spanish) starting with the due process for trafficking banned marine species.