This has been the experience of a lifetime. I have never done any scuba diving before, and Adrian did an amazing job explaining all the details for my first experience in the submersible. He made me feel very safe and was great about checking to see how I was doing. The entire crew has been outstanding. Thank you Ari, Adrian, Luis, Pato, Mirko, Captain Lowell, Julio, Orlando, Favi, Dulce and Lauro for making my 50th birthday unforgettable!
–Liz Trejo 
---
I turned 60 years old and decided I wanted to do something really cool. I was thinking of going to South Africa for a visit and one of the things I wanted to do was to try and do a great white tour, whether it be from a boat or a cage dive. I have always been fascinated with the great white shark ever since I was kid and saw the documentary called "Blue Water White Death."
I then spoke with my buddy Randy Thorton who is a serious diver, and he raved me about this trip he took to Guadalupe Island on the Nautilus to see great whites. I decided to do some research and read several reviews with stuff like "it's the trip of a lifetime." I am in the music business and from New York so I am always more skeptical than most when I read so many rave reviews like that. I figured this was just too good to be true.
Well, let me just say it's "No BS." This was definitely the trip of a lifetime and I am a guy who has had the good fortune to do a lot of cool stuff. Swimming with six or seven great whites circling around you is just priceless. How many people in the world get to have such an experience? I am in a very exciting business and have won Grammys and done cool stuff, but taking this trip to Guadalupe Island with the very professional and terrific crew of the Nautilus Belle Amie was, as most people say, "the experience of a lifetime."
In addition, I slept like a baby and the food was excellent, so if you really want to live life and have an amazing experience, than book this trip!
Trust me, you won't be disappointed.
–Norman Chesky  
---
What an amazing second day! I was worried that diving in the cages was going to get monotonous, but I couldn't have been more wrong. Each time down is unique and it got more and more exhilarating as the day went on. There were so many sharks on our last submersible dive, I got totally tangled in my hose twisting and turning to try to keep track of them all. At least 5 at one time! But the absolute best part of this trip has been the crew. Thank you divemasters and crew Ari, Adrian, Luis, Pato, Mirko, Captain Lowell, Julio, Orlando, Favi, Dulce and Lauro for making us feel safe, being so attentive and ensuring we're all having a great time. You guys rock!
–Zoë
---
Day 2 of my Guadalupe trip. It is difficult to put into words the joy I have experienced so far. From day 1 the crew has been simply fantastic. I have found no issues with the ship. Beds are comfortable and A/C in rooms works. No complainants with the food. Service has been utterly the best, our hostess are "A" list, # 1. The dive staff, well what can you say about such wonderful, enjoyable personalities?! They are great at their jobs.
Finally, the guest of honor the sharks… Well they must have been really practicing because they have performed beyond all expectations. Sharks everywhere, such a blast. I will close with a simple comment, Martyn for President!
–Justin Hancock, USA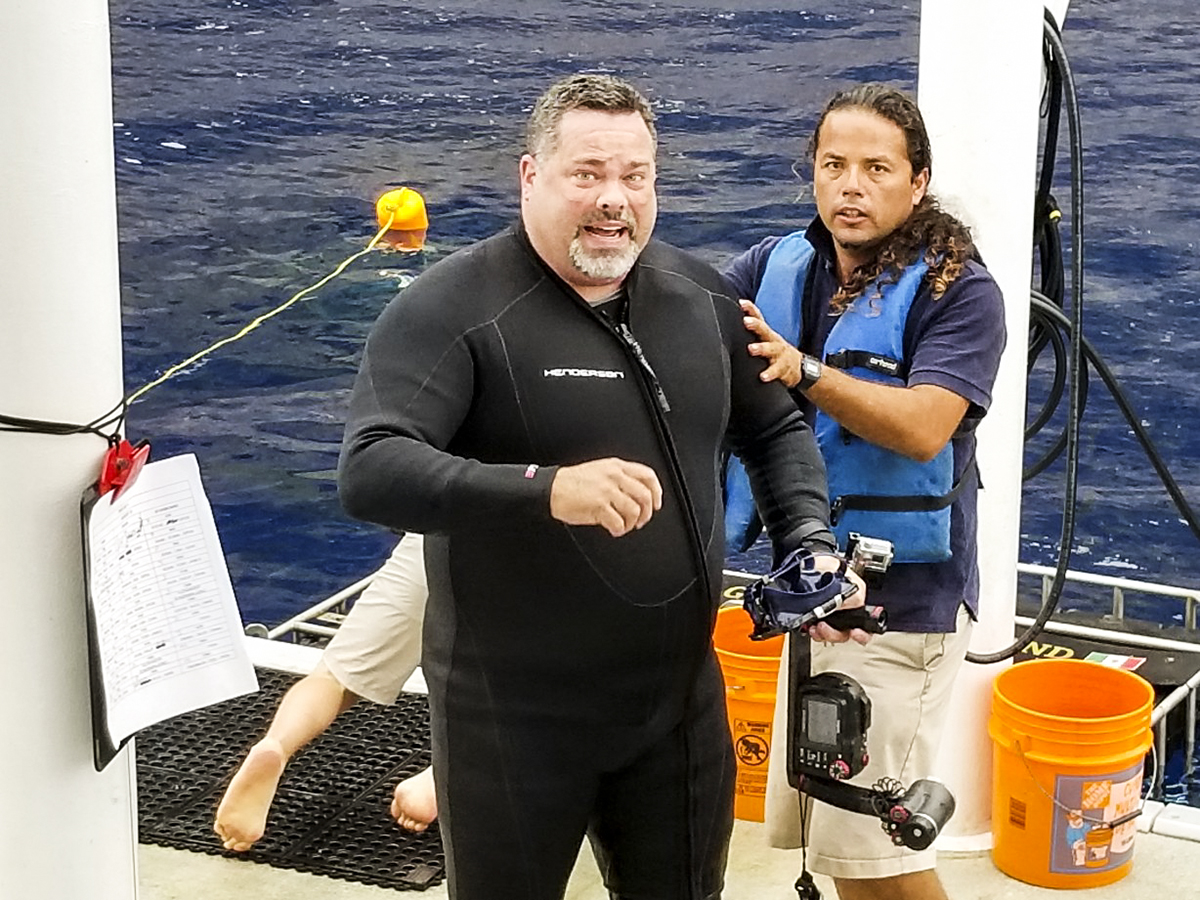 ---
Jetzt war das schon der 2. fantastische Tag an Bord. Wir haben immer mehrere Haie im Wasser, sehr nah bei sehr guter Sicht.
Die Crew ist sehr professionell, dabei aber lustig und alle einbeziehend. Einige sind tolle Entertainer.
Das Essen ist toll, keine Chance Gewicht zu verlieren. +++
–Alexander Bazyli, Germany  
---
Simply amazing! These are the only words for the diving today! In the surface cages or in the submersible ones, everywhere I turned there were great white sharks! This has been a dream come true. Thanks Nautilus!
–Mike, Denver, CO, USA
---
The Nautilus crew is great! This has been the experience of a lifetime. I saw 4-5 sharks at the same time. The surface and submersible cages provided awesome views. I saw a few female sharks and some baby sharks. I highly recommend this trip!
–Robin, Franklin
---
What an amazing experience! We saw multiple sharks during each submersible and surface cage dive. It has been such a fabulous trip of a lifetime!
–Lisa, Cocoa Beach
---
This trip has been absolutely amazing!! It has far exceeded my expectations. The crew has been wonderful and accommodating in every single way!! On my last submersible dive today, Captain Beto and I were in the cage together and we saw a total of eight different great whites at one time!! I can't even begin to say how happy I am, I have even shed tears of happiness on this trip 😊
Thank you to all the crew and fellow divers for this wonderful experience.
–Leah, Miami, FL, USA
---
This has exceeded all my expectations! Definitely the experience of a lifetime. The great whites are so graceful. The crew and entire operation is top notch. I count myself lucky to have had such close wonderful encounters with these animals.
–Todd, Canada
---
After today's diving, I jokingly said that if I died today I would be happy having had this experience. This is the experience of a lifetime that should not be missed by anyone who loves the ocean, sharks, and being awed by nature. If it is in your power, go on this trip!!
–Adam, Colorado, USA
---
We came with the highest of expectations and they have already been exceeded! And we still have one more day to go! It's like living within a dream, seeing these huge creatures weaving past us, breaching the surface or even simply just gliding near the boat. We've enjoyed many amazing trips in our lifetime, and this trip will easily rank high among those travels. The ship is superb, crew is fantastic, and the food is wonderful and plentiful. This is a first class operation throughout.
–Steve & Jenna, Tampa
---
No hay mucho que decir. La verdad que una experiencia increíble. Uno podra explicarle a familia y amigos la sesacion de estar abajo del agua cara a cara con el rey del mar; pero no la van a poder entender hasta que ellos mismos estén en las jaulas. Simplemente sensacional.
Un recuerdo que voy a guardar con mucho cariño.
–Juan Passano, Uruguay
📷 By Shannon Mullen