Today we are sailing across the Pacific Ocean to Guadalupe Island after departing from Ensenada last night. The crossing has been very smooth and the sky is overcast and still in anticipation of our arrival. We have welcomed guests from all around the globe, from the U.S.A, Canada, Germany, Korea, China, Uruguay and Mexico! So we have a great mix of people to enjoy the next few days with.
As we approach Guadalupe Island, it is shrouded in cloud and you can just see the lower arms of the landmass stretching out and into the sea and below the waves. It always reminds me of Skull Island from the King Kong movies. However this island is real and you really do feel like you are stepping back in time when you arrive. Forget the sharks for a moment and you have a 10 million year old island with a cloud forest on the top ridges over a kilometre up with endemic species of birds and plants not found anywhere else on earth.
Thousands of pinnipeds (seals and sea lions) from the small endemic Guadalupe fur seal to the giant deep diving Elephant seals. You can pick out the shapes of their bodies littering the shoreline and sometimes they come over to the boat too. Their calls, howls and barks which sound almost human at times fill the air throughout the day and night and add to the magic of the island.
Pods of dolphins regularly swim past and often welcome us to and escort us from the island when we leave. On occasion we also see humpback whales and even beaked whales, which are an extremely rare species that are capable of diving deeper than sperm whales!
It truly is an incredible, isolated, unique, beautiful and exciting place to be and one I really hope you come and see for yourself! Don't just take my word for it. I promise you will not be disappointed!
–DM Martyn, the Nautilus Belle Amie  
---
What a day! I can't say how many shark I have seen today..maybe 10?? Usually you a have 4 or 5 individuals circling around all day long, but today every time it was a new shark. And not just new but big. We have seen big males and adult females all day, including "Slashfin," "Joker," "Andy," and "Rhet."
–DM Mirko, the Nautilus Explorer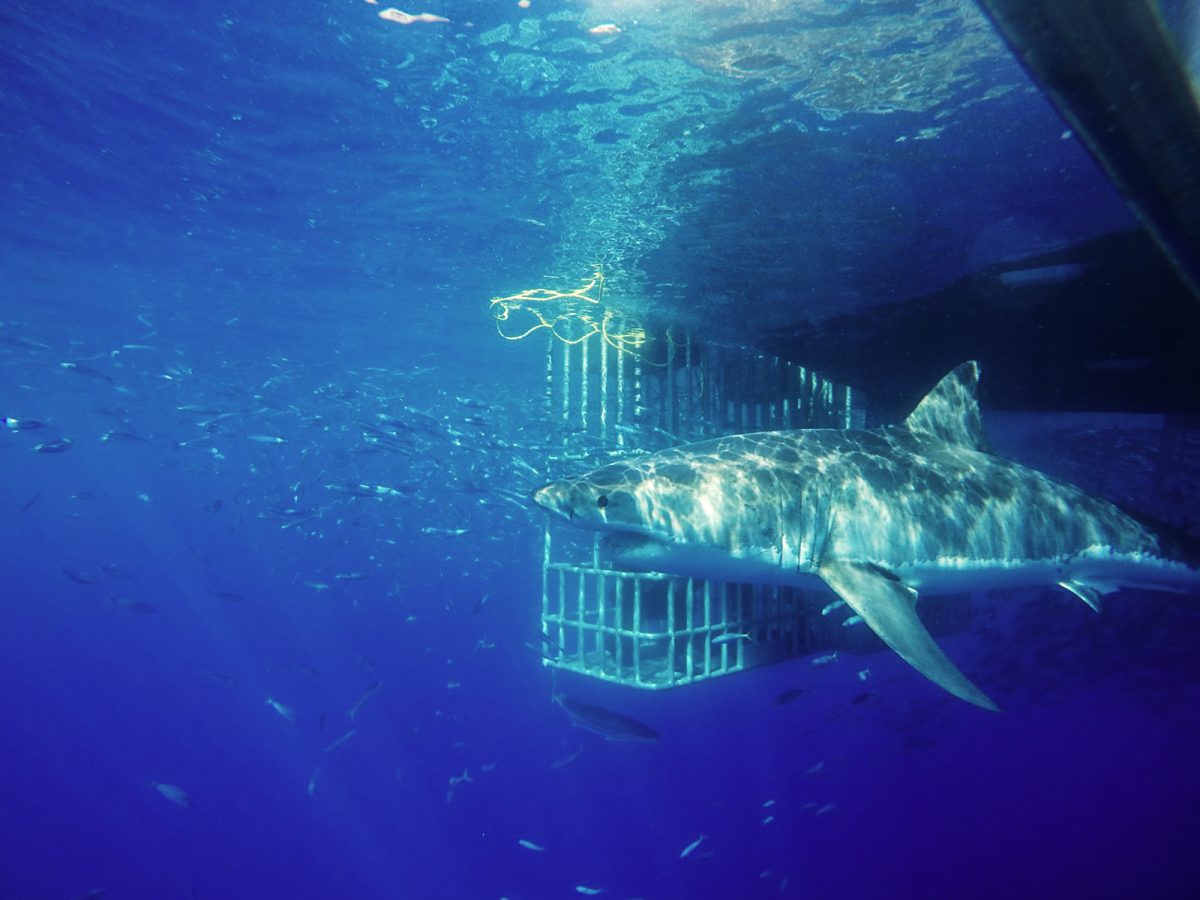 ---
Today we had some truly amazing dives! The Guadalupe great whites were very active the whole day. At least 5 at the same time and a sea lion among them that was visiting our cages. We could identify "Ropey," "Mau," "Hunter," "Rhet," and our favorite shark, "Kenric" (with his pilot fish of course).
Today's visibility was about 90ft (30 metres) and all our guest were happy taking pictures and having a great time.
–DM Ari, the Nautilus Explorer
---
Days like this stay in your memory forever, even when you have made diving your job and get to witness wilderness every day. The sharks were everywhere, all sizes, both males and females, but on top of that, the surprises keep coming nonstop. From a 5ft breach of a great white before the sun was completely up, to an acrobatic sea lion catching fish under the boat while keeping an eye in the predators after him, to a seagull that spent all day staring at the guests from top of the bow and a group of four juvenile scrawled filefish coming to check the cages up close. It is now time to head back to port with a wine and cheese party! 
–DM Adrian, the Nautilus Explorer
📷 By divemaster Mirko