This time was one of the best trips I have ever experienced. For someone who has never scuba dived before, it was tough to breathe underwater and get it figured out, and the crew was amazing about trying to keep you calm and help you through it. They were all so encouraging and it made it a lot easier. Once I got the hang of it, and I was able to stay down in the water, it was amazing to get see my favorite animal up close and personal. Something I never thought I'd be able to experience in my life. What made it better was getting to spend this time with my dad! Thank you!
–Jayla Tubbs, Flagstaff, Arizona, USA
---
Amazing experience!! Far exceeded my expectations. The crew was top notch. They went above and beyond to ensure we enjoyed every minute. They spent time diving with us, sharing their stories, and wrangled in the great whites. All the dives were amazing. We saw great whites on each dive and at times we saw 5 circling us at once! Big thanks for making this possible.
–Dirk Bak
---
This experience was once in a lifetime. Where do I start? The crew, the boat, the food, the sharks and experience were all world class. You will see many great whites on this trip. If you are even remotely thinking of experiencing this adventure, do not wait to sign up! You will most definitely not be disappointed.
–Michael Pasiuk
---
Wow! This adventure is one that I certainly will never forget. Captain Lowel and the Nautilus Explorer crew were some of the most accommodating that you will ever encounter. Their main concern is your comfort. As for the great whites… Amazing! The action was nonstop from the beginning of the dives until the end. Thank you to Nautilus Liveaboards for making this possible.
–Dirk Hejkal
---
When I was first told about a trip to dive with great white sharks, I said "What, are you nuts?" But we planned this over a year ago, and it proved well worth the wait. Seeing these magnificent creatures underwater was spectacular. The staff was amazing, as was the food. One of the best adventures I've ever had!
–Jeff
---
I have been looking forward to this trip for 20 years and it was everything I had hoped for. Though the crew had seen these sharks before they acted as though it was their first time as well, which only fueled the excitement. The entire crew, from hospitality to the divemasters, to the captain and beyond, were always there for you; whether it was an question or help with gear. This whole experience was magnificent and I will be back!
–Kim Meyer
---
Great trip from beginning to the end. The first morning while watching the first divers enter the cage I was filled with the same fearful excited emotions as on the day my kids were born. The entire crew were beyond any expectation I had. Thank you all for the life long memories.
–Ryan Igo
---
Fantastic memorable experience from start to finish. The entire crew was absolutely wonderful and did everything they could to maximize our experience. This trip lived up to my expectations and beyond. Thanks for the amazing experience!
–Minh Le
---
What an amazing adventure. The crew, the food and the sharks. Everyone exceeded my expectations from top to bottom. Thanks for the amazing memories.
–DJ Sachs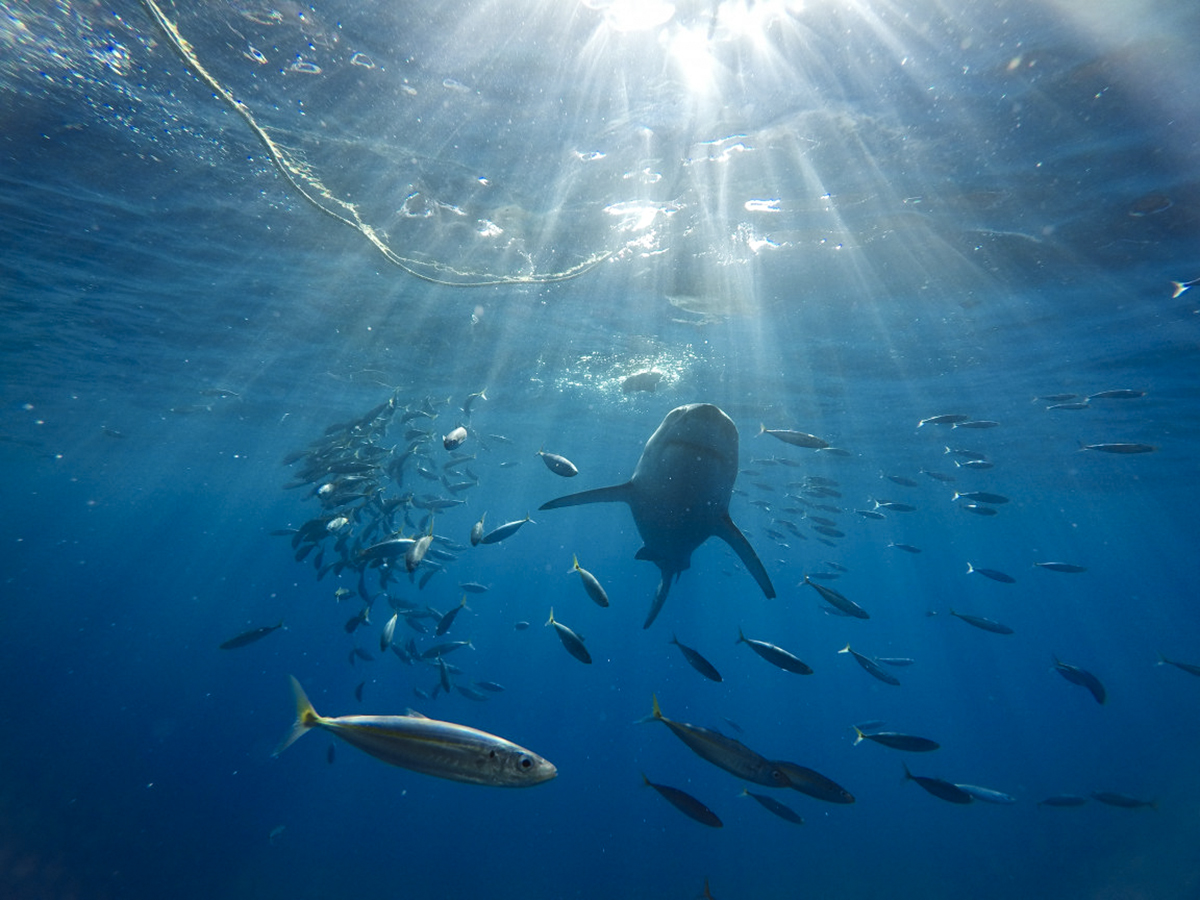 ---
Epic day! We saw sharks on every dive, surface or deep. WOW, food all day, great service, great day!
–Bill, USA
---
A childhood dream come true! Couldn't have asked for a better trip. We saw very active sharks on every dive, the crew was amazing and really made the trip 1000% better. They were friendly, attentive, and truly made sure that we had the time of our lives. AND WE DID!!!!
–Bryce, USA
---
This is an overall amazing experience. It is so welcoming to see friendly staff as you board the boat, ready to assist you in this breathtaking experience. Getting prepared to dive in on day 1, the first dive in the submersibles is a very unique experience as you leave behind the thought of your BCD and exchange it for a weight belt and the hookah line.
The moment your mask goes beyond the surface into the beautiful pristine blue water you are instantly filled with excitement as the action begins. Suddenly you see your first white shark! The excitement is absolutely beyond words. You realize you are truly living your dream to dive with great white sharks. The breathtaking, adrenaline-filled, heartfelt experience continues as the sharks are passing the cage so gracefully. You take in the experience as you want that perfect picture at the same time! What an amazing experience!
–Amber
---
An amazing experience from top to bottom! The crew is helpful and polite, the boat is comfortable, the food is wonderful! But of course the star of the show is the sharks! Every single time I hopped in the water, I have seen sharks. It is so awesome to see them is their natural habitat. Bucket list item has been checked! Thanks!!!
–Stephen Lammers, Minneapolis, Minnesota, USA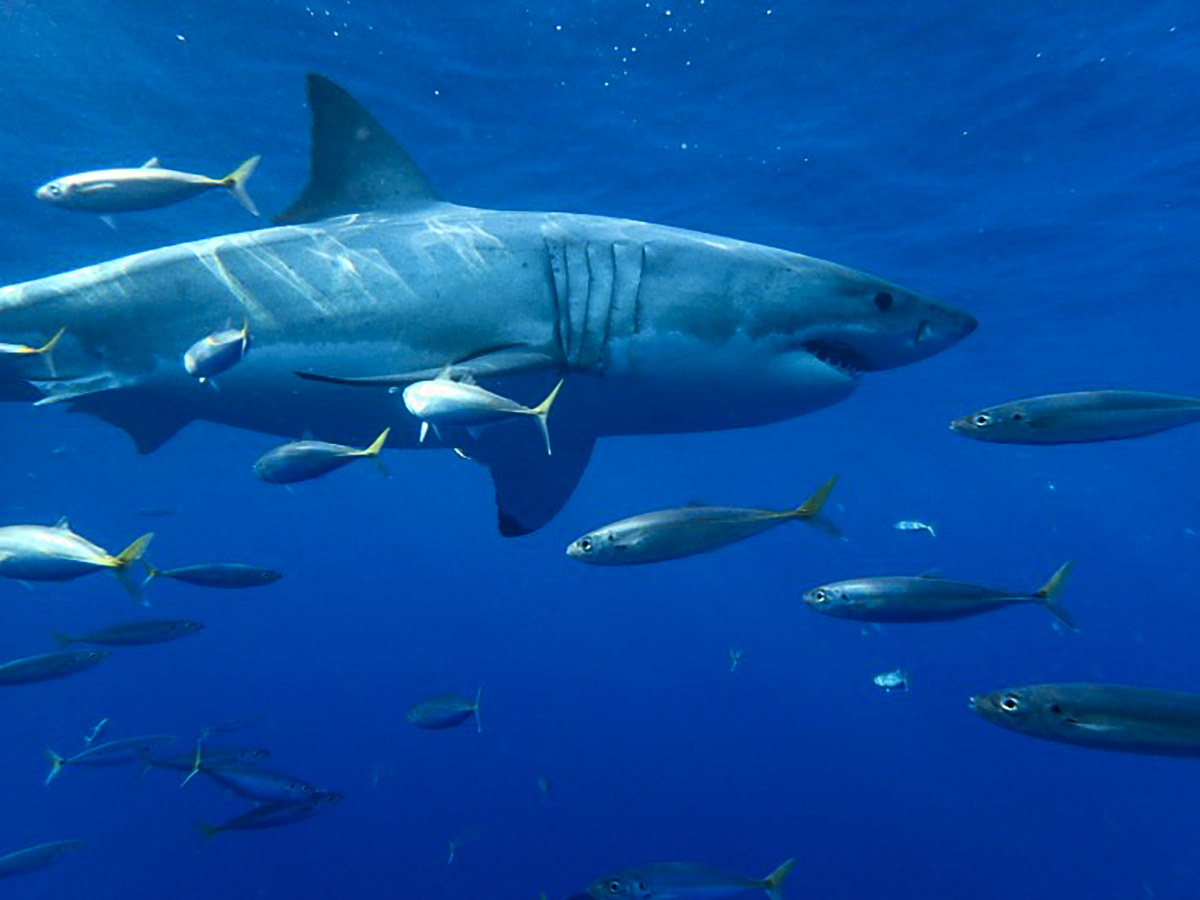 ---
Awesome, awesome, awesome! It is my 2nd year on the Nautilus UnderSea, and I'm coming back next year. I can not think of enough words to explain the caliber of service, smiles, awesome crew, food, setup, and the hot tub.
I had some equipment malfunction on board and crew was right there both times and gratefully sorted out the situation. Rooms are super comfy, I had amazing rests every evening. The presentations were very interesting, both years they were completely different.
Did I mention the food? Felipe catered to several dietary requests. It was also very nice having the espresso maker. It's the small things! It was so nice having Juan and sweet Geronimo, back on board, and all the new faces became friends as well as superb hosts within hours. This is an amazing operation you provide. I am sorry it went so quick.
There was plenty of time in the water. Many photo opportunities. Made some wonderful friends. Had a chance to chill with all. Until next year!!!!
–Gayle, Canada/Mexico
---
Excelente experiencia en el Nautilus UnderSea. Muy agradecido por la amabilidad y la buena vibra de toda la tripulación. El servicio es fenomenal, siempre con una sonrisa y con ganas de ayudar. Gracias a Felipe por tan buena calidad de comida. Definitivamente recomendare Nautilus y sus expediciones. Infinitas gracias a los divemasters Juan, Rodolfo y Tony por cuidarnos en el agua y senhalarnos a los tiburones. Gracias a Oza por la gran atencion recibida y al capitan por llevarnos y traernos con vida!
–Christian, Puerto Vallarta, Mexico
---
Eine lange Reise von Deutschland nach Gudalupe, die sich aber auf jeden Fall gelohnt hat. Wir hatten drei tolle Tauchtage. Haie im blauen, klaren Wasser, die aus der Tiefe empor stiegen und uns Taucher erfreut haben. Vor allem moechte ich der Crew danken, die uns das Leben an Bord so angenehm wie moeglich gestaltet hat. Vor allem moechte ich das sehr gute Essen an Bord hervorheben. Danke, Thank you, Gracias!
–Heiko, Germany
---
Wow!!! Wow!!! Wow!!! Absolutely epic! Everything about the trip was truly fabulous. Amazing shark activity! Food was fabulous, boat was extremely comfy, beer was cold, everyone was amazing!!! What a great crew! All of you truly made this a wonderful experience!
–Ash, Cabo, Mexico
---
My husband and I had the most amazing time on this trip. It's difficult to put the experience into words. I can't believe we waited this long to experience a liveaboard! The food was absolutely amazing and the crew was fantastic. Everyone made us fee like family. The boat was so comfortable and spacious. I thought this would be a once in a lifetime trip but we are honestly already talking about booking the next trip with Nautilus. We had the time of our lives- oh and the sharks were cool too! Lol! Until we meet again!
–Adrienne & Joseph Martin, New York City, USA
---
Seit ich mit dem Tauchen begonnen habe, war es mein Traum mit Weissen Haien zu tauchen. Es gibt kaum Worte, um zu beschreiben, was fuer ein wundervolles Erlebnis die Tauchgaenge von der Nautilus Undersea waren. Es war ein Privileg!
–Andreas, Germany
📷 by Divemaster Mirko