Another great day of diving at Guadalupe Island. The action started at 6:30am (the sharks were very active, going at full speed for the bait). At midday the action slowed down a little but one shark was coming closer and closer to our cages. In the afternoon we had 5 sharks at the same time. We had a blast.
–DM Ari, the Nautilus Explorer
---
The storm "Rosa" delayed our departure by a day, but our navigation to Guadalupe Island was relatively calm. Today was our first day of diving and the visibility was good during the morning but very reduced in the afternoon. There was a little activity during the morning with some sharks approaching to the bait every now and then, but then in the afternoon the situation changed and it was very exciting! We even had some spectacular sharks breaches fully out of the water.
In our "Shark ID" session, that we have every day at the end of the dive day, we worked to identify which sharks visited us. We think we have a new shark as we couldn't find in our records, she is a female shark, about 13 ft long. We all are anxious for tomorrow as the weather seems to be getting better. Water temperature is 20°C and visibility is at 20ft.
–DM Pedro, the Nautilus Belle Amie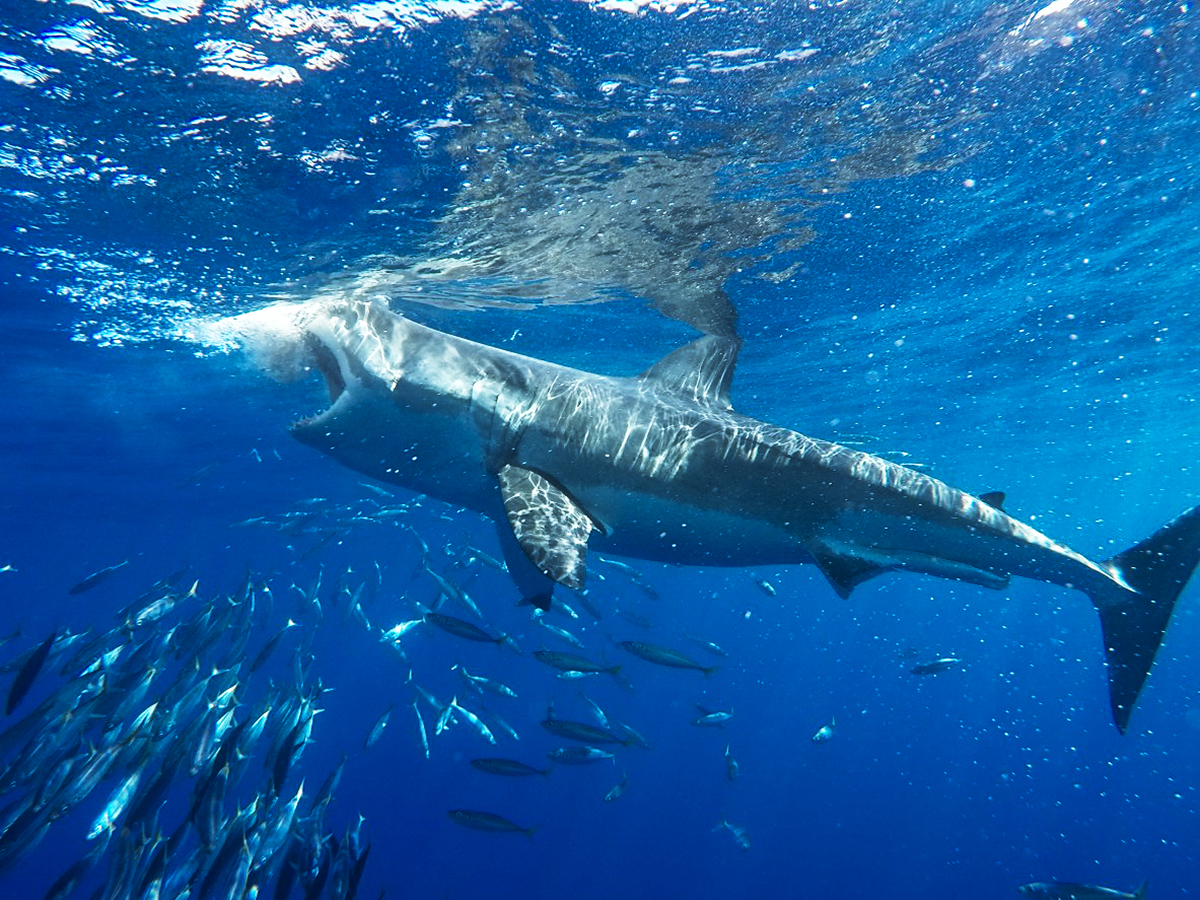 ---
This was a very fun trip aboard the Nautilus Explorer, with guests going in the cage with only furry underwear on, and one had a giant inflatable shark costume! The visibility was not at its best all the time, dropping to 30 feet at some points, but we have had lots of sharks, alternating between the submersible cages and the surface cages. Tomorrow is our last day of diving here, we hope the sharks will give us a great show!
–DM Yann, the Nautilus Explorer
---
Another awesome day at Guadalupe Island today! Even though the Storm "Sergio" made the water a little murky, the diving was still great! We had a certain female great white going all out for the bait in the last couple of hours; she took a lot of our tuna stock! But it was worth it, she gave us an amazing show, including 3 full body breaches!
–DM Keoni, the Nautilus Belle Amie
📷 by Scott Davis