What a fantastic day!! Two facts made my day:
1. I have been teaching scuba for 8 years and I never seen people learning to breath underwater this fast! There is no need to be certified to join surface cages at Guadalupe Island! All the anxiety and worry about it disappears magically when they see a great white shark. Strange no? Well it is because the whites are astonishing not scary!
2. Underwater conditions and events today were amazing, on top of the perfect visibility and an enjoyable water temperature, we had yellowfin tuna schooling and chasing sardines all day long, a sea lion hanging out and playing with sharks under the bow, a turtle, and at least 6 different sharks giving a total of 6 almost full body breaches plus a full body one! What a day!
Also, the first big female of the season is here! We have had two great days of show thanks to the shark "Lucy!" Her scars tells a lot about how rough it can be being a old great white shark. She arrived escorted by at least 40 pilot fish… Amazing!
–DM Mirko, the Nautilus Explorer
---
What a way to finish our trip! Today the sharks were as active in the morning as they were yesterday, however, in the afternoon we had 5 sharks at the same time! Visibility improved as well (30+) and we had the pleasure of seeing a shark called "Andy," who was very playful with our guests. Let's see what next week brings! This week was amazing.
–DM Ari, the Nautilus Explorer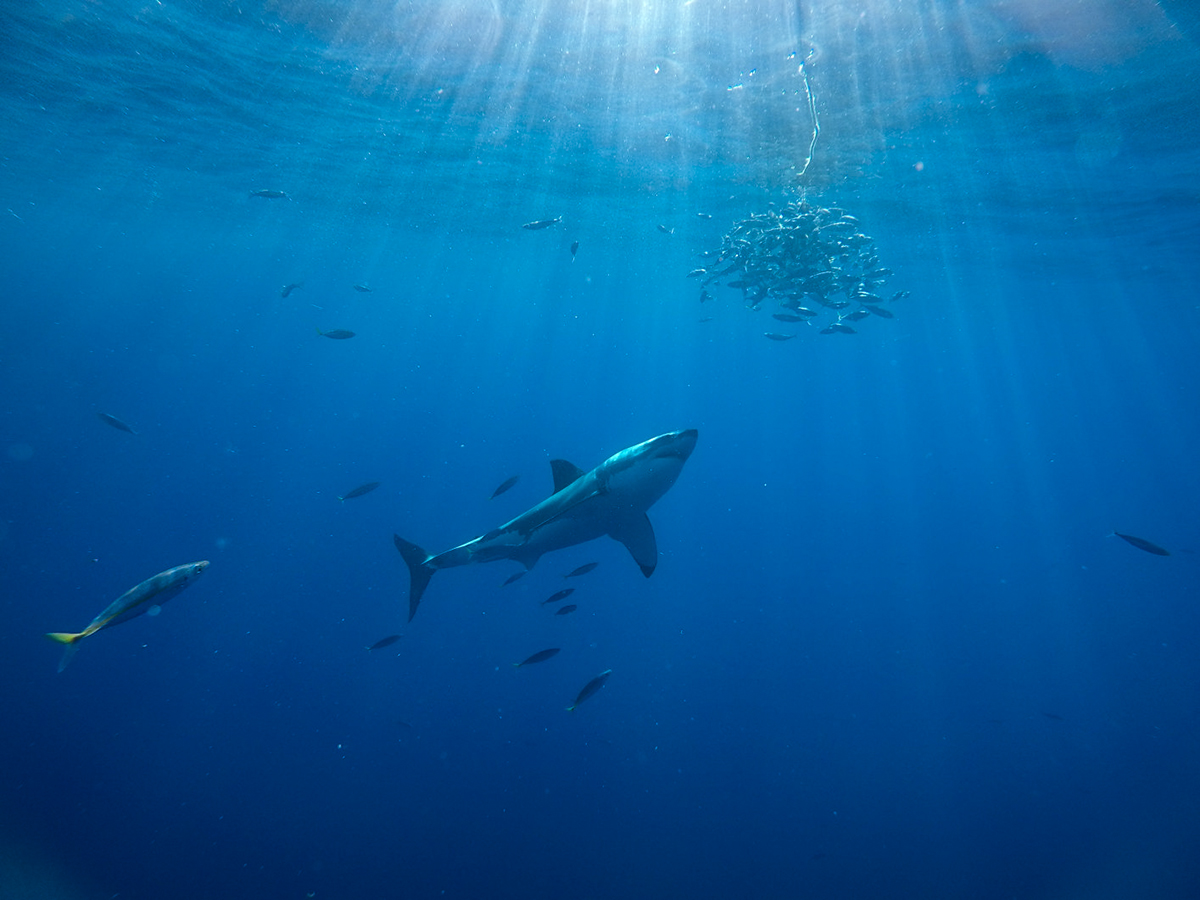 ---
On our last day in cages the visibility came back to normal, with almost 100 feet in the clear blue water. From the cages you could see the anchor chain and we had 4 great white sharks circling the cages and the boat all day long. What a blast! My favourite great white shark came by, a male named "Kenric." He is just the most curious and easygoing shark, cruising each cage slowly but close, so close he could look each guest in the eye! Don't believe what they say in Jaws: their eyes are actually colourful!
–DM Yann, the Nautilus Explorer
---
Our last trip was really good, besides the storm "Rosa." Our expectation was that the visibility this trip would be moderate due to the storm, but we still had 100ft visibility and a water temperature of 21°C. Incredible. The sharks started showing up early, at sunrise, and they stayed all day long until dusk. Everyone was really happy and it was a very busy day. Lets see what Guadalupe has in store for us tomorrow!
–DM Pedro, the Nautilus Belle Amie
---
Spending 4 hours a day beneath the surface with so many great white sharks, you start to get used to them little by little, but then, "Lucy" shows up and her imposing presence scares away any shark smaller than 5m and then is just her and it is all about her. She has no need to rush for nothing. She knows now that all the bait belongs to her and she has all day. An amazing day today on the Nautilus Explorer. 
–DM Pato, the Nautilus Explorer
---
Hello friends! We are here anchored on the north east side of Guadalupe Island. The last two days of cage diving have been absolutely mind-blowingly good. Yesterday was our first day of diving and as soon as the tuna hit the water we had immediate shark action. All day the sharks were attacking the bait and at least half of the strikes were partial breaches, some nearly full bodies out of the water. The sharks were so active that we were worried that the bar had been set too high.
Today was our second day of diving and it quite possibly blew the lid off of yesterday. We had three or four sharks at any given time swimming around the boat. Up to seven sharks in one field of view on some dives. The guests are mostly seasoned divers and professional photographers and they were all saying it was the best day of white shark diving they have ever seen. I was on the wrangling platform in the afternoon and I counted six sharks on the surface at one time.
They never gave the wranglers a break and we will have to make smaller pieces of tuna tomorrow because it was sometimes impossible to get the bait away from a shark at full speed coming straight up from the deep. We will see what tomorrow holds but as of now we have had such an amazing trip. Whatever happens next is a big bonus and I cant wait to get back in the 74°F water with 150+ ft of visibility!
–DM Casey, the Nautilus Belle Amie
📷 by Divemaster Mirko