Day One:
It was another amazing day at Guadalupe Island. Today we had 30m+ visibility, one turtle and one sea lion playing with the sharks. Around our cages we had at least 5 different sharks. We could only identify "Joker" though, which means that there are still many sharks out there without a name!
Day Two:
Today was epic, especially when "Lucy" the shark appeared. She is so majestic with around 40 pilot fish on top and swimming around the cages the whole day! The other sharks looked so small compared to her. Everyone on the boat enjoyed her presence. People were asking about big sharks and they got what they wanted, so happy days! Let's see what tomorrow brings but these two days will be difficult to beat.
Day Three:
Third day of our trip to Guadalupe Island. "Lucy," the 12-14ft female shark with a broken tail came to visit with us again, along with other 3 sharks. "Lucy" stayed the whole day, disappearing into the deep and coming back later to the surface to eat some of our bait. She is always a little curious and sometimes comes very close to our cages to say hi along with her 40+ pilot fish. Another amazing day.
–DM Ari, the Nautilus Explorer
---
Finally! The big female great whites are arriving!! We like to call them the 'Big Mommas' and they are around 14-15 feet long and chubby; very impressive to see underwater. They have a lot of scars and marks from their past mating, as the males tend to bite the female ferociously and leave these 'love bites,' particularly close to the gills and pectoral fins. Today we spent the whole day with "Lucy," a female we had the chance to see two years ago. She was not here last year but today she came back, with 40 pilot fish accompanying her and a lot more scars than before. So she gets uglier as time passes, but she remains one of the favourites with her close pass by the cages and her constant runs at the wrangling.
–DM Yann, the Nautilus Explorer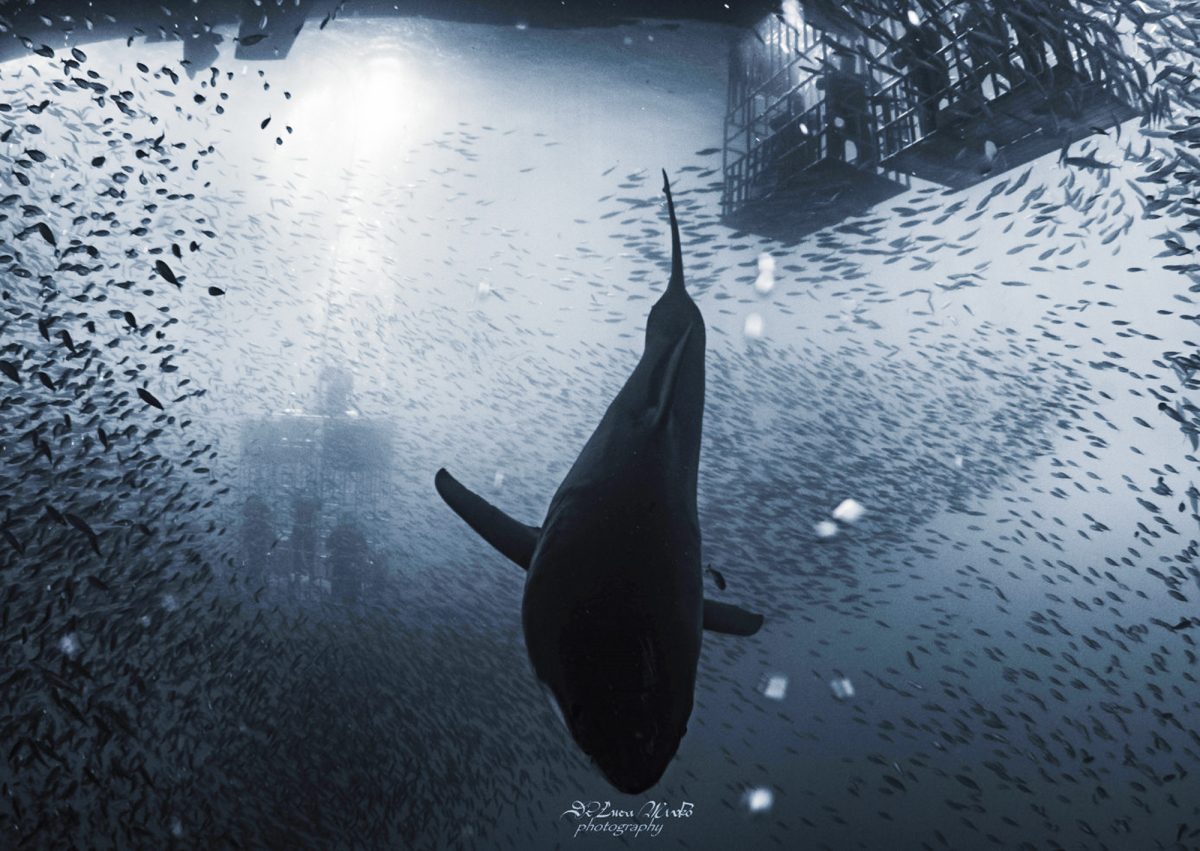 ---
The last two days at Guadalupe Island have been, without a doubt, two of the best I have ever had! The visibility both days has been at least 120ft+ consistently without change. Now you might think I'm lying or at least exaggerating however, the Nautilus Belle Amie is 143ft long and the middle cage is beyond the stern and we could see beyond the end of the bulbous bow making the viz at least 150ft! Mind blowing!
To add to this we have effectively been on a lake for the past two days! Its crystal clear with just a breath of a breeze and blue skies overhead. The only things disturbing the waters surface is the divers getting in and out of cages and the white sharks breaching and chasing tuna steaks!
What a show our sharky friends have been putting on for us all. We've have successfully ID'd over 12 individuals to name, however I estimate in just two days we have seen upwards of 30 individual sharks from 7ft juveniles that were just a couple of years old up to 15ft plus leviathans which could be 15-20 years old! Plus a cheeky/brave sea lion!
Also to any guests who may have been here in the past few weeks you may have seen "Slashfin," a gruesome yet beautiful adult female. She had had a long line wrapped loosely on her left pectoral fin trailing about 30m of line and hooks. Today we saw her and she is line-freeeee! Woop woop! Really hope the conditions and activity continues into tomorrow!
–DM Martyn, the Nautilus Belle Amie
---
This trip has been just awesome. The sharks have been present every single day from early morning until we end the day at dusk. The wrangling has been phenomenal, with several full-body out of the water breaches from sharks that are 18 to 22 ft long and weighing over 2000lbs. Even just viewing it all from the top of our sundeck is spectacular. The visibility over 100ft, making it easy to spot at least 3 to 4 shark coming from every direction, approaching our 3 submersible cages and making for a good moment to take great pictures.
–DM Pedro, the Nautilus Belle Amie
---
What a great trip at Guadalupe Island! Sadly it has come to an end! Boo! A small summary of the trip: it was absolutely amazing! One of the best trips I've ever had! Three days of constant shark action, clear blue water with 120ft+ visibility, up to 10 or more great white sharks, wrangling 12hrs straight, people in and out of the cages 'til the last minute like they don't want to leave! Hard work but exciting and fun!
–DM Keoni, the Nautilus Belle Amie