It is tough to put into words just how awesome this trip has been. Ahead of the trip I had some questions for myself: Will some primal fear response kick in and I'll want to sit some dives out? How will I feel diving in a rigid structure and without my own SCUBA? Will I really want to dive so much in the same environment and with just the one creature to observe? Will it get a little boring? Will it *really* be worth it? Now I have answers: No. NO! Great. Yes. No. And lastly YESSS!!
The crew has been awesome. All of them and without exception. Both in the salon and cabins; and out on the dive deck and beneath the water, we feel so beautifully taken care of. We have been extremely well informed through the briefings and presentations and cared for like royalty at every turn. Each member of the crew has shown such kindness and such attention to every detail – the food, the service, the diving, the wrangling, the welcome, the warmth, the humour, the laughter and ALL of the smiles.
I'm not even going to dwell on the sharks, except to say that my back of brain concern that we may only see one or two (or none?!) was SO unfounded. Every single dive for every single guest has seen a number of individuals. I can't begin to ID them all, but would guess we must be talking at least 15 or 20 different sharks.
Guadalupe Island, you have won. At everything. Thank you ALL for making this trip exceed even my wildest dreams. Great sharks. Great new friends. Great memories. GREAT trip! I'd always thought of this experience as a once in a lifetime one. Now I am already dreaming of coming back. I've been lucky enough to dive all over the world and before this trip I always struggled with the "where's the best place you've dived?" question. Let's just say that answering that just got a whole lot easier!
–Ben Illis, Brighton, UK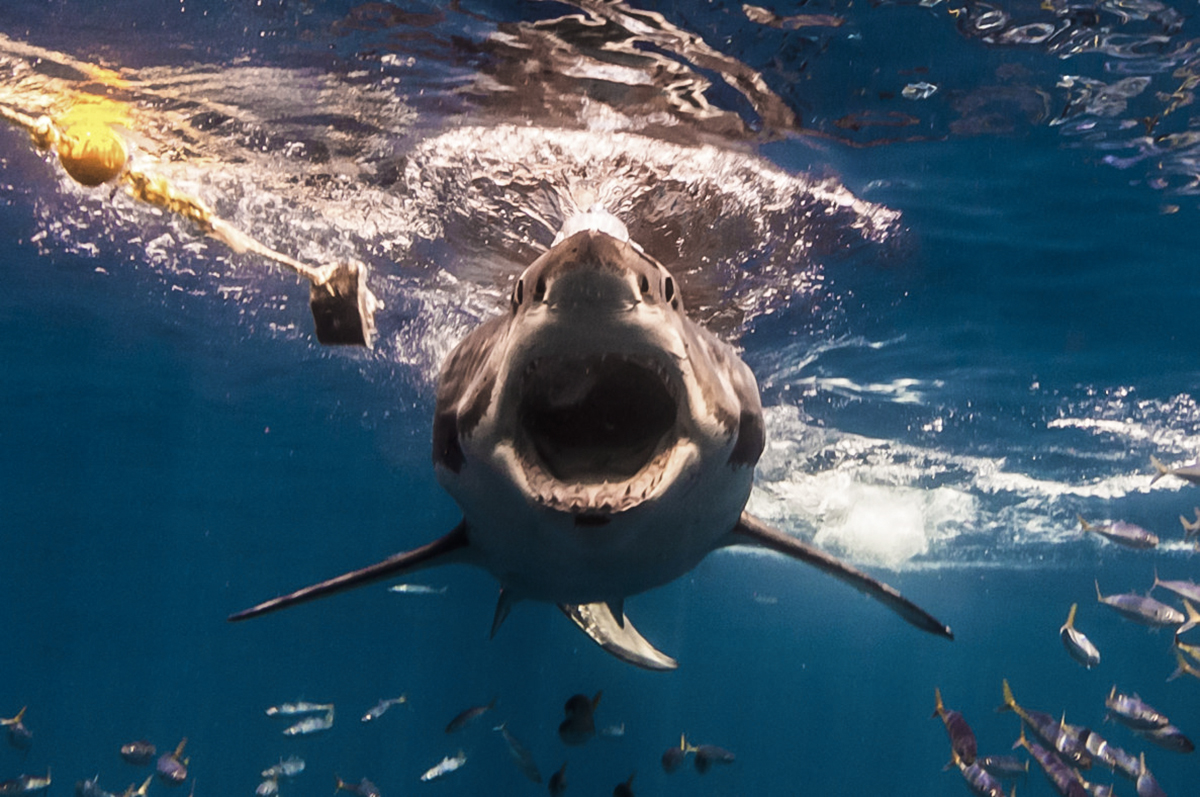 ---
One of the best trips of my life! The crew was top notch and to be able to be in the water with great whites was a life long dream come true. Thank you Nautilus! I look forward to the next trip.
–Hector, Guatemala
---
I would like to thank our crew of this amazing boat for making our experience so perfect. Not only did they give us top notch customer service they also did small things during the trip to enrich our experience beyond anything we would have imagined. You truly have a fantastic crew that absolutely loves their career path of providing a once in a lifetime amazing experience for their guests. The crew was always right there for us to assist us with our needs. They were extremely professional, caring, kind, enthusiastic and top notch. A certainly important emphasis I would like to make is on the meals and available food which was absolutely fresh and delicious during our entire trip. Your catering is absolutely delicious and we appreciated the amazing menu on our trip. Thank you kindly Nautilus Crew!!
–Amber, USA
---
Just wanted to say a very quick but massive thank you. It has been a superb trip, an amazing crew, with phenomenal diving/sharky encounters. It was everything and more than can be expected. My advice to anyone that is even contemplating this journey is to go ahead and book it. Thank you so much!!
–Octavia, England
📷 by divemaster Mirko