Diving with white sharks was number one on my bucket list and it blows away any expectations I had while planning this trip. As one of 2 disabled individuals on this trip, I cannot express how amazing the crew has been. As awesome as the white sharks where, the crew made this trip. I cant wait to take another trip with the Nautilus Explorer crew.
–Chris A.
---
Everyone probably starts this section with saying that they have fulfilled a dream with the trip of a lifetime. I have been lucky enough to live my dream for 30 years of my career working with sharks in aquariums around the world. So the bar was pretty high for me coming out here to Guadalupe Island to join a host of old friends and new faces to meet some great white sharks together. And I could not be happier!
I felt joy and wonderment like I haven't felt since discovering my first tide pool as kid or caring for my very first shark fresh out of college. The kind of grin that makes your face ache from dropping your jaw all day, and we're talking allll day. You couldn't get me out of the pool as a kid and you couldn't get me out of the cages here either! I could not get enough! It took the fantastic food and hospitality of the team to draw me back into the galley. The hospitality was top notch and the adventure never got old.
I learned so much about the sharks I have adored all my career and back to my childhood. I always felt welcomed and respected and just plain spoiled! So, in this version I will end with saying this truly was a trip of a lifetime, except for one little detail: I'm still ALIVE and I'm coming BACK! Gracias, Tusen takk, and my greatest thanks!
–Eric B. Hovland, The Shark Guy, Florida Aquarium, Tampa, FL, USA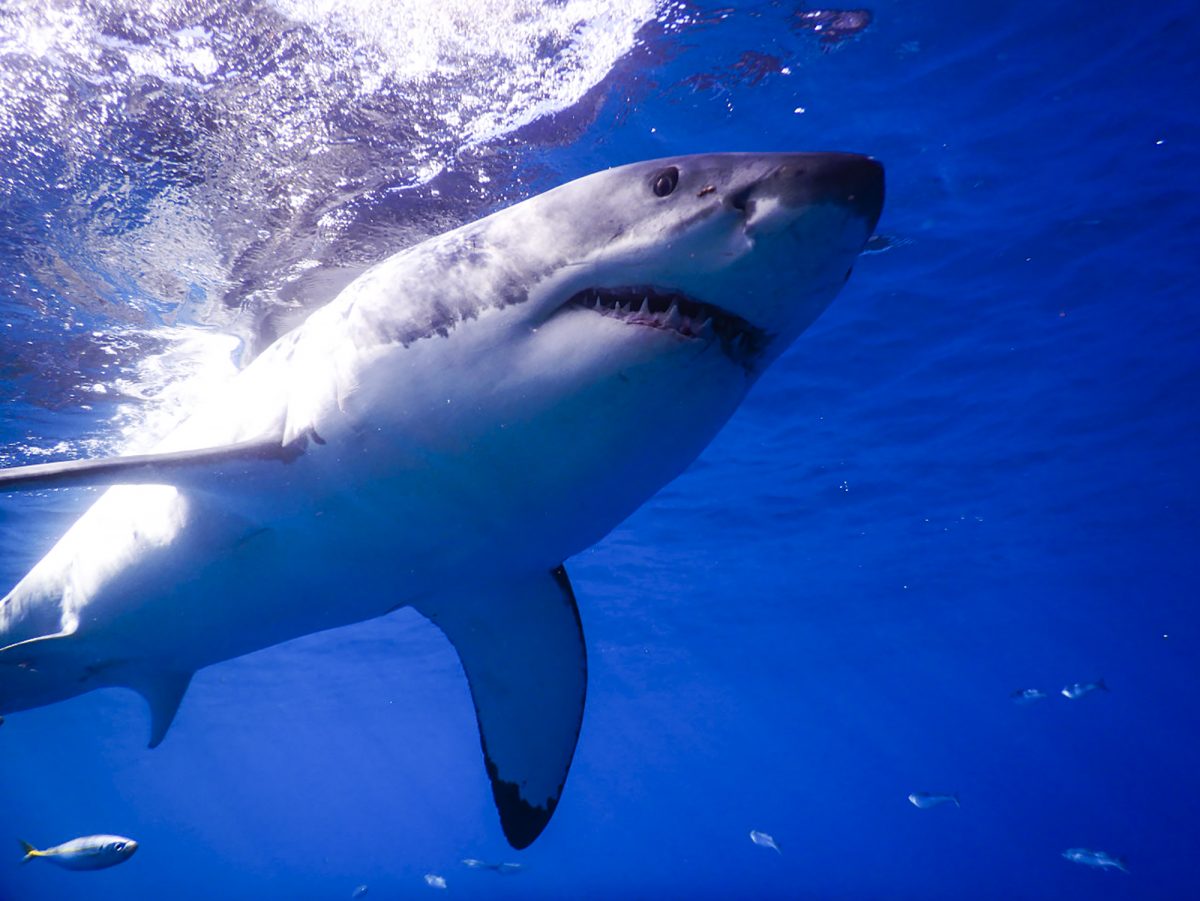 ---
This is a trip that far exceeded some extremely high expectations. I have been dreaming of diving with sharks since I was a kid. The folks at Nautilus made my dream come true! The staff has been incredible. They not only provide everything you need for a great trip, but they are continually looking for ways to go above and beyond.
Their diving process is very organized, allowing everyone to enjoy the submersible cages at least three times a day. Then, you have the option to use surface cages when you're not scheduled for a submersible. Basically, you can dive until you're worn out. You're never left feeling like you didn't get a full day of shark diving.
There are plenty of sharks at Guadalupe Island. You rarely go for more than a minute or two in between sightings. It's almost nonstop activity. What makes the experience even better is that the crew has a great time identifying each shark at the end of the day. It is clear that they have a very personal interest in these animals – that feeling is contagious. I promised my son that I would bring him shark diving when he graduates from college. Now that I've experience it for myself, I can't wait to bring him! Thanks for a lifetime of memories!!
–Bryan Scott, San Antonio, TX, USA
---
It is the morning of Day 3 and I am wondering what it will be like. Upon our arrival at Guadalupe on Day 1 we were greeted by a collection of great whites – I saw five in one dive – some of them breaching almost fully out of the water. They cruised by us in the surface and submersible cages, checking us out with one eye as they lined up for the next attack on the bait line. The wranglers have been doing a great job and the sharks have their favourites, who have been providing a continual supply of tuna to the sharks (they know who they are)??
The visibility has been great – at least 30 to 40 metres. Our first contact with these majestic animals was spectacular! Day 2 was all about the return to Guadalupe of "Lucy" – a 'big momma' that arrived from the ocean with a flotilla of pilot fish. She is HUGE! Luckily for us, she spent the whole day circling the submersible and surface cages, picking off tuna and keeping the males in check. She has an incredible presence. So far, an awesome experience! Time to get ready for Day 3.
–Darren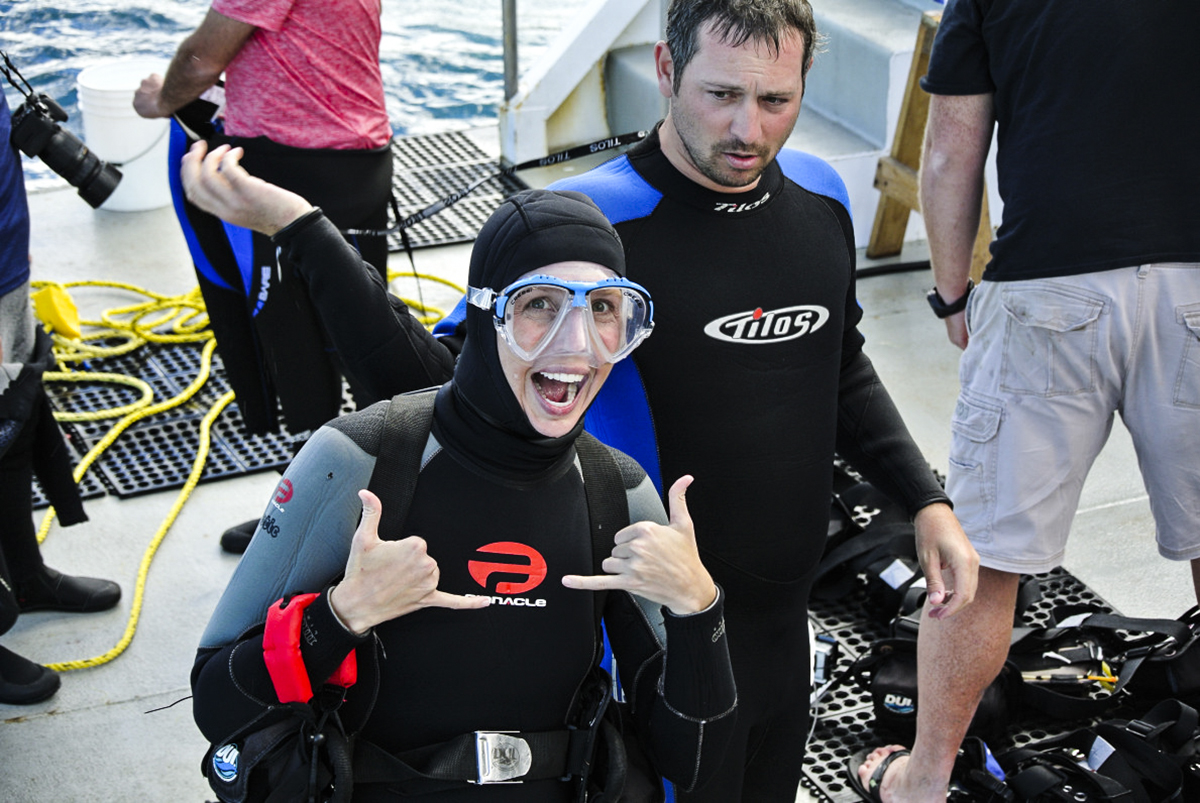 ---
Great diving with the great whites! A wonderful experience in the water and on the boat, thanks crew!
–Cheuk
---
As a dive store owner, I am continually arranging group travel for my customers to travel the world. Over the years we have been to some tremendous dive destinations and dove with some top-notch dive operations, and unfortunately, some not so great ones. I must say however that the Nautilus company has been top tier from start to finish.
We booked this trip at the DEMA dive show and 9 months later we were here. Over that time there has been constant contact from the staff of Nautilus, making sure our every need was met before we boarded the ship. Once on board, the Nautilus crew was always present and accommodating, ensuring our group the absolute best experience imaginable. From the incredible diving, to the amazing food, to the incredible dive crew, this has been no doubt, a trip of a lifetime.
I highly recommend this experience to everyone and will continue to encourage my own customers to put this on their list of dive destinations. We will no doubt be back again soon.
–Travis Meyers, Owner of Gulf Coast Divers, Tampa, FL, USA
---
If scars are the beauty of the deep, "Lucy" is Miss Universe! And all the other sharks seem just as in awe of her as we are. She combines an incredible mix of grace and power. All the sharks are unforgettable, and the crew makes it truly memorable by taking care of all of the details, allowing you to focus on the incredible experience. You cannot come without it leaving a lasting impression all the way around. Thanks Nautilus for everything!
–Dave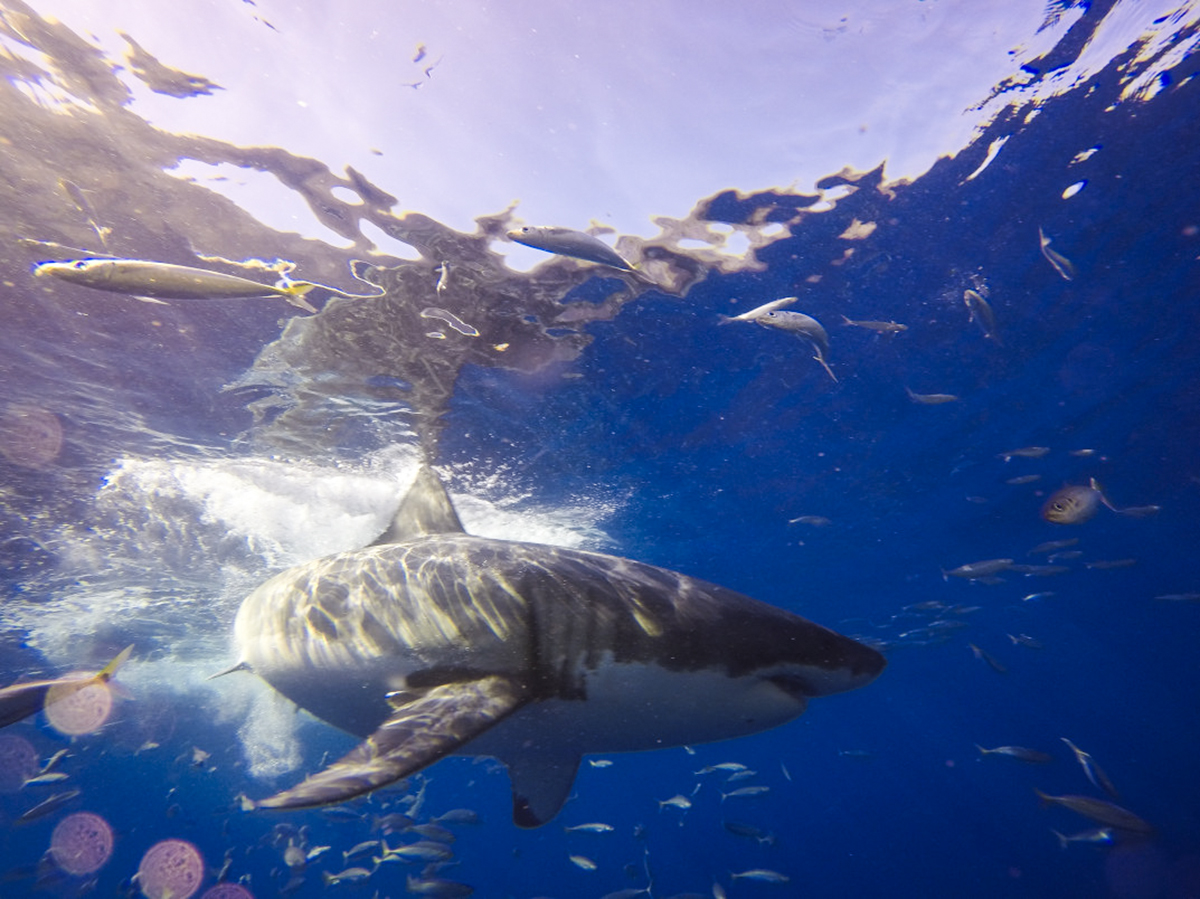 ---
Wow what a tremendous experience I had with my wife at Guadalupe Island with the crew of the Nautilus Belle Amie. The question of just seeing a great white was in the back of my mind before we arrived. I now realize that that quandary was proven to be a waste of time. The amount of true action, cage rattling, and close encounters with the great whites was amazing.
The first two days were nonstop up-close and personal with the sharks. Touchable (but of course we didn't!), unbelievable, eye-to-eye contact adrenaline experiences were happening so often it was hard to keep up. Like I said amazing!!!
The accommodations were awesome also. Food, hospitality, and accommodations are bar none for an expedition. Every staff person wore many hats. They were very persistent to please at all costs and made you feel welcome, comfortable, and well taken care of. A first name basis was important and the crew made sure all accommodations were made. The food was top notch. Many choices and many tastes tickled the tongue. I strongly recommend the trip to anyone curious, professional, or, anyone that just wants to experience a start-the-heart-pumping-adrenaline trip to keep you young. Thumbs up for the crew, ship, and company to make a successful vacation com true! Thank you!
–Charlie McCurdy, Anaconda, Montana, USA
---
What an amazing experience on the Nautilus Belle Amie. The crew is out of this world accommodating and they are so excited about every guest and every aspect of the trip. The trip is completely indescribable, finally getting up close with great white sharks is an amazing experience. Getting to dive each day with an organized schedule, and an excited divemaster is just an tremendous experience and I am so grateful to everyone on board who made the trip so much better than I can describe. Will recommend to anyone and everyone!
–McKenzie Dill, Boston, Massachusetts, USA
---
I never dreamed I would get to see great white sharks up close and personal. The sharks are graceful swimmers and that was a surprise – such beauty and power. The food is wonderful and the variety is impressive. The crew works hard and they go above and beyond to make sure we are safe and enjoying ourselves. The boat is clean and I slept well. The service is impeccable. We are truly in good hands, watching God's creatures. Thank you.
–Contessa Fincher, Ann Arbor, MI, USA
---
Durch Fernsehdokumentationen beschlossen wir nach Guadalupe zu kommen um das Naturerlebnis White Sharks live zu erleben es hat all unsere Erwartungen uebertroffen! Das Team der Nautilus UnderSea ist ueberragend, jeder Wunsch wird erfuellt, schon bevor man ihn ausspricht! Jeder der Crew-Mitglieder ist wie ein Freund! Der Comfort und die leibliche Versorgung lassen keinen Wuensche offen!!! Das Erlebnis unter Wasser laesst sogar Richard mit seinen 12000 Tauchgaengen in Ehrfurcht erstarren und mich als frisch gebackenen OWD mit 30 Tauchgaengen ich komme nicht mehr aus dem Staunen heraus! Wir hoffen sehr, dass dieses Naturschutzgebiet so erhalten bleibt und der Schutz der weissen Haie (und aller anderen Haie, usw.) intensiv fortgesetzt wird, damit unsere Nachwelt so etwas PERFEKTES auch erleben darf!!!
–Daniela & Richard, Muehlhausen, Germany
---
When my dive shop booked this intimate trip of 19 to Guadalupe Island, I was still on the fence. I am so fulfilled after jumping on board to make this trip. I had watched the videos and had seen other input from people on Instagram and honestly nothing could compare to doing this in person.
The boat and its accommodations exceeded my expectations. The crew worked diligently to make sure we were comfortable, safe, happy and well fed. The crew worked tirelessly for 3 days wrangling the sharks in to give us the thrill of watch them in their natural environment and the ability to capture them on film. We started off the the 1st day seeing "Lucy." Wow is she huge! Each day we saw different sharks and the last day we had 4 sharks at once swimming around our cages. We even had a few breaches which were fun to watch from up top. I will be putting Socorro on my bucket list after this experience. Thank you to everyone on the Nautilus team for making this a trip of a lifetime.
–Erin Lindsey, Tampa, FL, USA
---
This trip was amazing and so was the crew! They were helpful in every way. This was my first dive with great whites, but I don't think it will be the last. Starting off the 1st day with "Lucy" and several of her friends kind of spoiled us for the next 2 days. More different sharks started showing up. Sometimes 5 to 7!! YEAH!! Got some good photos of my own up close and personal. A big "thank you" to the whole crew.
–Barbara Shank, Largo, FL, USA