In the pristine waters of Magdalena Bay striped marlins, sea lions, birds and other pelagic fish gather together to hunt the famous Sardines and Mackerel bait balls. From October until December we can witness this show that mother nature has to offer us.
After a week of diving in the Sea of Cortez and witness unique animal behaviour, we are on our way to the grand finale "The Striped Marlin".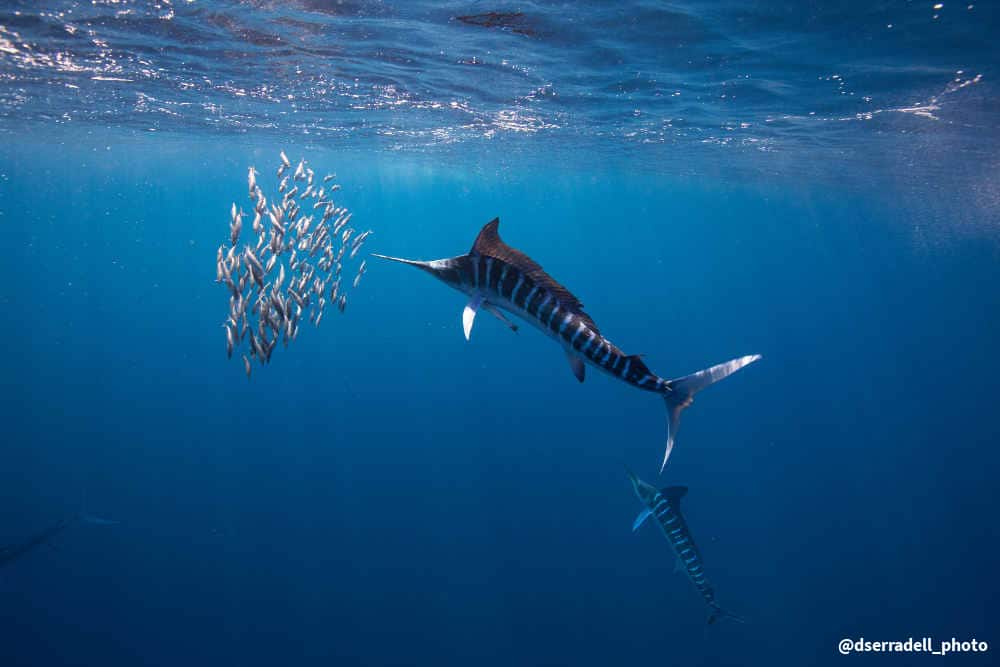 On the hunt for Striped Marlin
This day we only dedicated to search the striped marlins in Magdalena Bay. We heard from our local guys that they spotted striped marlins further south. Therefore under night, we navigated south for an encounter with these incredible wild animals.
The sea is just dead calm—It's an excellent day to spot things at the surface, and to travel far and very fast in our local guy's comfortable pangas. These type of boats are necessary to catch up with the bait balls, as they can last only a minute or hours.
I have worked many times with bait balls before. But this is something very new for me. These bait balls are created in a very different way from what I am have seen before. Our new friends Gabino and Melesio gave us an explanation of how this interaction was going to proceed.
The sardines most probably get born in this area and other parts of Baja California, The sardines were about 4-5 inches long, not very big this time. They stayed pretty deep down, and in this time of the year they congregate on to deeper water, and that's where the marlins are starting to hunt them up by quickly run them around and pushing them up towards the surface.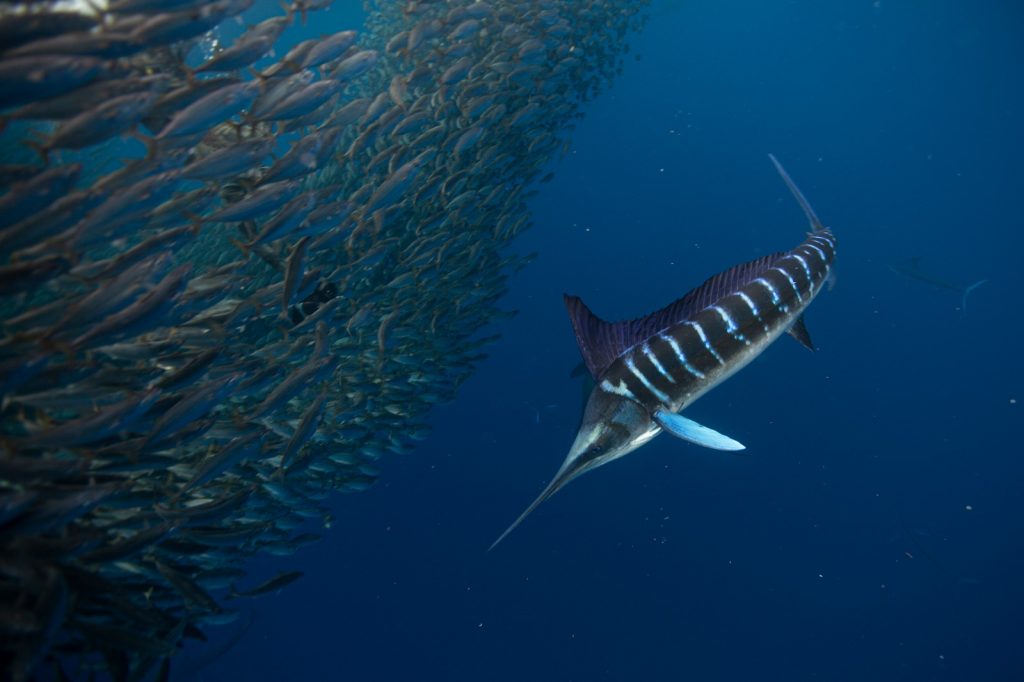 Once on the surface, they become easier prey, they get more cornered in, and that's where the show starts. The marlins go in and turn and slashing the ball of fish with its bill and picking them and swallow. It is a show! And what a beautiful animal! All these colours of silver metallic blue, yellow and green.
To find the Marlins we looked out for birds, they are the ones that guide us to them, especially the frigate bird, as it has excellent eyesight and is our main guide, but also the boobie birds and the shearwaters birds can help us out.
Wildlife eyesights in Magdalena Bay
During our days, we have also seen hundreds of turtles. I really mean hundreds! And I don't know how many dolphins mainly there been bottlenose and some spinners. Honestly, in the start, we were like, oh! Dolphins later on in the trip was more like ah! It's just a dolphin! Not marlin. We Also spotted sea lions, giant group of Dorados and Mahi Mahi.
We haven't seen so far a big stationary bait ball just small ones, but we have seen a lot of marlins more above and below the water. There are many turns in to the water, so we get good exercise for sure! We were going In and out of the water following the sardines. Honestly seeing the hunting show from the boat was as spectacular as being underwater.
Our guest and myself we were so tired after a day like this. But as I looked at the mirror, all I could see was a smile and some sunburns, which was an easy price to pay as a result of navigating all day under the harsh Baja Sun. The sunburns will go away, but the memories of seeing peoples joy will stay in my head for a long time.
Dive guide Sten "Vikingo" Johansson