We enjoyed having David aboard the Nautilus as much as he appreciated our efforts to provide a first class diving expedition. David was on our Clipperton Atoll Trip in April 2010 but we felt his story was worth sharing with you today. Enjoy his beautiful images as well!
31 dives / 31 hours underwater….15 days plus / 361 hours and a few minutes aboard the Nautilus Explorer….Diving the Revillagigedo islands and Clipperton Atoll…..All of it PRICELESS!!!
What a wonderful adventure! Allow me to reminisce about the 2010 Clipperton Atoll trip. Boarding the spacious Nautilus Explorer on the morning of April 10, I was greeted like a long lost friend. After stowing my gear, I began to relax and let the superb crew do their excellent job of assuring my safety, comfort, and gustatory needs.
After a day at sea heading south, we were greeted by a pod of dolphins in our bow wake as we arrived at San Benedicto island. Viewing the 'Boiler' dive site from the dive deck, we were treated to a mother humpback whale and her newborn, breaching close to the island. Underwater, the sounds of the humpback whale songs were absolutely awe inspiring! No giant Pacific mantas today, but there was a layer of krill on which the mantas feed. Sightings of a couple hammerheads were noted off in the 'blue'. After diving the 'Boiler', we made our way to Socorro Island to check in/out with the Mexican authorities before departing for the two day journey to Clipperton Atoll.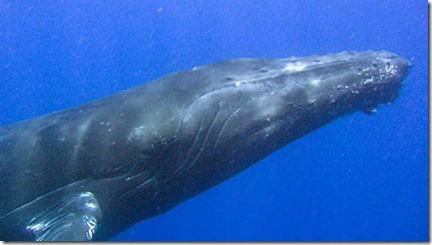 Beautiful following seas and a stable platform (the Nautilus Explorer) insured that everyone was comfortable. This allowed for lots of R&R and a chance to get to know the other passengers. Dolphins played in our wake making for some great photo opportunities during the transit.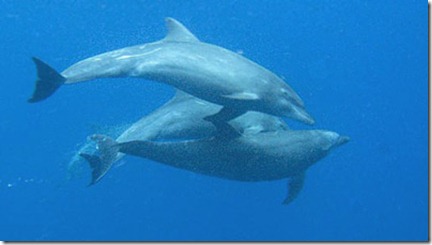 Arrival at Clipperton Atoll was with an unplanned fanfare of a fish bait ball undergoing predation by hundreds of boobie birds, dolphins, and sharks! A decision was made to attempt an in-water close-up of the bait ball action, but unfortunately the feeding frenzy was over before we could get in the water. However, lots of photos were obtained of the above water action!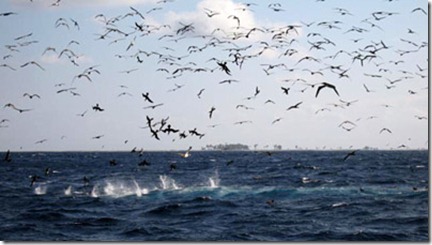 Diving Clipperton Atoll on both the leeward and windward sides was punctuated by beautiful sunrises and sunsets. It is truly fantastic arising to experience the day's first light with your new friends and have a crew member deliver refills of the morning java on the top deck…Thanks Katharine!!!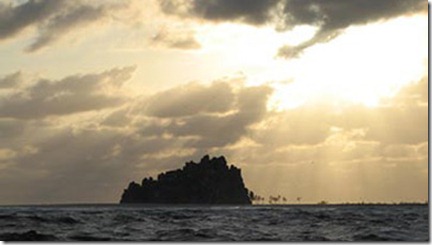 The dives around Clipperton revealed pristine coral, interesting night dives, lots of free swimming morays, endemic fish such as the Clipperton Angelfish, leather bass that could eat steel, yellow-fin tuna, schools of curious jacks, dolphins that accompanied dives, an extended open water freedive with 50-60 dolphins, schools of hammerhead sharks that numbered between 20-30 sharks, an encounter with 50 silky sharks within inches of my camera lens, lots of juvenile silvertip sharks, a huge 'mama' silvertip, Galapagos sharks, and a shark that even our shark expert Mauricio Hoyos wasn't sure about (maybe we discovered a new shark species found exclusively around Clipperton Atoll???)! Mauricio was going to work on the correct identification once he got back to the mainland. A brief sighting of a large Tiger shark was reported as well. The guests had several encounters with the spines of the local urchins as well as some interesting action from the morays….right, Harry???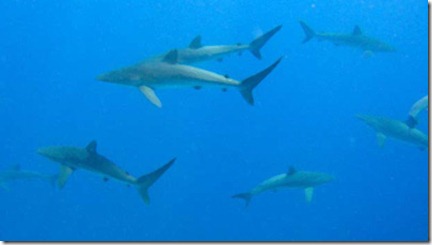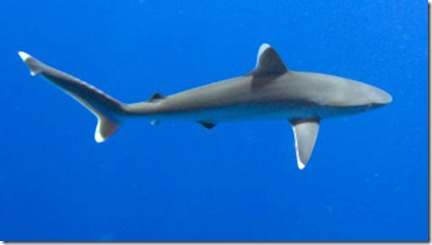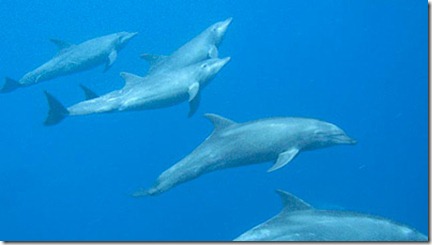 After completing 22 dives around Clipperton, we said good-bye to the atoll and headed back north towards the Revillagigedo islands. After two days transit we arrived to dive Roca Partida. Upon surfacing from a dive punctuated by seeing two 10 foot Galapagos sharks, scalloped hammerhead sharks, and my first giant Pacific manta ray of the trip, we were informed that there was a humpback whale and its calf that were literally hanging out at the swim platform of the Nautilus Explorer! Into snorkel mode we all went, and the mother/calf humpback pair allowed us a special treat with an in-water encounter that lasted over an hour!!!! Thanks to Captain Gordon for knowing exactly where to anchor the Nautilus Explorer!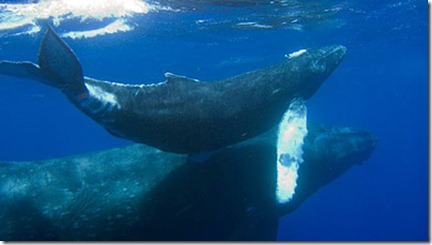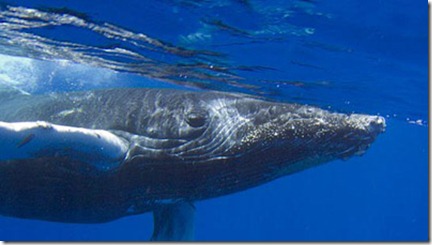 After reluctantly weighing anchor, we made our way to San Benedicto Island to hopefully have more underwater excitement. The next morning dawned with us at the 'Canyon' dive site. Anticipation was high for giant Pacific manta ray encounters and we were not to be disappointed. As many as four manta rays played with us allowing for photo ops as well as gentle encounters with them. I always love peering into their eyes and hope for that special wink!
A glorious sunset with the Nautilus Explorer in the background was the perfect way to end the day and the diving on this trip. We all enjoyed the beauty from the skiff as well as drinks delivered especially for the sunset cruise.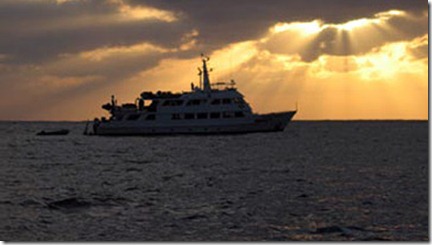 We were fortunate to have some "special" passengers aboard that were doing scientific research. Dr. Jeff Bozanic, Dr. Mauricio Hoyos, and Nicole Crane were all conducting different research on the trip. We were treated to presentations regarding their past and present research where we had the opportunity to gain insight into Great white sharks / Guadalupe Island, cave diving and finding new species of cave life (Remipedia), an excellent manta ray biology talk, a presentation on Antarctica diving, as well as findings regarding the fish surveys done while we were at Clipperton!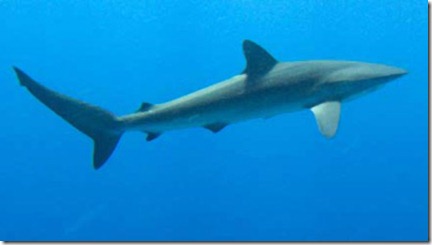 There was even a physician on board (me) that was able to extract a rather large hook from a sportfishing boat crewman's hand that resulted in the largest 'catch' of tuna on the Nautilus Explorer (the fisherman 'paid' in freshly caught tuna!!!)…much to the chagrin of the other fishermen on board…sorry Harry and Sten!
All in all this was a GREAT adventure that was only possible because someone had the foresight to design, build, and staff the Nautilus Explorer for what is arguably the best liveaboard in the Pacific!
Thanks to Captain Gordon and first mate Sandy for a safe voyage with their excellent navigation skills and ensuring our safe voyage aboard the Nautilus Explorer. The hostesses, Kate and Katharine worked tirelessly to make sure that we never wanted for any creature comforts. Larry, the engineer, made sure that all things mechanical stayed that way. Bayu always greeted us with a smile and never forgot to pick us up in the zodiac after we surfaced from a dive. Divemasters, Polly and Grant, were pleasant, professional, and a pleasure to have in the water during the dives. How do you possibly not repeat a recipe with all the meals served over a 15 day voyage?….The answer is you ask Enrique the chef! The food he prepared was unbelievably delicious!!! And Sten…the Swede…What can I say?….Top divemaster….Guide Extraordinaire….My third time on the Nautilus Explorer with his expert divemastering…..I'd follow him to all the ends of the earth diving!!!!!!! Sten, you have my address!
My only regret is that I haven't been able to accompany the Nautilus Explorer to her 'home' waters in Canada.
Again thank you and your staff for the privilege to be aboard for another fantastic, almost indescribable, and wonderful ADVENTURE…..a unique, rare opportunity to EXPLORE the planet in a way few people will ever experience!!!
David Massey, M.D.
Virginia, USA