There's a moment before being fully submerged in the cage, with your back to the ocean, anxiously waiting to be handed your regulator. At that moment, your toes dangling briskly in the water, while the cage bobs along the surface, you're flooded with excitement. You're not quite sure what to expect, yet you know any expectations you might have had will undoubtedly be surpassed. You allow yourself to drift to the bottom of the cage and BOOM, suddenly you're face to face with the ocean's most magnificent predator!
Time stands still as the rush of adrenaline pours over you! It is the experience of a lifetime, and until you experience it firsthand, there truly is no way to describe it. The crew of the Nautilus Explorer were incredible, and the trip would not have been the same without them. I feel incredibly fortunate to have experienced this adventure with everyone aboard!
–Lindsay Jarman 
---
It's hard to fully relate the experience of seeing a great white shark up close for the first time. In your mind, the information that you know (you're behind a cage, the shark is not there actively hunting people, they don't like the taste of humans, etc.) conflicts with basic survival instincts (there is something much bigger than me directly in front of me that could cause me harm). All of these thoughts are racing in your head as the shark approaches and you're just in complete awe of what's happening.
At the same time, the great white shark approaching the cage looking at you is more than likely thinking, "Hey there, what's going on? Oooo, tuna is right there." I never thought in my life I'd ever see a great white up close and it's something I'll never forget.
A big thank you goes out to the crew of the Nautilus Explorer, as they provided a first-class experience that allowed us to enjoy the trip in a fun, safe, and efficient environment. I couldn't imagine this trip without them.
–Steve Prochut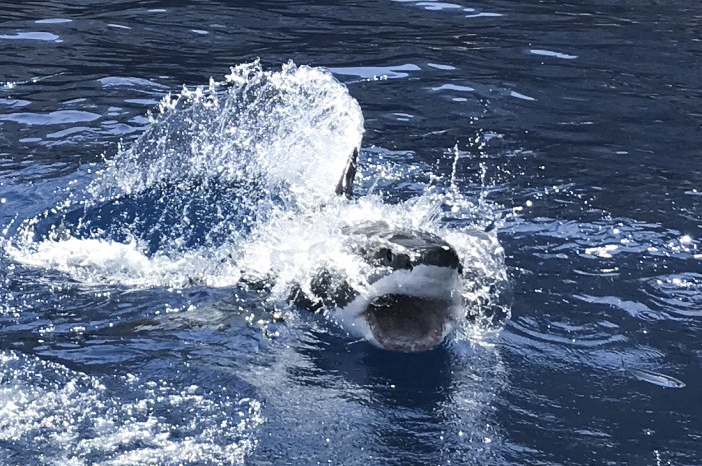 ---
C'est difficile de s'imaginer au milieu du pacifique, au milieu de nulle part. C'est tellement reposant. L'équipe est toujours à notre écoute et prend soin de nous, surtout Luis-Emilio et Pato. J'ai passé de merveilleux moments avec eux, beaucoup de rires.
De plus les requins, la visibilité était parfaite. Les requins venaient tellement proches de nous, ils n'avaient pas peur de nous et étaient très curieux. Les cages arrière étaient toujours à notre disposition ce qui nous permettais d'aller quand on le souhaiter dans les cages. Cette expérience m'a marque et m'a per mis de me rapprocher encore du monde marin.
Je remercie toute l'équipe et particulièrement les deux femmes du bateau qui nous ont préparé de bons repas : Faviola and Dulce. Merci également au capitaine pour ce voyage magnifique. Je recommande à tous cette expérience magique, une telle proximité avec les requins blancs est unique.
–Aurore Malpart-Capinski 
---
I have been a diver for 45 years as well as a PADI Instructor. Just about every weekend I dive with the sharks in my backyard in South Florida – you might say that I go on Safari with Tigers, Hammers, Silkies, Duskies, Blacktips and the list goes on.
Having said that, I have never experienced the thrill that Nautilus has given me by bringing us to Guadalupe Island to dive with the AMAZING GREAT WHITE SHARKS!! Every level of this experience has been first rate and professional. The crew has been sensational and was the most important element of this experience. I will share my great white safari in my Shark Lectures and with my friends back home. Thank you Nautilus.
–Gary Rose
📷 By Divemaster Mirko