What a trip! Of course, we were curious about so many things before our Great White Adventure. Now that it's over we feel much more confident about cage diving and these amazing animals. The crew and vessel were top notch, professional and made our liveaboard luxurious (thank you!). The time in the cages was balanced and plentiful….So many sharks! We had the time of our lives! We'll definitely be back!
–Brian & Jamie, Indiana, USA  
---
Each day has a different flow, sight, smell and movement. What happens on the surface and the boat rhymes with the ocean. The first day is cautiously enthusiastic, introduces the divers to the Guadalupe fauna and, for the great majority, a cage diving experience; we see a variety from a pregnant female shark to a few males, some dolphins, sea lions. The second day is a culmination – the water is filled with sharks, visibility is fantastic, everyone and everything is bursting with the activity and energy, emotions run high. The third day is a mellow one with reduced visibility, sharks lower on the battery charge and misty fog hanging low above the water and the islands making it easier to say farewell…till it wasn't, and the sharks put on a great show.
–Polina Istomina U.S.A
---
We had a great time on this trip! Everything was truly awesome! The crew, the other people on the boat, the food and of course, the great white sharks, were spectacular. The timing of everything was very organized and the crew was very courteous and professional. I would recommend this trip to anyone seeking some fun, adventure and great company. My daughter and I were so happy with everything!! Thank you all so much!!
–Ian & Julia Shepherd, Minnesota, USA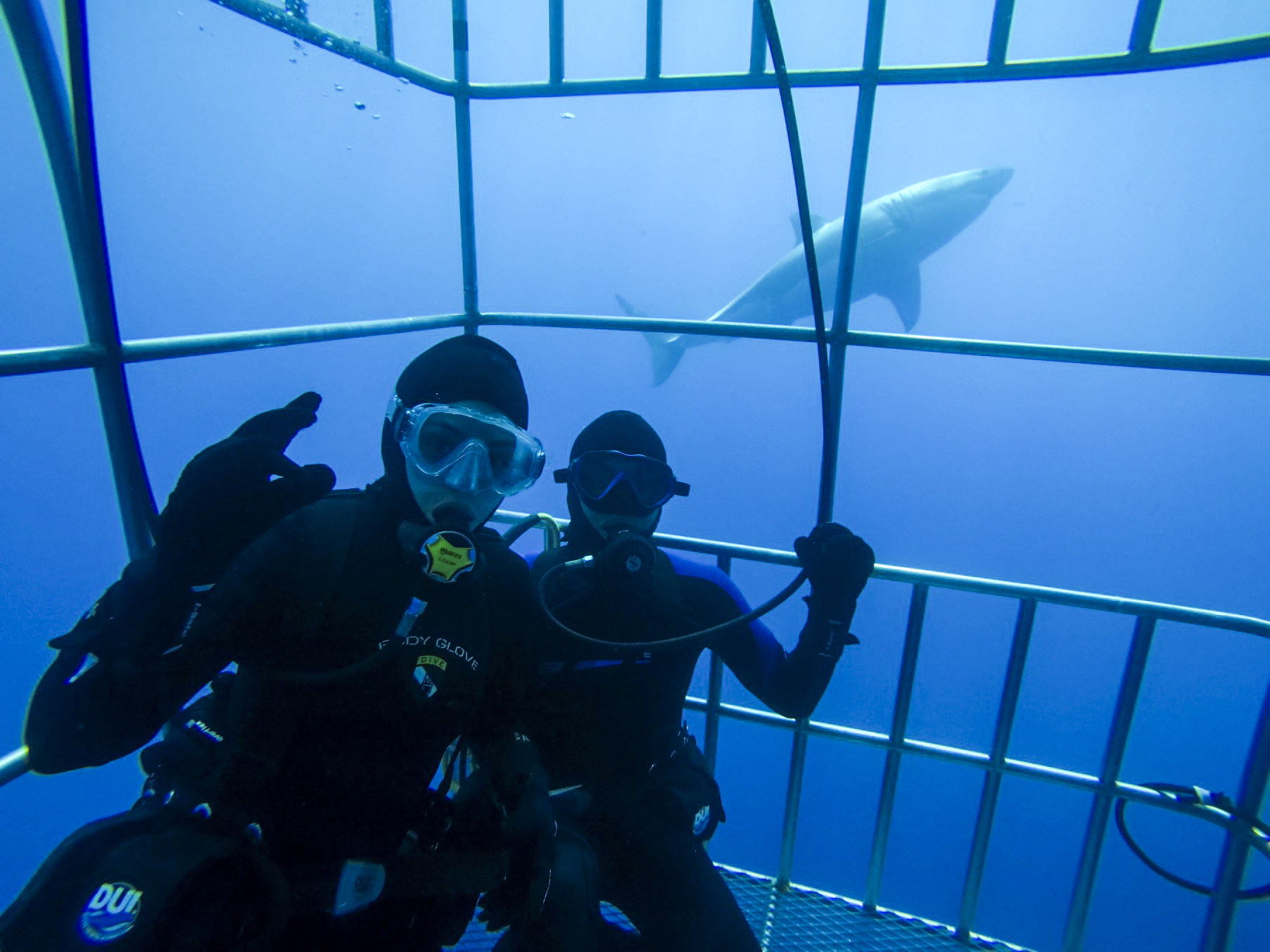 ---
I have been looking forward to getting in the water with great whites for a long time and I still can't believe it finally came true! The sharks were very active and curious. I can't describe the feeling you get when they swim next to you, while looking you straight in the eyes. I just had a great time on the Nautilus Belle Amie and the crew was simply amazing. Thank you so much and see you again in Socorro 😊.
–Nadine Hentges, Luxembourg
---
What can I say, the trip was amazing from start to finish. This was my number one bucket list item, and I decided to finally book it. Everyone answered my questions thoroughly of what to expect before the trip, accommodated me with a wetsuit as well as dietary needs. The transfer to the boat from San Diego was a breeze. The real standout is the sharks, and there are plenty of them. The water is crystal clear blue, even with the cloudy skies and the drizzle we had the last two days there was plenty of action. The crew are all extremely professional and all go out of their way to help you. Thanks so much for making such a wonderful experience.
–Brendan McLoughlin, NY
---
I just want to say thank you to the whole crew of the Nautilus Belle Amie. Starting with Captain Beto, he led by example, by doing all the jobs from steering the ship to cleaning the floors. The divemasters, Damien, Aldo, Perdo, and Martyn were always working so hard, yet always finding time to make us laugh. Making sure we were safe all the same time. To our lovely hostesses, Laurentina and Adriana, who attended to all of our needs with a smile on their beautiful faces. To Chef Julio and his assistant George for doing an outstanding job, the food was amazing! Not one bad meal in our whole trip…I would come back just for the meals! Charlie the shark wrangler, who is only 15 years old, but works hard like a full grown man. His family should be very proud of him!
There were so many sharks to see. That at times my head would be spinning because I didn't know where to look. Bring plenty of batteries and memory cards!
This crew is made up of people from all around the world, entertaining us with their wacky antics. They made us all feel like family. The ship was always clean, the accommodations were excellent, the beds were comfy, and did I mention the food?! The owners of the company should be proud to have this whole crew working for them. They are worth their weight in gold. Thank you for the adventure of a lifetime… I can die a happy man now!
–Delfino Del Rio, USA  
---
O que dizer desta pequena Aventura neste barco maravilhoso…
Obrigada a toda a equipa, obrigada pela comidinha boa todos os dias, pelo bom ambiente, por todas estas belas pessoas que conhecemos ao longo destes 5 dias e que fizeram tudo para que nos sentirmos em casa.
Esta experiencia com os tubaroes foi maravilhosa, poder estar apenas a 3 metros deles e quase poder tocalos e mesmo qualquer coisa de incrivel. Muito obrigada por tudo e ate um dia!
–Marcia, Portugal
📷 By Nadine Hentges