Had a great day making new acquaintances with an array of dear people and experienced the majestic, Zen-like beauty of the great white shark in their natural habitat in the shadow of Isla Guadalupe.
We're being treated like royalty. Felipe has prepared delicious, nourishing food to give us the strength to dive all day long. Anna thinks of everything, not only meeting our needs, but exceeding them. The rest of the crew is making this once in a lifetime experience effortless and awe-inspiring. And it's all done with a humble, humorous, safety-first sensibility.
–Michael F., Brooklyn, NY, USA
---
This trip has been amazing! I have been wanting to do this for two years now, watched a lot of Guadalupe Island videos on Youtube etc., but I couldn't even imagine how amazing it was going to be to go down with the sharks!! Out of this life experience! We have seen like 20 different sharks in total, my favourites were Andy and the big female! Everything else has also been great, fantastic crew, good people and very nice food!!
–James Meijer, Gothenburg, Sweden
---
What a day – Soooo many sharks! Great crew making everything easy and fun. Can't wait for tomorrow.
–Scott W., Minneapolis, MN, USA
---
Great job by the crew. Excellent food, great service (thanks Anna) and the best wranglers and DM's. Thanks for a Sharknado trip!
–Tim W., Dana Point, CA, USA
---
My childhood – and adulthood – dream come true. Incredible experiences every day with beautiful apex predators. It's truly humbling to watch these amazing creatures in their natural environment. Seeing their cautious, calculated movements is hypnotizing and far from the "aggressive monsters" portrayed in sensationalized media. Leaping from the water, spraying us with cool blue water. Cruising by the cages leaving a powerful pressure wave in their wake. These are the visions and sensations I will cherish and never forget. This is the real shark week.
–Adam Fram, Los Angeles, California, USA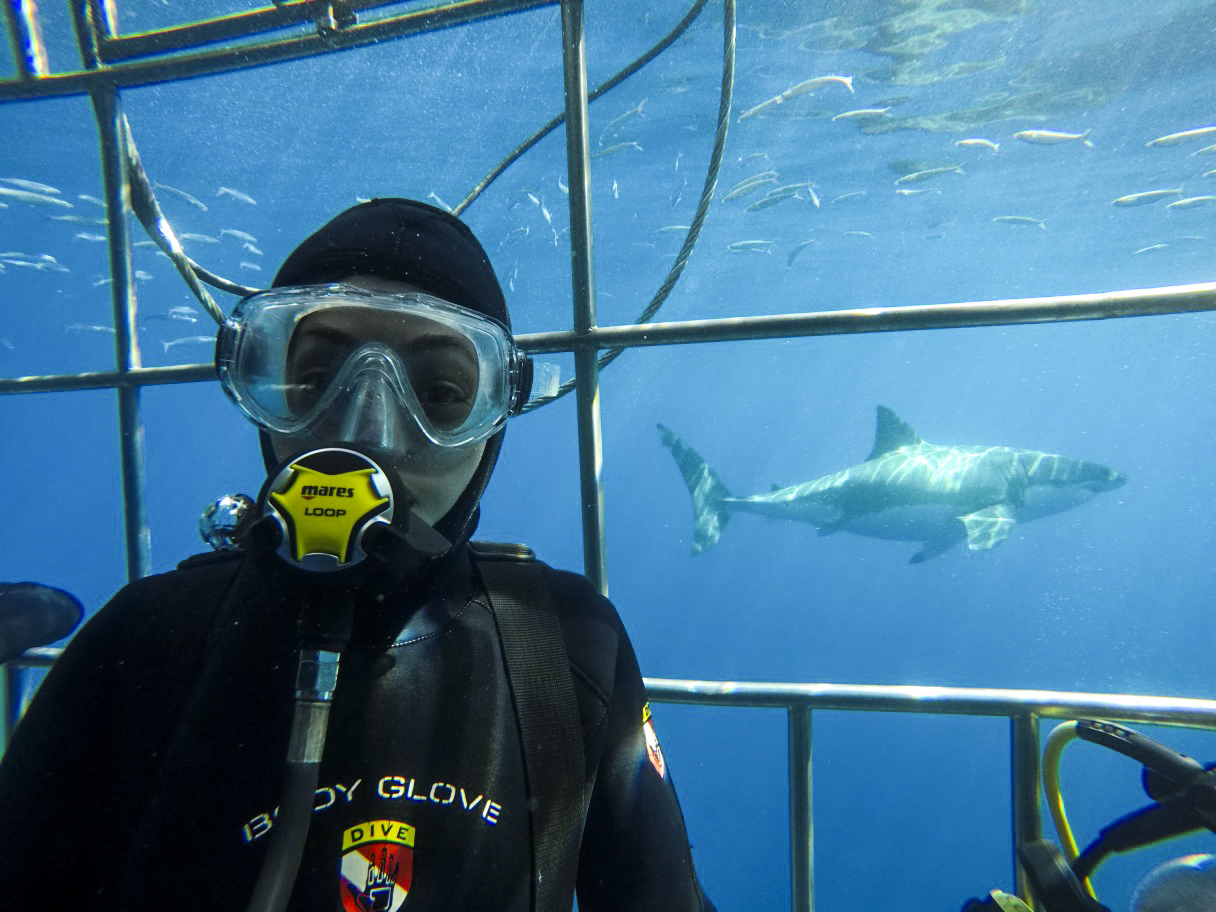 ---
What an amazing trip! This is my second time with Nautilus and it just gets better. The great whites were in abundance and it shows how they are predators of their sea. They are big up close and focused on getting their food. From above or below in the cages there is so much action that the days just fly by. All the crew is very attentive to your needs; meals, diving and keeping us safe while having fun. I will be back for more.
–Todd Leibl, Newport Beach, CA, USA
---
The trip was amazing and way above my expectations. The water was much more clear than I had expected and the shark encounters were fabulous every day. I enjoyed the time spent and getting to know the crew members and making friends.
–Sergio R., Mexico City, Mexico
📷 By Yuri Drozd