My first impression was one of speechless awe. The backdrop of Guadalupe Island is very dramatic with rich hues typical of volcanic mountain rock. You are serenaded by seal calls and you can see them from the boat as they bask in the island sunlight. The color of the water is a captivating azure blue. The great whites are a sight to behold as they show off their muscular form with agile movement and discerning eye glances.
Kike, the Chef, is a culinary artist with his colorful food displays and delectable menu items, all made from scratch. Everything is all natural and super fresh. Every staff member is friendly and very attentive to every need. They make you feel very welcome. The cabin is very clean and the beds allow you the best sleep of your life! To me this trip is a perfect dream come true!! I will be back!
–Nina Paterno, Mount Laurel, New Jersey, USA
---
A once in a lifetime journey, more than expected. They're beautiful creatures, very strong and intelligent. We only dove the surface cages and felt they showed even more action as you are at eye level with the sharks when they charge for the bait. The sharks were very active, especially on the first and third days and it wasn't unusual to see 3, 4 even 5 sharks at one time. Fantastic crew, fantastic boat, fantastic trip!
–Kevin, Boston, USA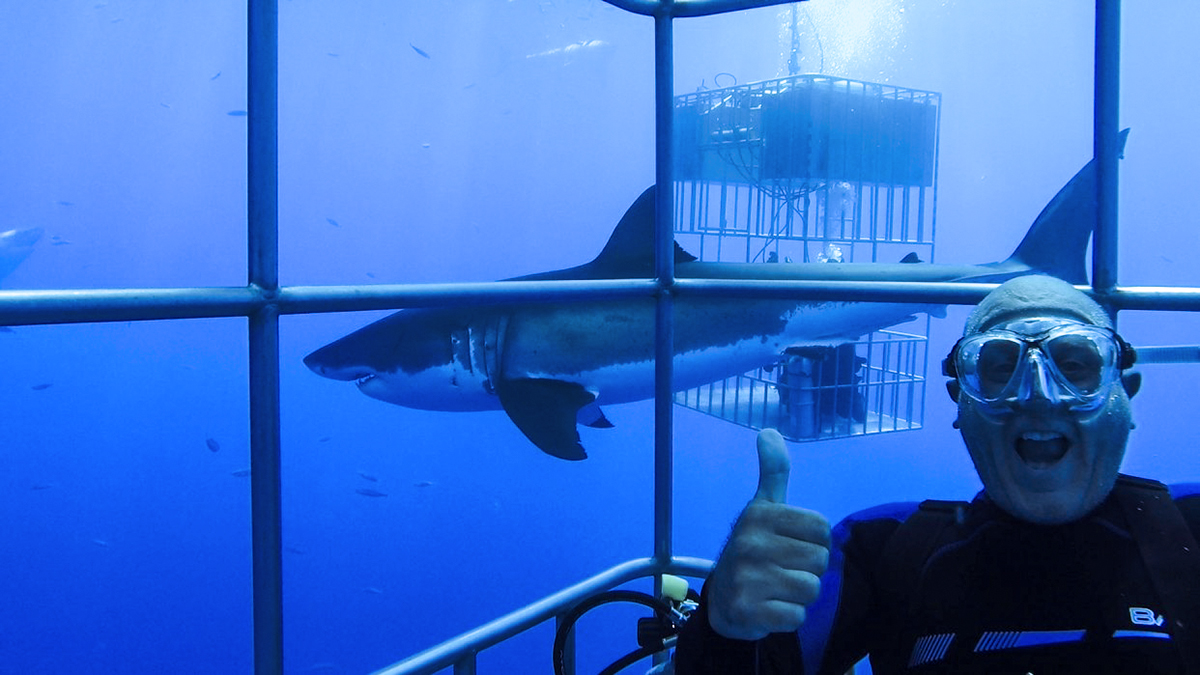 ---
We are very happy because this is the first time we have been able to see the great white sharks. I did try before in South Africa, but I did not get to see them. I like the vibe of everybody, they're always encouraging us to get in the cages and enjoy. Thanks so much!
–Nanxi Feng & Haobin Wang
---
It was such an enjoyable day! Lots of sharks – from watching the great whites glide past the submersible cages, to seeing the activity of the sharks from the surface cages, and even the action from the surface — there was lots to see no matter where you were.
–Beth Pavolini
---
Wunderschönes Boot mit viel Platz und netten Personal. Essen und vor allem der Nachtisch war super. Am ersten Tag gab es mindestens 12 verschiedene Great Whites.
–Nicolai, Germany
📷 By Elizabeth Coronado