We are at Guadalupe Island again, and our guest are anxious to get in and see the Great Whites! Earlier today we gave a presentation to help our guests understand and learn how to identify the sharks (we call this Shark ID), as well as proper cage diving protocol. We also we did a fire drill, as we do every trip, to stay fresh on our safety skills. Now our guests are enjoying a drink after a delicious dinner made by Chef Kike. For sure tomorrow will be a great day!
–DM Mayo, the Nautilus Belle Amie
---
The weather was really really rough this week (which is unusual), but as always, all our efforts were worth it in the end when you start descending in your cage and the first sharks start coming to visit us!
Today we identified "Joker," "Brutus" and "Ropey" but there were over 15 individual sharks throughout the day! The wind is starting to calm down, and right now it is time for the Taco Fiesta on the sundeck of the Belle Amie with our new friends!
–DM Felipe, the Nautilus Belle Amie
---
We are back at Guadalupe Island and once again we had a fantastic sharky day. Forty minutes after the bait went in, the first shark showed and from there on we had non-stop action with at least 15 different sharks throughout the day. There was three females and the rest were all males, mostly very active juveniles.
At some points throughout the day we had six sharks around the boat at the same time! There were lots of close passes around the cages, lots of nice open mouth shots close to the bait and one shark even did a full body breach. We were able to identify "Joker," "Brutus," "Ropey" and "Andy" and we are still checking the photos to try to ID the rest. This season is on fire!
–DM Thiago, the Nautilus Belle Amie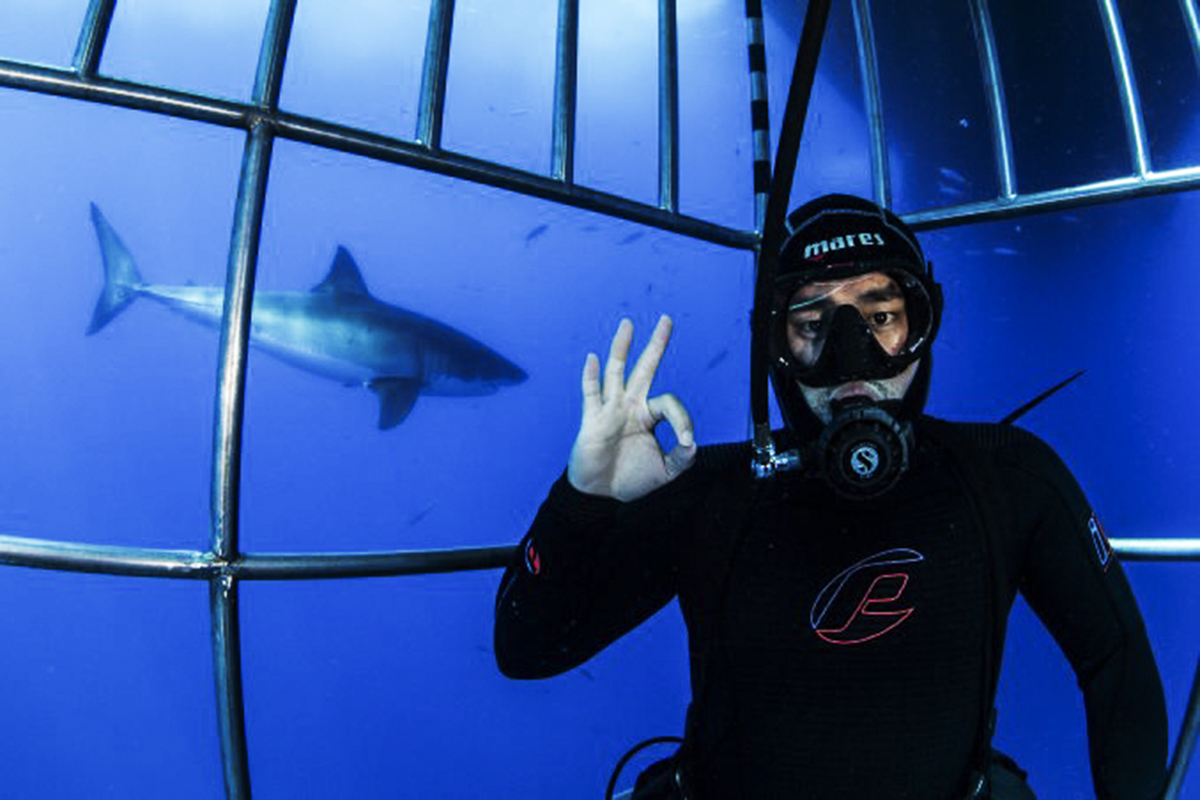 ---
SHAAAARK!!! That is how we started today as soon as we started wrangling at the majestic Guadalupe Island. We had lots of action in the submersible cages as well the surface cages, at one point we had 5 big great white sharks in one frame, swimming around the submersible cages, making eye contact with the divers inside and making close passes. It was EPIC! Best job ever!
–DM Sergio, the Nautilus Belle Amie
---
With a little warmer water and great visibility, this morning at Guadalupe taught us that we should always be hopeful, that protection and conservation do work when done properly, and that future generations of sharks will be around as long as we make the necessary efforts.
From a 6 foot baby, to a fully grown male, and everything in between, we saw all kind of sizes of great white sharks parade by the surface cages. Then the visibility dropped a bit, although the sharks were still around.
OH! Almost forgot… two beautiful full body breaches were witnessed today from the dive platform, one happened further away from the boat but one of our guests captured it, truly a million dollar shot. The second one was on the bait on the port side and was recorded by the drone. Man… what a day!
–DM Adrian, the Nautilus Belle Amie