Girls just wanna have fun…and sharky girls are no exception. This afternoon we had several female great whites, a couple of them juveniles, who put on a show for both the surface cages and the submersible ones. And, like you can see with other kinds of animals, these youngsters seemed to work on their skills by practice, practice and practice, so they really were testing the wranglers skills too.
Time after time, they didn't seem to care how much energy they were wasting, they chased the bait tirelessly, making it look at times as if we were watching a bullfight, although nobody got hurt on this one. Compared to the bigger individuals around, measuring when and how to try for the bait very carefully, the young ones made the day for the surface photographers. Talk to you soon guys!
–DM Adrian, the Nautilus Belle Amie
---
We just finished our first day of diving at Guadalupe Island with a great group of nature lovers. Currently everyone is gathered on our sun deck for Chef Kike's famous Taco Fiesta. Spirits are high after a good day of diving.
As early as 6am, most of our guests were already on the dive deck, armed with their cameras taking pictures as the divemasters performing the daily tuna massacre (just kidding, they're already frozen). Armed with a chainsaw and drill, we cut up bits of tuna to use as bait.
In the water we had a lot of juvenile (smaller) sharks. As the season continues, we are starting to see more and more females. One of them is particularly friendly, taking loops around the cages, making sure she visits every diver and she does come close to the cage!! Three pilot fish hover around her fins, swimming hard trying to keep up. As the day evolved we saw more than 7 different sharks, distinguishable through their gender and the marks on their skin. We're all excited to see who will get attracted by the bait tomorrow!
–DM Jessie, the Nautilus Explorer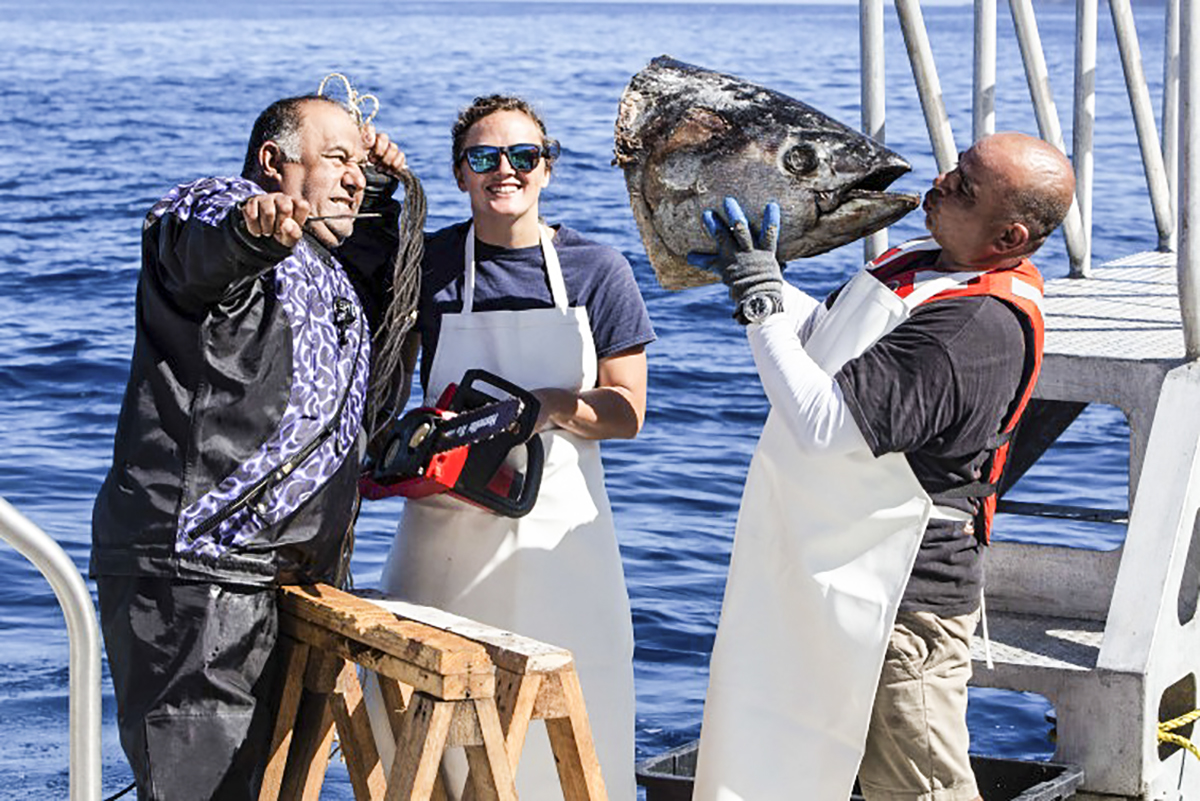 ---
I must say this was an amazing trip. Having the opportunity to dive San Benitos for the second time in less than a year is a rare treat. All our guests were supportive and had nothing but positive remarks.
Our stop at Guadalupe was the highlight of the trip as we wrangled non-stop to attract the great whites for up close and personal observations from the cages and dive deck. We were able to identify several of the sharks and some remain unidentified, but that is just how it goes at Guadalupe. The best part is everyone will have amazing memories that will last a lifetime.
–DM Aldo, the Nautilus UnderSea