I can not say enough about how wonderful this trip was! Seeing a great white up close and personal is not something most people can say they have done, so I went in to this experience expecting to see a handful of sharks. Boy was I surprised! I don't think 5 minutes went by without an encounter. From sunrise to sunset the shark wranglers had them active all around in water as well as breaching above.
All of the shark wranglers – Will, Aldo and Sten – were so friendly and more then happy to share knowledge and a joke (especially Sten). The Nautilus crew was more then I ever expected as well. Anna was a wonderful host who took care of us all and anything you may have forgotten or needed, she had. The food Yanis made was over the top – freshly made to order everyday!
The Captain, Vicente, and the 1st Mate, Gilberto, and the engineer, Angel, helped in anyway and wanted to not only be involved in your trip but make it safe, fun and memory for a lifetime. Martyn was everything we were promised prior to the trip – passionate, friendly, knowledgeable and a great photographer. We will certainly be looking into future trips and look forward to sharing all our awesome experiences with people we know. Thank you all for making my dream come true!
–Andrew & Alicia Habedank, Michigan, USA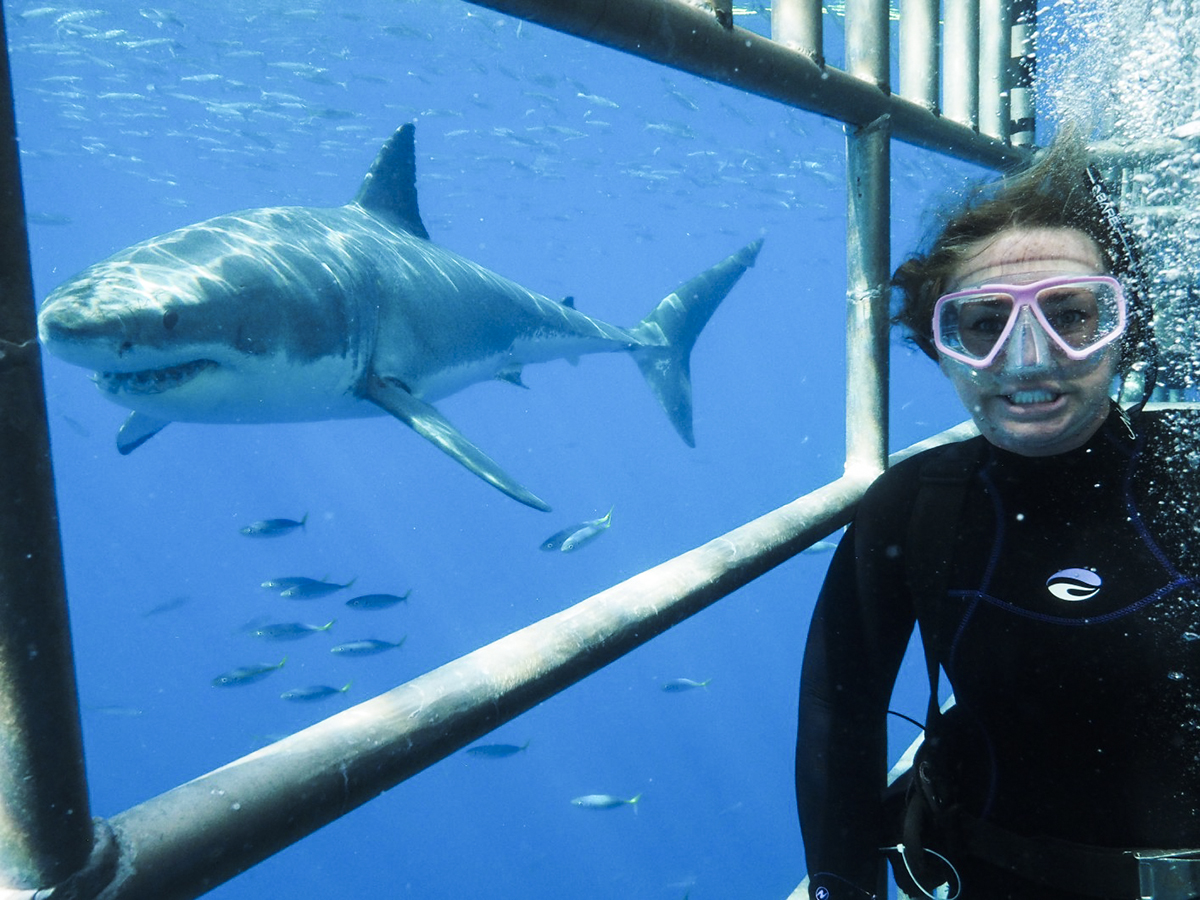 ---
Day 2 was even better than day 1, as hard as that is to believe. Each time I climb out of the cage I'm counting down to when I can get back in. A few less sharks today but the sharks that came in tended to stick around and give us quite a show – they certainly kept the wranglers on their toes. Looking forward to day 3!
–Mitchell, South Dakota, USA
---
Day 2 was awesome. I saw a shark when I was walking down to the dive deck, then when I went in I instantly was met by 2 big boys! The day just kept getting better, every dive I saw at least 2 different great whites, at one point I had 3 at once.
–Neil, Liverpool, UK
---
We anticipated this trip was going to be amazing but what we experienced blew our expectations out of the water like a breaching shark. The Captain docked us at the perfect spot in Guadalupe, and on most dives we saw 2-3 different sharks, the most we saw at once (so far) was 6 sharks! The crew was fabulous, ensuring every guest had their perfect trip. I can't wait to come back.
–Pamela Mudge, Portland, OR, USA
---
Today was incredible. The sharks each seem to have their own personalities. It is quite common to see sharks make dramatic breaches in an attempt to snatch the tuna from the wranglers. The action below the water is so incredible and mesmerizing. Diving below in the submersible cages is a whole different experience from the surface cages, as you get to see the sharks in a calmer and more natural presence. The divemasters are also fantastic in these cages… it seemed every other minute the divemaster in the cage would point out a new approaching shark in the distance. This trip is the trip of a lifetime. I would recommend it to everyone.
–Hugh McNulty, Pelham, NY, USA
---
Awesome trip! I was in the cage first today for my 50th birthday and we saw 5 different sharks! We had a shark first thing that was just 6 inches from the cage. Then we saw a turtle and a bunch of tuna around the boat, which made the shark action increase a lot and we all left happy from the cage.
–Mark & Rachael (Boston via Australia)
---
Estuvo el dia increible con mucha actividad desde temprano. Vimos varios tiburones de cerca tanto en las jaulas de arriba como en las sumergibles. Excelente clima y servicio.
–Jose Angel Ocejo Hernandez, San Luis Potosi, Mexico
---
Que entra seco y parado y sale mojado oliendo a pescado un buzo.
–Santiago Zapata, Mexico City, Mexico