I just wanted to write a note about the last trip we made to Guadalupe Island. Great people, great atmosphere, and great sharking. Absolutely loads of sharks. Over 30 different sharks were identified in 3 days, including a few new sharks and some smaller sharks. It was wild and many had their dreams fulfilled beyond their expectations.
We had many guests that had never been diving or even snorkeling before. So we gave them an introduction to the regulator and being underwater, and then it was up to them to practice breathing with a regulator and learning how to get water out of their masks and equalize their ears. In the beginning it can be a bit claustrophobic, but the best way to get used to it is just to take baby steps and keep moving forward. The first step is to put your face in the water at the surface and take your first breaths through the regulator. As the trip progressed, we happily watched our guests get better and better and by the end they were going down and watching the sharks, knowing what they're doing. It is great that this experience is totally open to non-certified divers in the surface cages. 
We are currently heading back to Guadalupe with a new group because I did not get time to write during the last trip as the computer was always occupied by guests sharing photos on it! Divemaster Aldo made a nice slideshow with all the videos and photos people had shared so they could bring it home as a gift from us. Thanks to all the guests for all the photos and videos!
–DM Sten the "Vikingo," the Nautilus UnderSea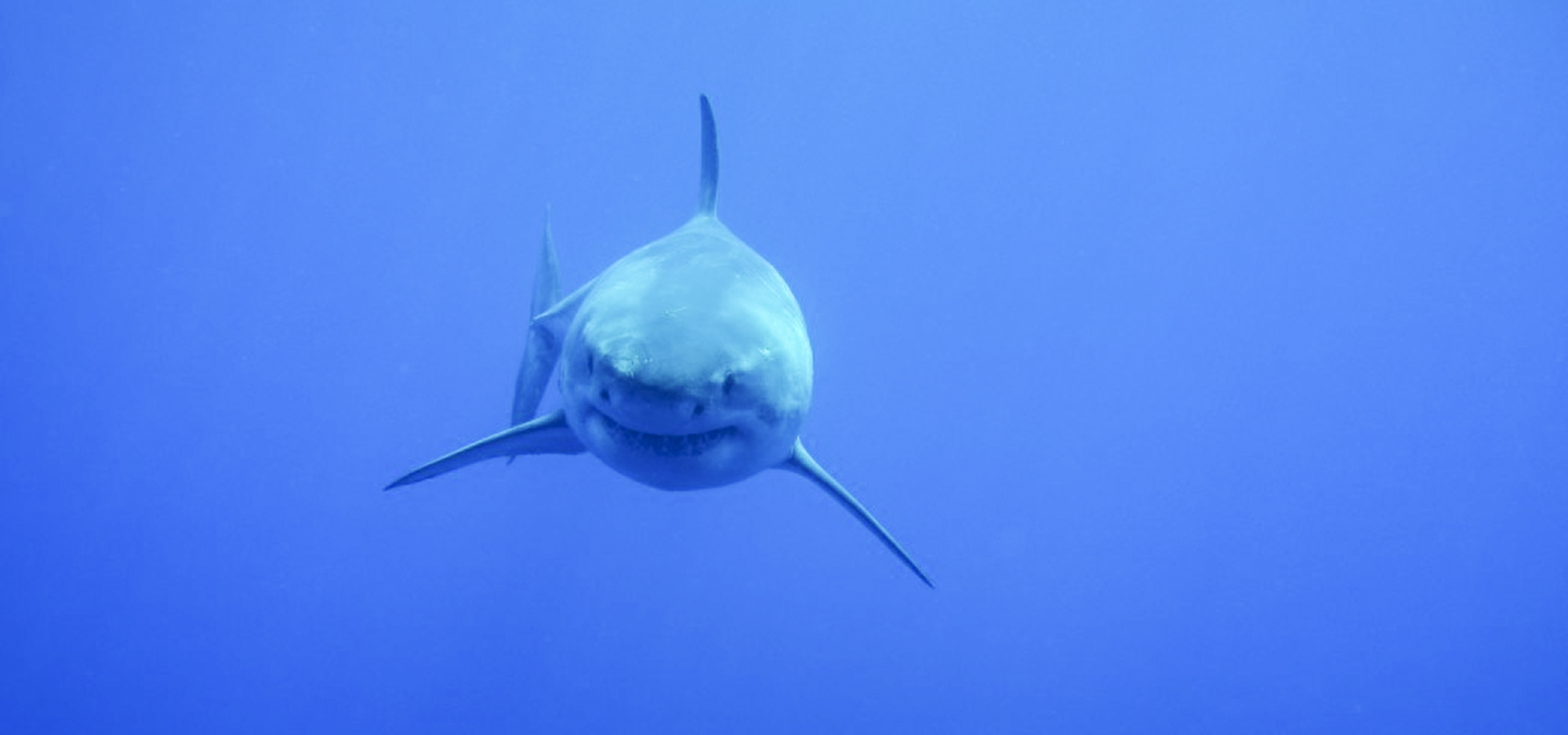 ---
Today was the first day of diving with the great whites with a new group of guests here in Guadalupe Island on board the Nautilus Explorer. This week we have a group of photographers, so everybody is here with big cameras, fish eye lenses, flashes, etc, so probably we are going to have some great pictures.
We had many sharks, good visibility, a lot of action near the surface and a big female that kept coming closer and closer to the deep cages, so everybody has like a hundred pictures of her. Right now we are trying to identify this female and in a few minutes we will all go to the sun deck on the top of the boat and have a delicious Taco Fiesta!
–DM Victor, the Nautilus Explorer
---
We are just starting our second day of diving at Guadalupe Island with this awesome bunch of divers. It was clear already on the crossing day that this group had been anticipating the trip for a long time. We saw a lot of shark themed outfits! A dress with great whites on it, shark bathing suits and one group of friends from South Dakota had even designed their own caps with a shark logo on them.
During my shark presentation on the crossing day the salon was full of interested faces and we ended up having a long discussion with many interesting questions afterwards. Needless to say, every one was up before sunrise, gathering in excitement on the back deck as the first day of diving begun.
As usual, the sharks delivered and expectations were surpassed. People were amazed at the amount of sharks, their elegance and how close they pass by the cages. It was really one of the most active mornings I have seen around the Nautilus Explorer. 12 individual sharks were around throughout the morning, taking turns cruising right in front of us and swimming for the bait. A jawesome show for our happy gusts and the crew loved it too!!
–DM Jessie, the Nautilus Explorer
📷 by Saunders Drukker