Yesterday we had our first day of diving at Guadalupe Island with a joyful bunch of people. Nearly half of our guests are non certified and/or novice divers, and half of those had never done a dive before or used diving equipment! It was my pleasure to explain to these novice divers how the equipment works and take them into our surface cages for their first breaths underwater.
Immediately we were surrounded by many mackerels who sometimes come inside the cages to hide from the yellowtail amber jacks that like to chase them. The amber jacks are 3-4 feet long, quite an impressive sight for a first dive and immediately I can tell that the novice divers forget all about the unfamiliar gear and relax as they are happily observing the fish swimming freely in the ocean.
Under the boat we had a big school of sardines and we could see large yellowtail tuna hunting them. Then, after only a few minutes in the water, a large male great white shark swims by only a few feet away from the surface cage!! Jaws literally drop, the amazement and joy visible in everyone's eyes. Imagine that!? Your first time diving and you're surrounded by great white sharks?!? Only in Guadalupe!
–DM Jessie, the Nautilus Explorer
---
There is more to Guadalupe Island than just the amazing great whites. Today we saw yellowfin tuna hunting, five dolphins, one sea turtle and several sea lions; but one of those sea lions in particular was the superstar of the day!
He spent almost all day floating next to the bow with no fear at all of the half a dozen great whites around him. Not only that, he even dove down and started turning around a great white a couple of times, like if he was teasing the shark, telling the him: "You're not fast enough to catch me." It was an awesome moment!
That is the beauty of the nature, you never know with what she is going to surprise you today, everything and anything can happen at Guadalupe Island! All in all, another great day on board the Nautilus Explorer!
–DM Victor, the Nautilus Explorer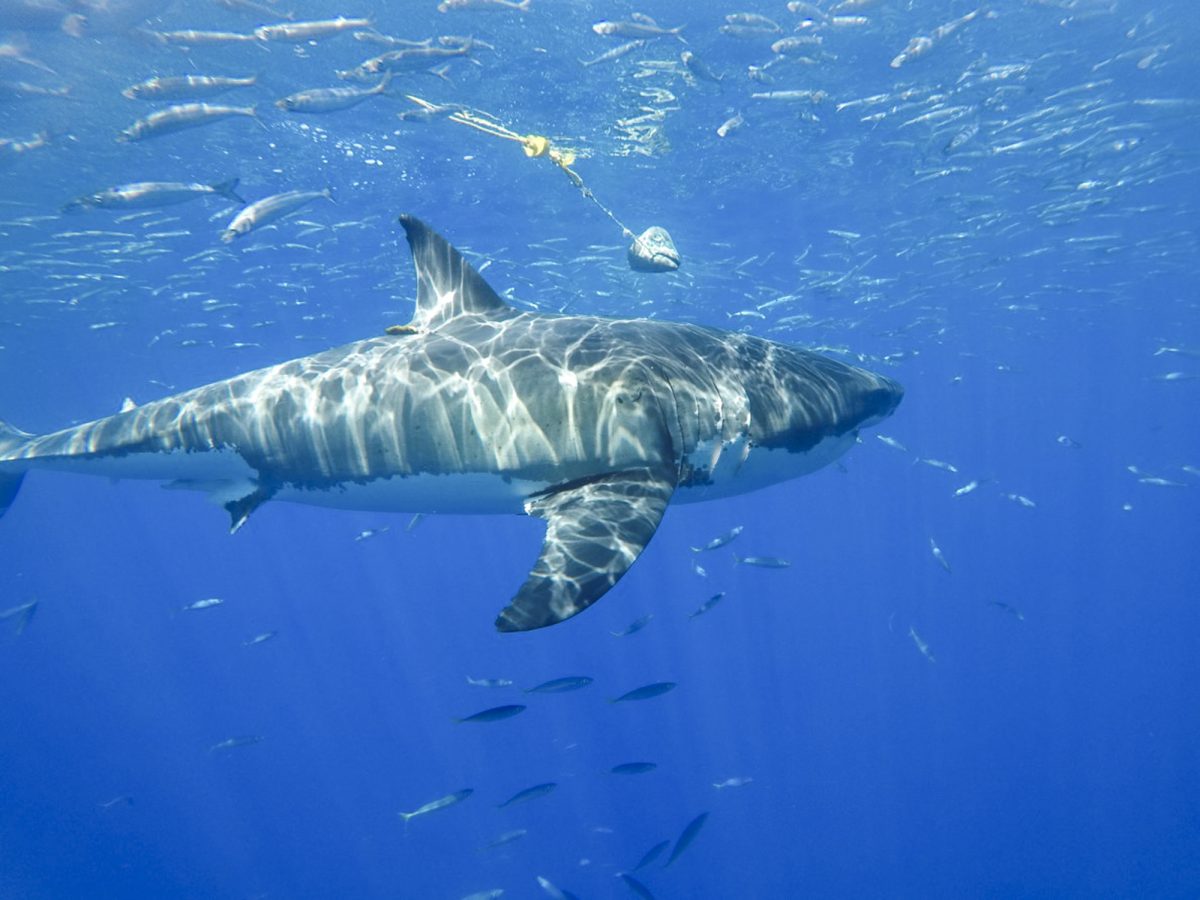 ---
We started today with a beautiful sunrise. The sharks were a bit late to visit us today, but half hour after the first tuna chunk dropped, a big great white shark showed up and the fun began. Hour after hour more great white sharks came to try to get the tuna bait, and all the guests had a wonderful time in the cages, with very clear water.
We also had some visitors, sea lions and dolphins, which came very close to the boat and cage. The best moment for me was when two big shark males fought for a piece of tuna, I've never seen something like that before!! The diving day has now finished and everyone is happy to have experienced this awesome day with the great white sharks!
–DM Hector, the Nautilus Explorer
---
6:32 am, and here we are, cages are open, ready to see the great white sharks. Yesterday was a phenomenal day and today is going to be too, so what are you waiting for?! Come to Guadalupe Island!!
–DM Mayo, the Nautilus Explorer
📷 by Saunders Drukker