Here I am once again on the Nautilus Explorer, after one month of vacation, and it feels great to be back in Guadalupe Island with my friends, the great whites! And guess what: the BIG females are here around us all day long!! It is the first time I've met the famous female great white,  "Lucy," with her deformed tail and the really big and fat "Scarboard," and I am impressed! I have seen many great whites before but these are the biggest sharks of my life for sure! We are only on day two so who knows what will we see tomorrow, maybe the legendary "Deep Blue?" I hope so!! Stay tuned for more news. Good night from Guadalupe Island.
–DM Victor, the Nautilus Explorer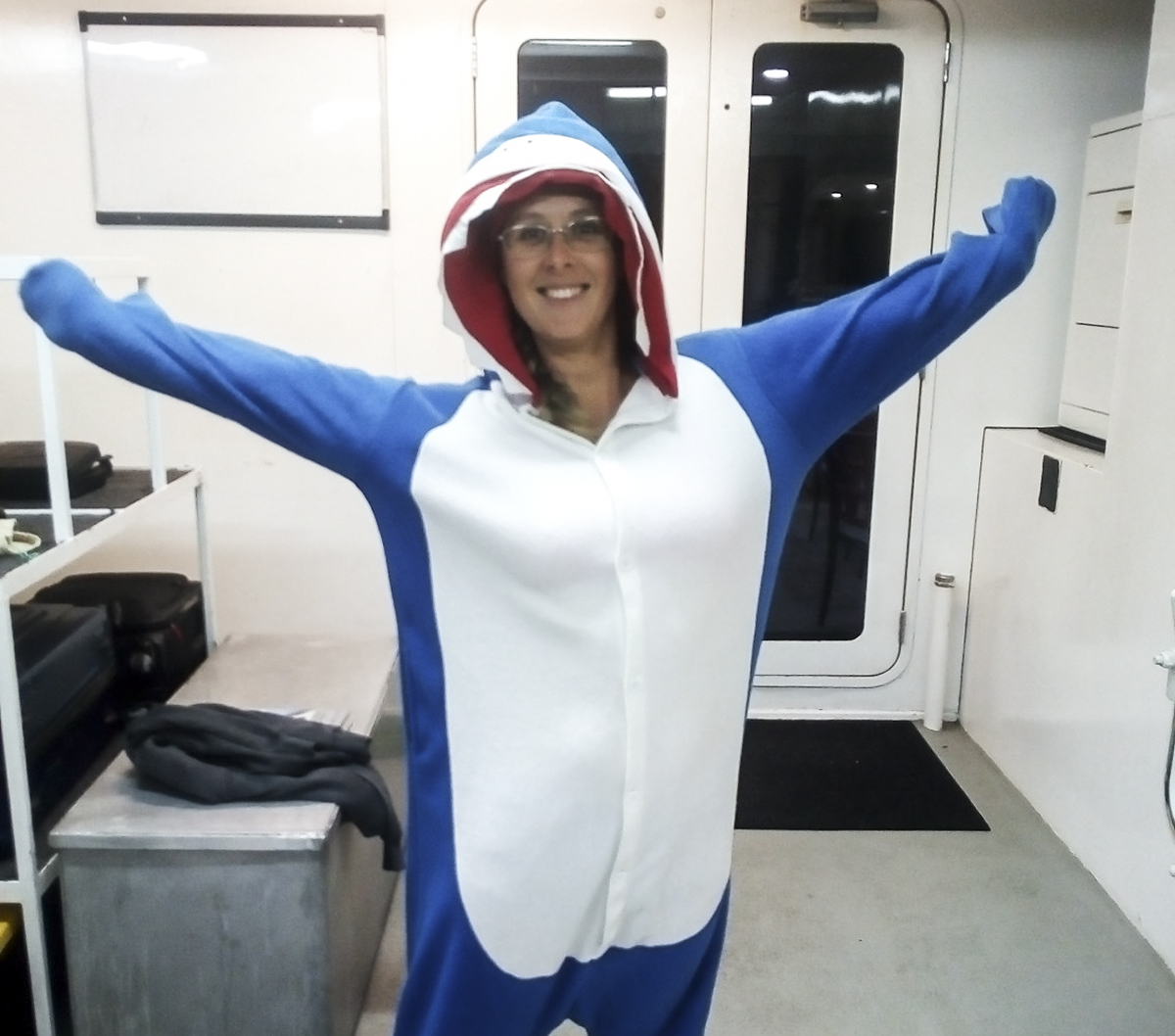 ---
Today started slow due to low light conditions. Shark activity was limited but we were treated to close passes by "Lucy," a large female known to come around every two years or so. "Lucy" kept herself busy cruising around the boat close to the cages and up on the surface throughout the morning and into the early afternoon. An even larger female came and hung around after "Lucy" left. Everyone was amazed by her sheer size and confidence cruising slowly and attempting to get the bait and keeping the wranglers on their toes. Towards the end of the day divers were lined up trying to get a space on the cages to observe this magnificent large female in her natural habitat! She left at last light and everyone exited the cages to review their photos and videos. We identified the large female as "Scarboard" during our Shark ID session in the evening and all participants are excited for more Shark ID tomorrow.
Tonight during Taco Night several guests attended in their Halloween costumes and we had a costume contest to go along with the amazing tacos. I managed to talk to a few guests after Taco Night and got nothing but positive feedback on today's activities. They all look forward for more awesome great white shark diving tomorrow!
–DM Aldo, the Nautilus UnderSea