When we arrived at Guadalupe Island at night, the moonlight cast deep shadows along the cliffsides as we set anchor into the black water. The cages were craned into the water, reminding me of the scene from Jurassic Park when the goat was being lowered into the T-Rex enclosure. I'm not sure how I was able to sleep that night from all the escalating anticipation, but I slept like a baby.
On the first day of diving, we encountered "Lucy" – a slow, graceful behemoth with a deformed tail. Her movements were so slow that she had a school of pilot fish groupies following her every motion. "Lucy" was an ideal introduction to great white sharks, because of her easy going demeanor and agile coasting through the water.
We had over a dozen other sharks make an appearance that day, cruising in between cages, coming eye to eye with us, clearly checking us out but focused on making a pass at the tuna steak at the surface. To witness the behavior of a predator of that proportion – to see its calculated movements in approaching the bait, to watch the eyes roll back in its head with a gaping mouth full of jagged white teeth, to see it breach out of the water right in front of you… there are no words for that. It was like being in an underwater Roman Colosseum, but you are the caged animal, with a front row seat to the greatest show on earth.
–Louise Giuseffi, Hawaii, USA
---
J'ai déjà vu beaucoup d'especes de requin différentes mais les grands blancs, c'était le must, le requin le plus imposant, et pas facile à voir en plus. Apres un premier jour de "plongée", j'en ai vu une bonne dizaine de différents. Alors, certes, l'eau est froide, mais ça vaut la peine (et le coût). Etre comme au zoo (mais soi-même en cage) et voir passer cinq grands blancs tout autour de soi, c'est vraiement hors du commun. Apres 45 minutes d'émerveillement, sauter dans le jaccuzi bien chaud et regarder les requins sortir la tête de l'eau pour attraper un morceau de thon, c'est le pied. Je vous passe les "le crew est super, les lits sont comfortables, y a de l'eau chaude, les boissons alcoolisées ne sont pas cheres", etc…c'est un yacht de luxe donc tout est aux petits oignons.
–Eric Magnin, Grandson, Suisse (Switzerland)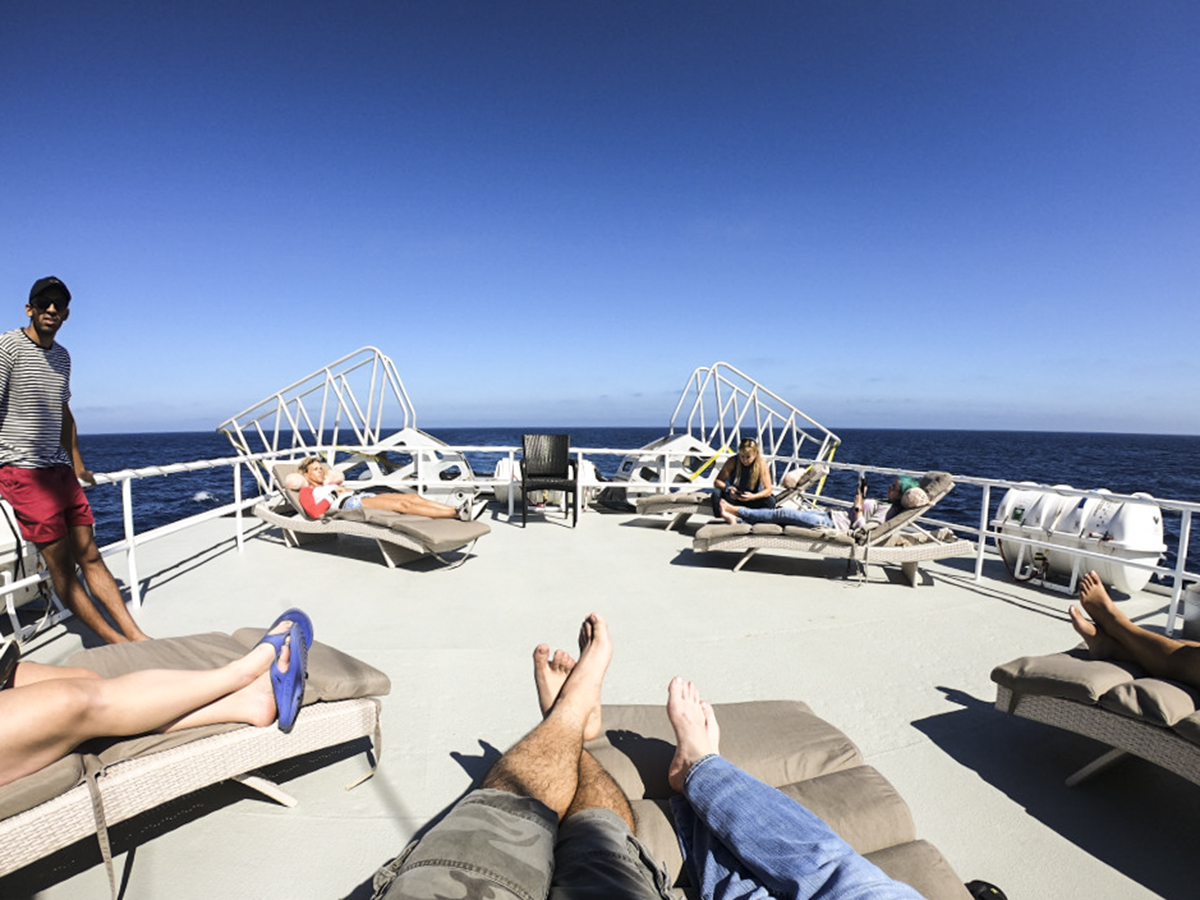 ---
Dear Nautilus Crew,
Thank you so much for having Michael & I on this amazing experience. We had such a great time being able to get up close and personal with these amazing predators. I especially appreciated the warm welcome that we received from the crew and other trip members alike, given that this was our first diving experience. You all made us feel right at home, so for that thank you!! We both highly recommend this trip to anyone looking for an amazing adventure. We hope to be back on another trip soon.
–Maggie & Michael Boylan
---
Thank you to the boat and great crew who allowed us to capture the many images we all sought out. This trip has been on the bucket list for 30 years. To be able to check it off the list with my daughter and dive with a great group of new friends from Florida. It was truly magical to see these apex predators up close and personable. The crew was totally top shelf and the boat is a great set up for all of us to have the room for our gear. Great state rooms and great food. Great stories we will repeat over the next few months. This trip I will share with many and hope some of them will visit your ship in the coming years. The last afternoon was insane with the breach leaps by the sharks right out of the water. Truly a magic moment that my daughter and I will never forget and hope to come back another time some day.
–Terry & Gretchen Lindemann