Starting November always feels like winter, but today Guadalupe Island was once again sunny and warm. No clouds at all, very mild breeze in the morning and nice 21°C waters. As predicted, we are seeing some 'Big Mommas' now, including "Persephone" and "Lucy" who were the stars of the show today, but we also had smaller females as well as some brave males namely "Stouffer" and "Doug." If seeing great whites of all sizes was not enough, yellowfin tunas stayed under the Nautilus Belle Amie for the whole day, making it especially fun in the afternoon when they got really active hunting, which in turn made the great whites active too. It was a h*ll of a day!
–DM Adrian, the Nautilus Belle Amie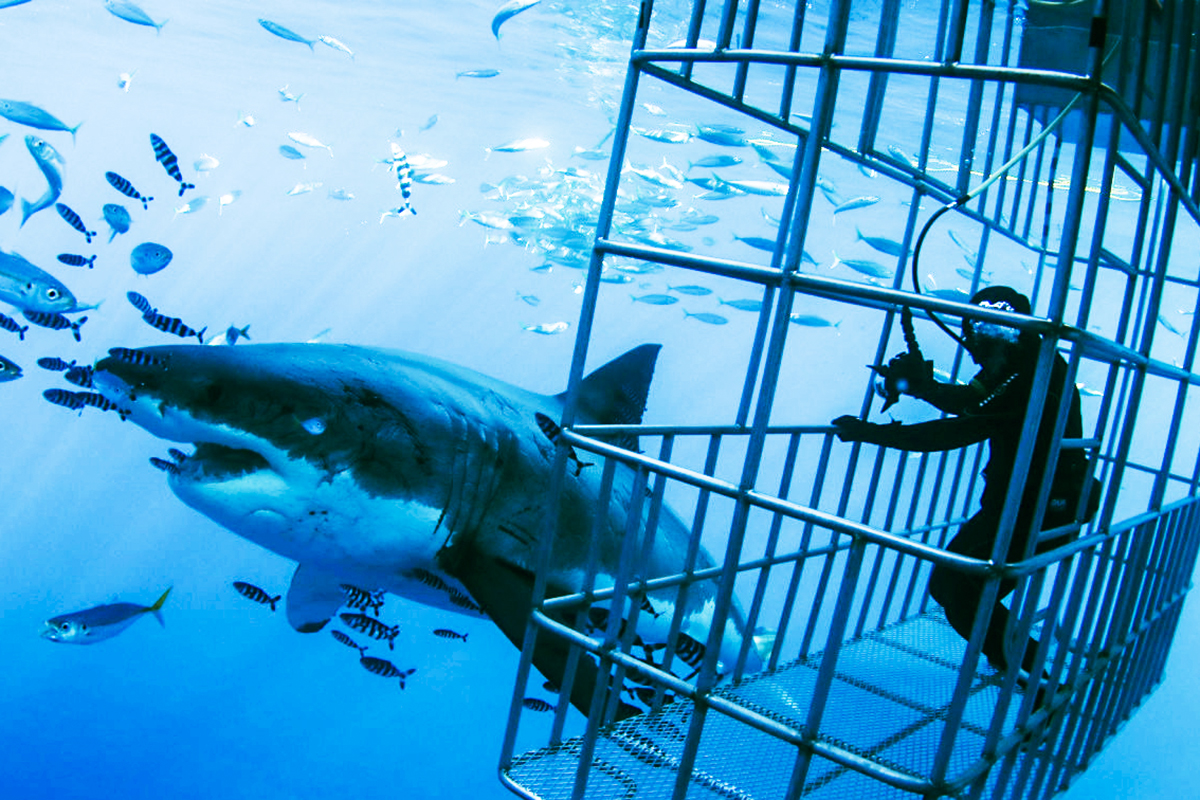 ---
Today was last day of diving for our first group this month. The beginning of the charter started off a bit "slow." However this does not mean there was not plenty of shark action. Several big females visited us throughout the week including "Lucy" and "Scarboard." I call the beginning of the week slow because no other time can compare to the last half-hour we had today. As the sun started to set, a long shadow was cast by Isla Guadalupe. As the light fades the water became very dark and makes it difficult to spot the sharks as the approach. This creates the perfect conditions for the sharks to show off their power with an ambush attack from below. We had breaches left and right, one after another. It almost seemed as though the sharks were showing off and reminding us that they can get the bait anytime they want. Sometimes it can be easy to forget these majestic animals are apex predators as they glide through the water, but following the action of this afternoon I and the guests will not soon forget the power of great white sharks.
–DM Will, the Nautilus UnderSea
---
Today was Dia de los Muertos (the day of the dead) in Mexico. The shark action started right away this morning, almost right when we opened the surface cages at 6:30 am. The first diver, David, went in the cages without wetsuit and the other divers started getting ready to join him in the cages. There were many breaches this morning and everyone was very happy and excited to see those beautiful great white sharks. The shark "Lucy" (ID #28) showed up, she is a 'Big Momma,' along with many others sharks too. I also recognized "Rhett" because he spent most of the day passing very close to the cages. A couple more days to go and the fun is 100% awesome!
–DM Hector, the Nautilus Explorer