WITH DORIS & MATTHIAS FROM BUGS & BEARS
"This is the calmest ocean I've ever seen out here, and I've been on countless trips to Socorro", the chef on the Gallant Lady announced, while serving an absolute delicious breakfast. Only moments later, Captain Adrian interrupted our meal, announcing dolphins through the radio. Everybody rushed out on deck, to witness a unique natural spectacle. Bottlenose dolphins were jumping out of the water as far as we could see, surrounding us and following us at the tip of the boat. We've never been that close to these beautiful athletes before and couldn't have been more thankful for this encounter. It could only be topped by the humpback whale crossing our way an hour later, flapping its tail fin on the water surface. In that moment we were sure, that the ocean had a lot planned for us!
"Bottlenose dolphins were jumping out of
the water as far as we could see."
22 hours, three exquisite meals and night of very relaxed sleep later, we arrived at our first destination, San Benedicto island. Everybody was excited when we headed out for our first "check dive". And that's where we got totally blown away. During our first dive, we were in the water with a massive tiger shark, a distant school of hammerheads, galapagos, silvertip and whitetip reefsharks and encountered the most curious manta ray we've seen in our lives. The animal circled from diver to diver, enjoying our bubbles on its belly and checking us out very closely. Did you know, that mantas are not only the largest rays, but also the fish with the biggest brains? Scientists believe, that they're among the very few animals on land and in the sea, that are able to recognize themselves in a mirror. What's even more fascinating, is the fact, that manta rays are able to sense the smallest electrical currents in the water (as sharks do) – and therefore can even feel our heart beat. Anyhow, being approached by and looking into the eyes of an animal of that size is an experience you won't easily forget.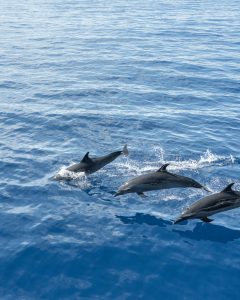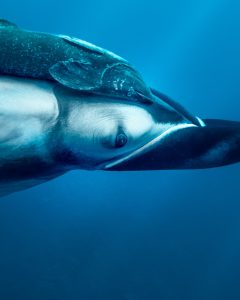 Another absolutely memorable experience was surprisingly jumping into the water right next to a "bait ball" during our next dive. We were surrounded by numerous Silky sharks, Galapagos sharks and other predators, hunting for the tiny fish. The almost endless visibility and deep blue of the ocean added to this unbelievable moment, that felt like being right in a National Geographic documentary. Being in the water with these impressive top predators was for sure another highlight of our trip.
"It felt like being right in
a National Geographic documentary."
In the evening of our first diving day, we couldn't believe how lucky we had been. And then it happened. We were on a "soft open" trip of the Gallant Lady, the newest member of the Nautilus fleet, her first trip to Socorro and still in test mode. Still quite a shock for everyone on board, when the crew realized, we had contaminated fuel in the engine. After these two perfect days, there was nothing worse than mentally preparing ourselves for a possible early ending of our trip. Only thanks to the commitment of our exceptional crew, the engine, the Gallant Lady and our trip could be saved. We're still very thankful for everyone of them!
So the diving could continue and had many more amazing encounters with sharks, manta rays and different kinds of fish, crustaceans and molluscs awaiting us. Between dives, we were regularly visited by humpback whales, breaching out of the water and presenting their gigantic bodies. Snorkeling with silky sharks around our boat at night was another unexpected, highly fascinating experience.
After five days of diving four times in a row, we would lie, if we said, we weren't a little happy that we didn't have to squeeze ourselves into a wetsuit another time. Tired, but filled with gratitude and precious memories, we made our way back to shore aboard the Gallant Lady and secretly already planned our next trip to this breathtaking place on Earth.
Bugs & Bears
Doris and Matthias (both 29), an Austrian creative couple, share short films about their wildlife encounters and diving adventures at the most remote places on Earth. Stay tuned for their upcoming episode about diving in Socorro …
Follow the adventures of Doris & Matthias at:
youtube.com/BugsAndBears
instagram.com/BugsAndBears