San Pedro Martir(or Mártir) is the most isolated island in the Gulf of California, located right in the center, 51 km from the Baja California peninsula and 53 km from the coast of Sonora. Bahía de los Ángeles is one of the few places in the world where Whale Sharks congregate. The shape of the coast, the wind patterns makes Bahía de Los Ángeles an attractive habitat, where the species gathers in generally predictable seasons.
Island of San Pedro Martir
Yesterday we arrived at one of the most remote and famed island of the Sea of Cortez: Island of San Pedro Martir. The island is a protected area, on land as for its waters as it is home of numerous bird species – one of the biggest blue-footed boobies colony – endemic cactuses, lizards and its water are rich with life.
The first dive we did completely blew our mind: slowly descending along a soft slope we find numerous stingrays, scorpionfish, garden eels, until we arrive at the bottom off that is actually a black coral forest. Everywhere the bright neon yellow corals are covering the slope. As the current starts to pick up, we make our way back up to find ourselves face to face with a turtle that was busy eating. It would not care about us, and it was so close we could have touched it, it was posing perfectly for the pictures, We found another 4 of its turtle friends, equally friendly with divers. As the current was picking up, even more, snappers came from all over, several dozens looking for the perfect spot in current to ambush some preys.
I had never seen so may snappers at the same time. We went a little bit shallower to find shelter in a small rocky bay, and we were quickly surrounded by four juvenile Californian sea lions, the most playful I have seen so far. The sea lions were curious with the divers, blowing bubbles with us, looping around, us and sitting on the rocks right in front of us with a lot of curiosity in their big round eyes, It was a truly magic moment of interaction.
Bahia de Los Angeles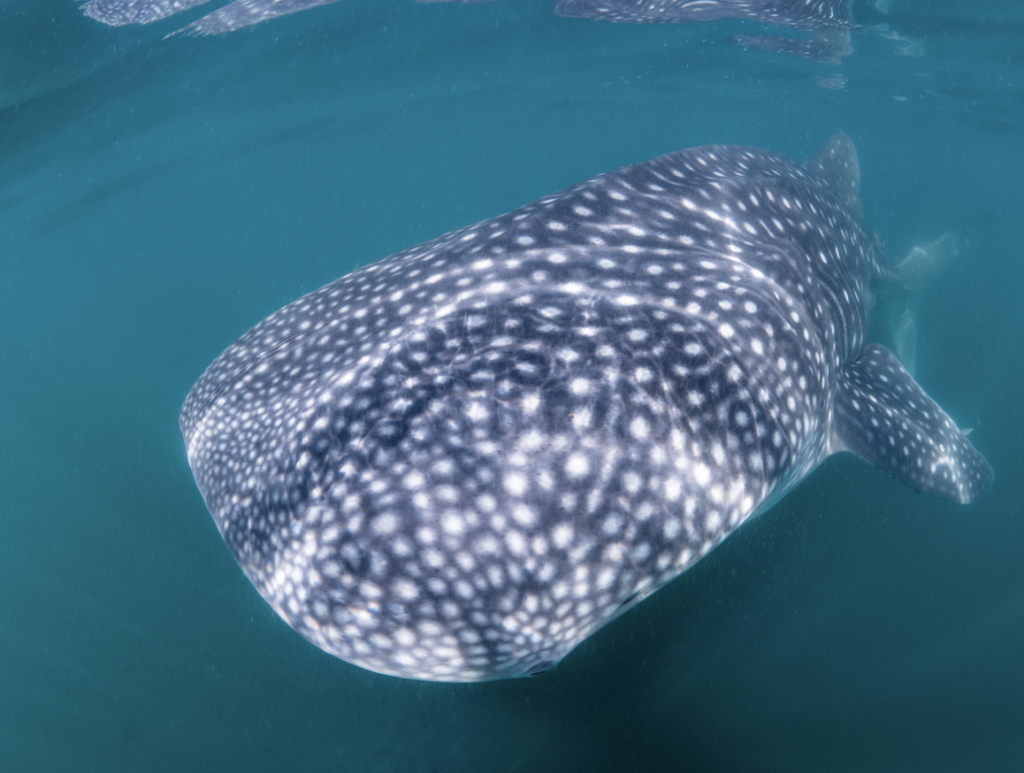 Today we were up further north in Bahia de Los Angeles, for an exceptional treat for our guest. Using local operators we took our guests to swim with the biggest fish on the planet, the Whalesharks!! they found more than nine different ones, some measuring close to 30 feet long.
They were able to swim right next to the whale sharks, snorkelling face to face with these gentle giants while they peacefully cruise the waters of the Bahia. Everyone came back with a giant smile on their face, seeing the whale shark for the first time will give another great memory of this trip!
DM Yann onboard the Nautilus Explorer