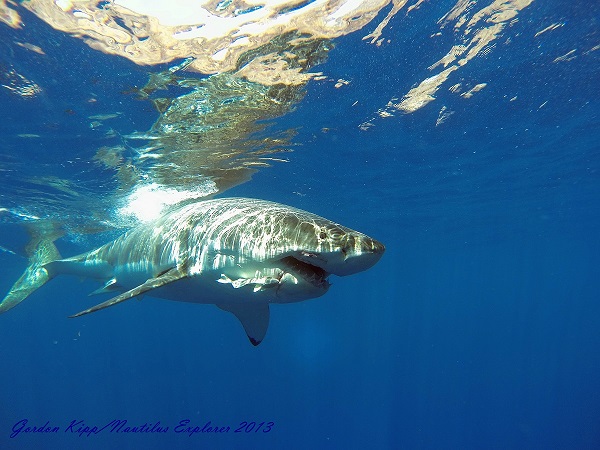 At the end of the day I had not been in the water even five minutes and had two great white sharks surrounding the cage up close showing off their huge teeth.  The warmth, colour and visibility of the water here is something I never got to experience in BC, along with hot weather and sunny skies at the same time on the surface.  Seeing the California sea lions confidently darting around the great whites is something I never thought would ever actually happen.  An awesome complete shark breach as well in the morning just to start the day off right.  Guadalupe Island is such a unique experience that words just don't do justice to.
– First mate Tavis, Victoria BC
Isla San Benitos, Baja California, Mexico  today diving on the island San Benitos, very good we played with the sea lions and we saw some harbor seals and so much life on the kelp, we had visibility like 45 ft. to 65 ft.temperature something like 19 C. on the bottom and 21 C. at the surface . All guests are very happy. We  did 3 dives today. We never get bored playing with sea lions they are so playful with the divers, excellent day.  Tomorrow we will dive Cedros island. It is so good diving in Baja California.