Dream. Come. True. Three words to sum up this wonderful trip with wonderful people. We had visits by "Scarboard," "Lucy," "Sgt. Pepper," "Ropey," and a bunch of other subadults who weren't shy in approaching our cages. The crew of the Nautilus Explorer were unparalleled in both their attention to detail and their sense of humor. Now, as we steam towards Ensenada, Erica and I have a brand new set of friends and memories we will take with us the rest of our lives. I hate to see this end, but I have a strong feeling we will do this again soon! Mahalo nui loa!
–Jamm & Erica Aquino, Honolulu, HI, USA
---
This is a once-in-a-lifetime trip. Every time I was in the water I saw several great whites, some only a yard or two away. The surface cages are a great option – you can go in the water any time for as long or as little as you like, and the crew has tuna suspended in the water right in front of you. The crew is amazing, the food is great, and they even have a hot tub you can jump in to warm up after your dive.
–Alison Okinaka, Salt Lake City, Utah, USA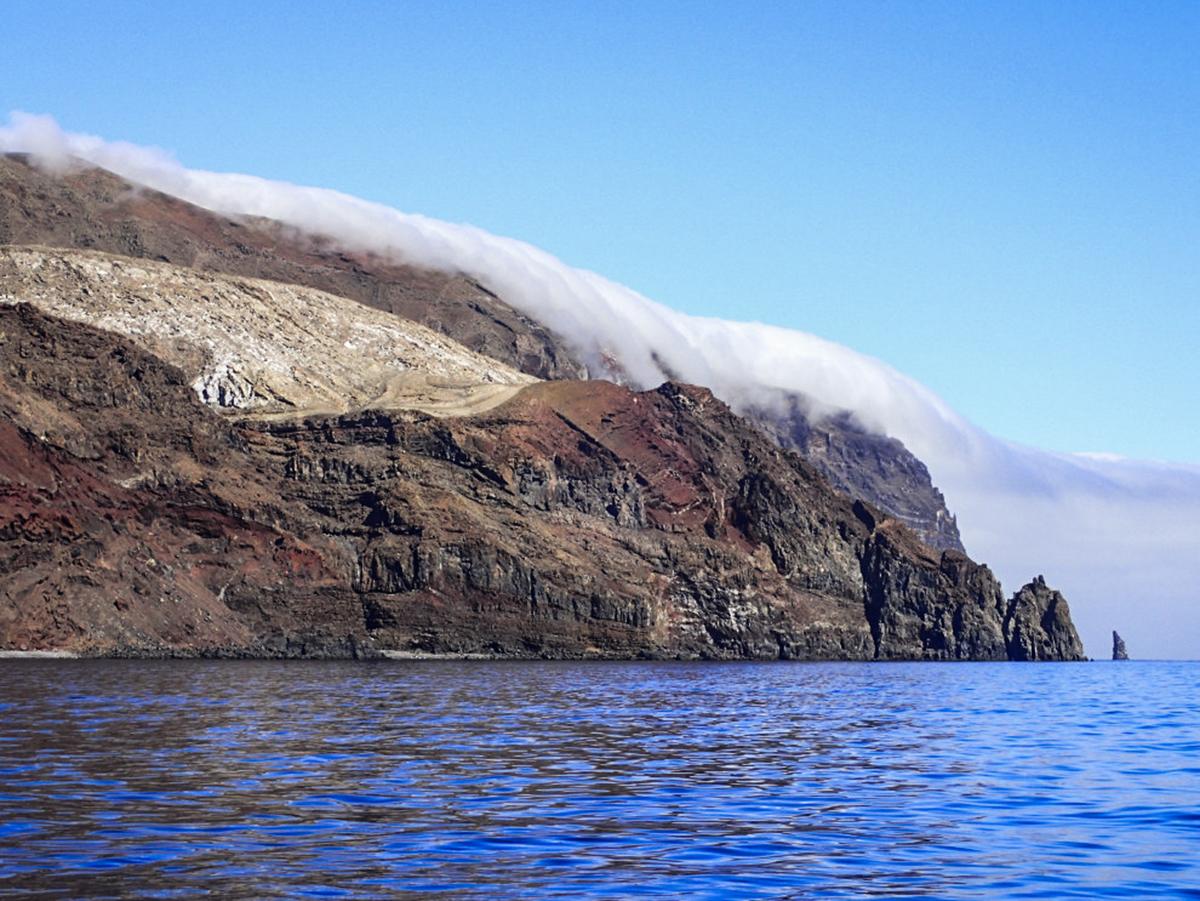 ---
Being unfamiliar with the sights and sounds of underwater diving, I needed a few moments to understand that this was reality. "Am I really here?" I thought to myself as I looked at my hand, waving my fingers in front of my face as a young white shark approached from the background. YES. This is real. Or beyond it: surreal. Unbelievably, these magnificent beasts are essentially unlimited in access, with the surface cages and baits readily available. And the warm crew is endlessly accommodating with gear, tips, food, drink, and anything you could ask for. Definitely a once-in-a-lifetime experience. I fully understand the temptation to return, like many other past passengers.
–Richie Aquino, Los Angeles, USA
---
I went on this trip with a group of friends and wasn't sure what to expect. This trip was AMAZING! The captain and crew was more than accommodating for anything you needed. They worked their butt off from early morning to late at night to make sure all guests were comfortable, well fed, and were enjoying their experience.
For someone who isn't dive certified they were more than helpful getting me familiar with the equipment and making sure I was comfortable going into the cages. The great white sighting underwater – I was in complete awe, I couldn't believe I was seeing great whites so up close in real life. It's hard to put into words the feeling you get seeing these creatures in their natural habitat.
This trip was such an amazing experience. I had a great time getting to know the other guests and sharing their enthusiasm and love for great whites. I can't wait to get back home and share my experiences with friends and family. I know I'll try to make my way back for another trip.
–Dave Miumi, Oakland, CA, USA
---
Growing up in Philadelphia, 50 miles from the New Jersey shore, I will never forget the summer Jaws came out and the general panic that it caused to those who spent their summers down the shore. Except me. When everyone else was staying OUT of the water that Summer, I was going in. From that moment on, I was hooked and a lifelong obsession with sharks, and great whites in particular, was set.
Fast forward 42 years, 30 years of diving experience, and 17 different species of sharks identified while diving, and my lifelong dream was to be fulfilled. Diving with great whites at Guadalupe Island. And it didn't disappoint. With no real expectations of what I would experience, I am simply without words at how amazing the overall experience has been, seeing more great whites than I could have ever imagined. Add in a great boat, an amazing captain, and a top notch crew, the Guadalupe trip on the Nautilus Explorer was everything I had hoped for and more. Can't wait to come back!!!!
–Mike Fiedler, Raleigh, North Carolina, USA
---
The trip has been surreal. There are times when I wake up and wonder if this experience is really happening. Then the seasickness sets in, and I know it's real. I am grateful to have this experience and opportunity, and it all started with a chance happening. I was having dinner with a couple of good friends and they mention that they are going on a great white shark dive for his 40th birthday. They invited me, not sure if they were just being nice, but I was very interested. That couple is Jamm and Erica, who are also here with me on this trip. I thought about it, but then decided when would I have another opportunity like this?? So, within a week I booked my trip and paid my deposit. This trip has been absolutely amazing. Besides already being with friends, the other people on this trip have been incredibly nice. I can't even express how wonderful the crew has been. So attentive, caring, friendly, and just plain old good people. They did their best so that we could have the best trip of our life. I will have fond memories of this trip for the rest of my life.
–Kim Inoshita, Honolulu, Hawai'i, USA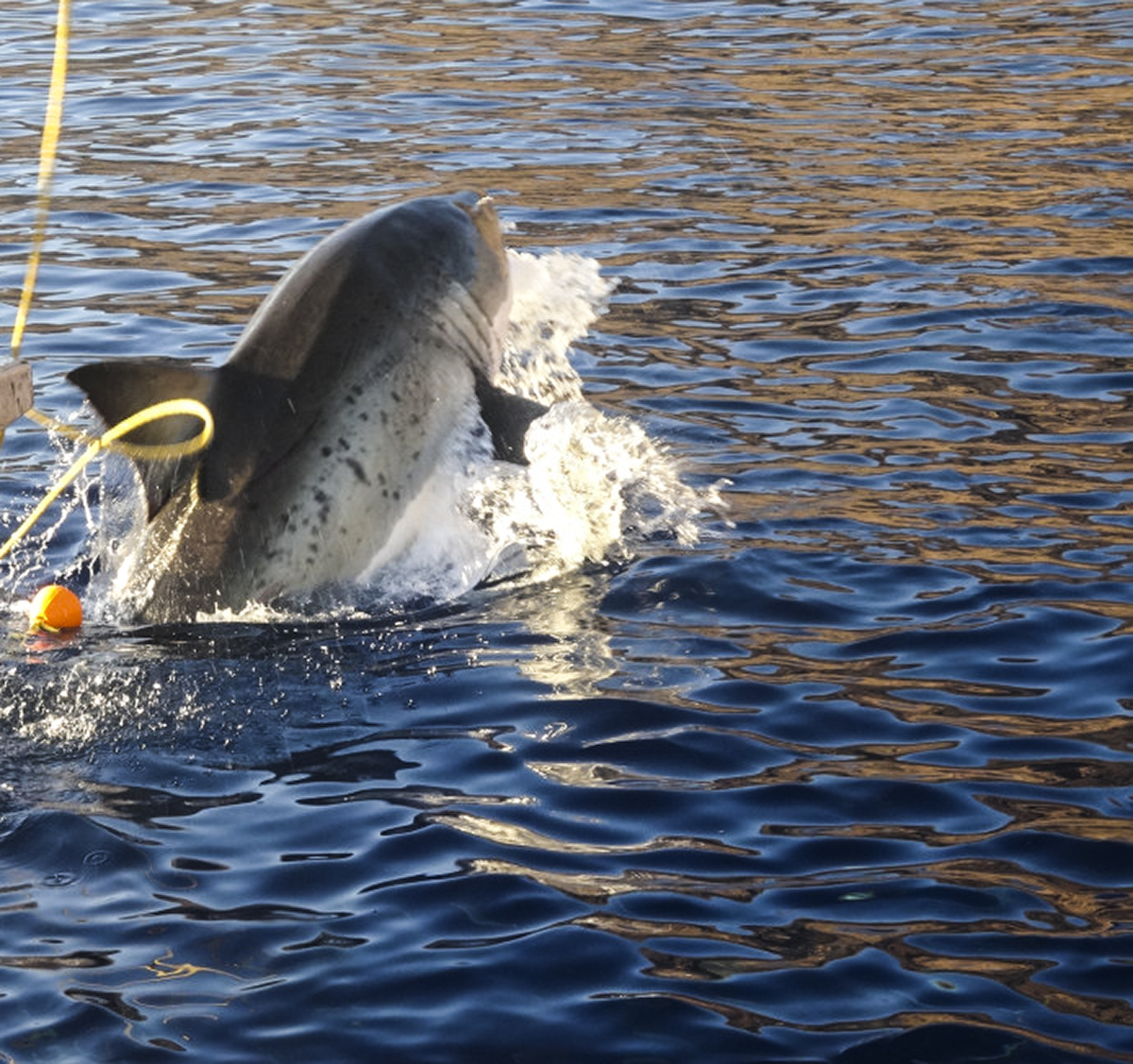 ---
I wake up to the orange and red hues of an amazing sunrise at Guadalupe Island. I quickly head to the dive deck and hear the staff shout "Shark," which only gets my heart pumping faster with anticipation! I quickly put on my wetsuit and grab my camera! I'm the second one in the water, the sharks are ready and so am I!
It's only about 30 seconds and there she is, "Lucy," a large female that is not camera shy! This is every shark lovers dream. We had six sharks at one time today! At times its difficult to pick which shark to watch. Suddenly, there it is, a shark breaches out of the water trying to steal a snack!
It's hard to describe the excitement and at the same time the tranquility of watching these beautiful creatures. I can see the other divers in the other cages, including one young girl who isn't a diver yet. Where else can divers and non-divers share such an amazing experience? I climb out of the cage to take a break and get ready for more.
Oh, did I mention the wonderful staff that are always ready to help make the most of your day, and always with a smile. This is my first trip with Nautilus Explorer, and definitely will not be my last!
–M. Yociss, "Scuba Daddy" Scuba World, Swansea, IL, USA
---
Amazing experience with a great crew. Everyone super friendly, helpful and easygoing. Dives felt very safe. Food and service excellent.
–Ahmet, Fort Worth, TX, USA
---
Ha sido una experiencia unica, ha cumplido todas las expectativas que tenia antes de realizarlo y la atencion de la tripulacion ha sido de sobresaliente, en todo momento atentos y dispuestos a atendernos. No tengo ninguna queja que hacer del viaje, todo lo contrario, el costo esta perfectamente justificado. Gracias por ser como sois.
–Javier Serna, España (Spain) 
---
Este viaje esta siendo impresionante, a pesar del largo recorrido en avion desde Espana hasta California, pero una vez hemos llegado al barco la profesionalidad de toda la tripulacion, la motivacion que tienen y la dedicacion para que los venimos de visita estemos satisfechos es algo que no habia encontrado nunca. De la vida marina, los tiburones, los atunes, etc, es impresionante. En cuando tenga ocasi'on intentare hacer otro viaje con vuestra organizacion trayendo a mi mujer y a mi hija. Conclusion: Sobresaliente alto. Un abrazo!
–Manuel, Reinosa, España (Spain)