We had a whopper of a day today! The guests' dives were good and they seemed content to spend time with the (huge) yellowfin tuna and a few mantas. There were a couple mantas "dancing" together and the guest thought it was beautiful. During back deck wrap-up at EOD, a guest came over very excited as there were silky sharks off the port side under the light hunting fish! There had to have been over fifteen sharks in this small area alone! Never a dull moment at the Revillagigedo!
As for evening celebrations – "Masterchef" Julio created a fantastic stuffed chicken breast with huge, delicious portions, creamy potatoes, and fresh, crisp salad -WOW. Martin, one of our guests from Belgium, surprised everyone as he dressed as Santa and handed out Belgian Chocolate to guests and crew. All were very happy and enjoyed the entertaining sight. We are heading to Socorro Island for Christmas Day and we can't be any more energetic for another great day of diving. Below is the Nautilus Belle Amie's super Crew Christmas card!
–Mate Jeremy, the Nautilus Belle Amie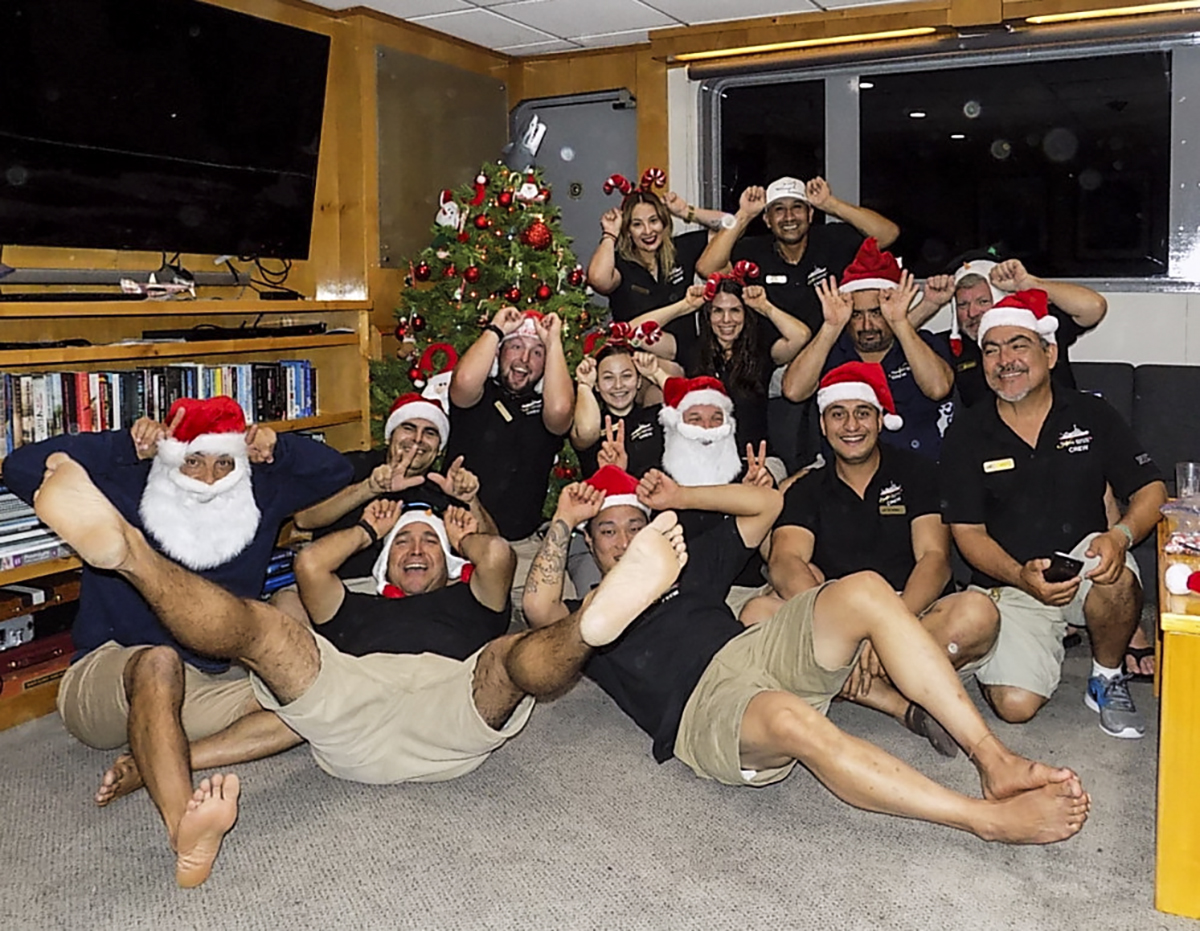 ---
Another trip to the Revillagigedo Archipelago and this time the first dive was out of this world. Mantas, and curious hammerheads were everywhere in El Canyon. In a way, I would have preferred the trip to start in a milder way, now we have to top this up and its going to be challenging!! Well that is what I thought anyways… Back in the water for round two and the life is already waiting for us right under the boat. Silky sharks and massive school of big eye trevallies all over the place. When I finally manage to grab the attention of my divers to start the descent a massive chevron manta passed underneath us and glide effortlessly to the nearest reef. At 60 feet the current was still pretty strong and the big cameras were slowing down some of my divers. It was time for me to find a solution and maybe head in a different direction to avoid a 20 minute dive and unhappy guests. But suddenly a familiar shape is coming at us, the chevron manta! Thankfully, it was a playful one and we spend the rest of our dive gasping in admiration with this graceful female. It just made me realize that sometimes the best choice is to be contemplative and let the magic happen.
–DM Nico, the Nautilus Explorer
---
We dove Roca Partida today, looking for hammerhead sharks. I did not have any luck on this dive finding hammerheads but instead we had an amazing dive with a black manta and some chevron mantas who stayed with us for the whole dive. At Cabo Pearce on Socorro Island, some of our guest and our famous divemaster Rana (the frog) had an encounter face to face with a tiger shark! A school of hammerhead sharks were also outside of the finger although a strong current was present so we had to hold onto the pinnacle and just wait for the magic to happen. Also this Christmas Day and we were lucky enough to dive with Santa! The water temperature was 76°F, and visibility was 40ft.
–DM Pedro, the Nautilus Belle Amie