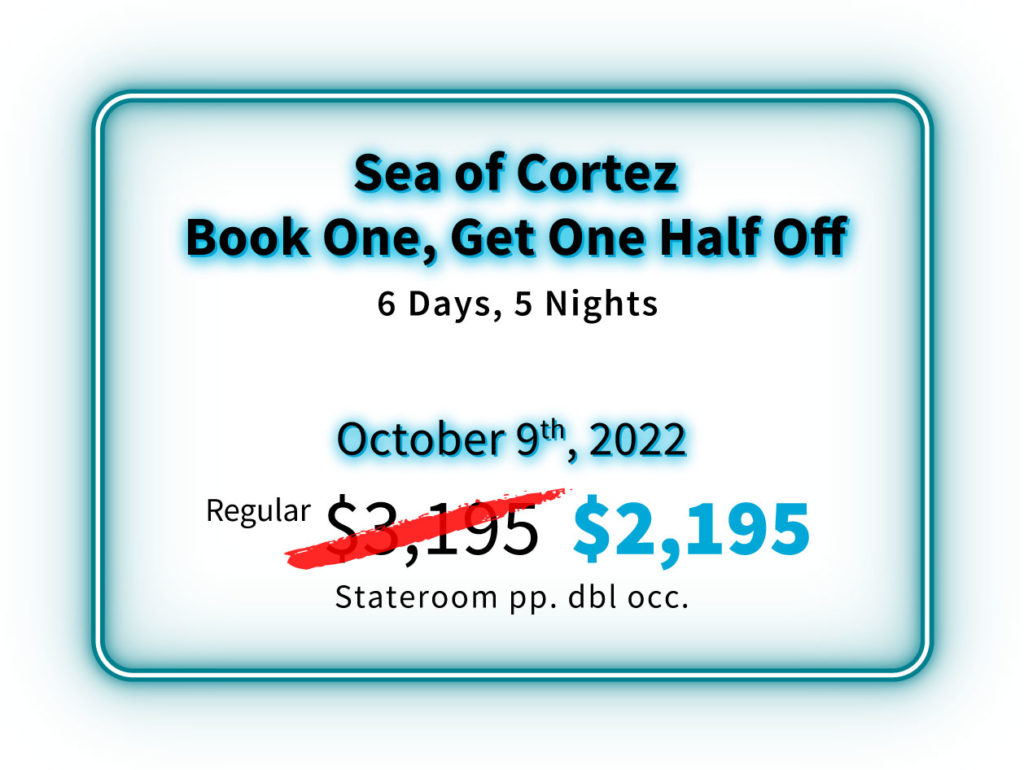 See What Our Guests Have Said About The Revenge Sea of Cortez Trip
Today was our first day in the Sea of Cortez. Although we were scheduled to visit la Isla de Guadalupe, when that trip was cancelled, the entire Nautilus team worked so hard to open up this trip to the Sea of Cortez. We are so appreciative of all of the time, work, and generosity that went into this alternative trip… Read More

J. Elizabeth Clark, New Jersey, USA onboard the Nautilus Explorer
Had a spectacular night dive last night! So much interesting life, including an enormous turtle and two moray eels hunting. It was the first-night diving for our two teenage kids… Read More

Melissa B., USA, onboard the Nautilus Explorer
We are headed back to port. I did not know what to expect on my first liveaboard trip, but any expectations that did float around in my head were far exceeded. Every person on the staff… Read More

Neil DeMaster, New Jersey, USA onboard the Nautilus Explorer
Our second and third days of diving were all about the sea lions. We saw sea lions on every dive and it was nothing short of amazing. The particular magic of the Sea of Cortez is… Read More

A. Clark, New Jersey, USA onboard the Nautilus Explorer
Don't want it to end! An amazing trip with an amazing crew, everyone was so friendly and professional. My first dives for a while due to covid etc and I was made to feel completely safe… Read More

Thomas Power, Manchester, UK onboard the Nautilus Explorer
---
5. Loads of Sharks and Fishes
One of my favourite memories of diving Roca Partida was being surrounded by what I think had to be thousands of jacks swirling around me. I felt like I was in the heart of a pulsating tornado, with a school of white tip reef sharks patrolling the perimeter. I will never forget that amazing day! Interesting fact: the jacks in a mating couple will turn dark grey in colour. Commonly known as black, crevalle or cotton mouth jacks – proper name (Caranx lugubris). While the scientists tell us they can grow to 4-ft, the biggest we have seen have been 3-ft in length and I reckon they weigh between 40 – 50 lbs!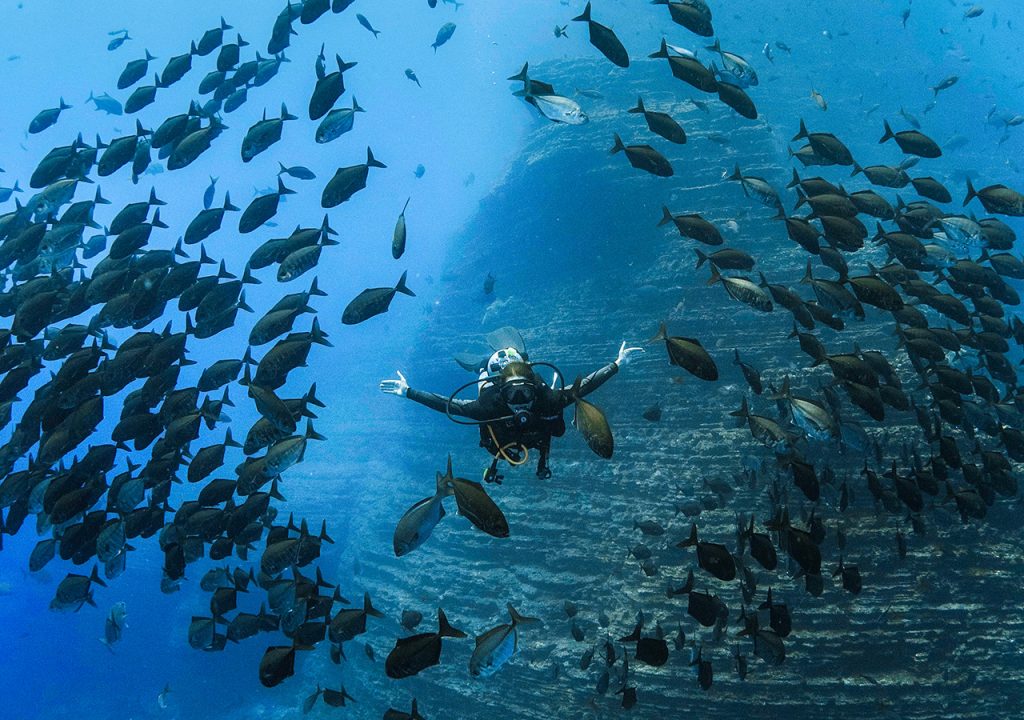 4. Schooling Hammerhead Sharks
"Hammers" are awesome! Why do they school? And why are their heads shaped that way? At Nautilus, we learned much of what we know about scalloped hammerhead sharks when we hosted shark expert, Dr. Peter Klimely, onboard over 20 years ago. Peter is a really cool guy who devoted many years to studying and figuring out the vast schools of hammerheads at El Baja seamount in the Sea of Cortez. He and his colleagues joined us as our guests on a research mission to Socorro to freedive and tag scalloped hammerheads. Peter was extremely gracious with his time and explanations, and his book "The Secret Life of Sharks" is a MUST-read. Taste test: hammers school during the day, always in the same rotation. The biggest sharks (which are the females) are in the inner vortex while the smaller sharks are on the perimeter. The sharks can show some very interesting behaviour while schooling which Peter catalogues in his book. At nightfall, the school breaks up and the sharks head out to hunt, returning and reschooling at dawn. One of the benefits of their hammer-like heads is that they are able to sense magnetic anomalies in the ocean floor and use those magnetic lines to navigate "home every morning".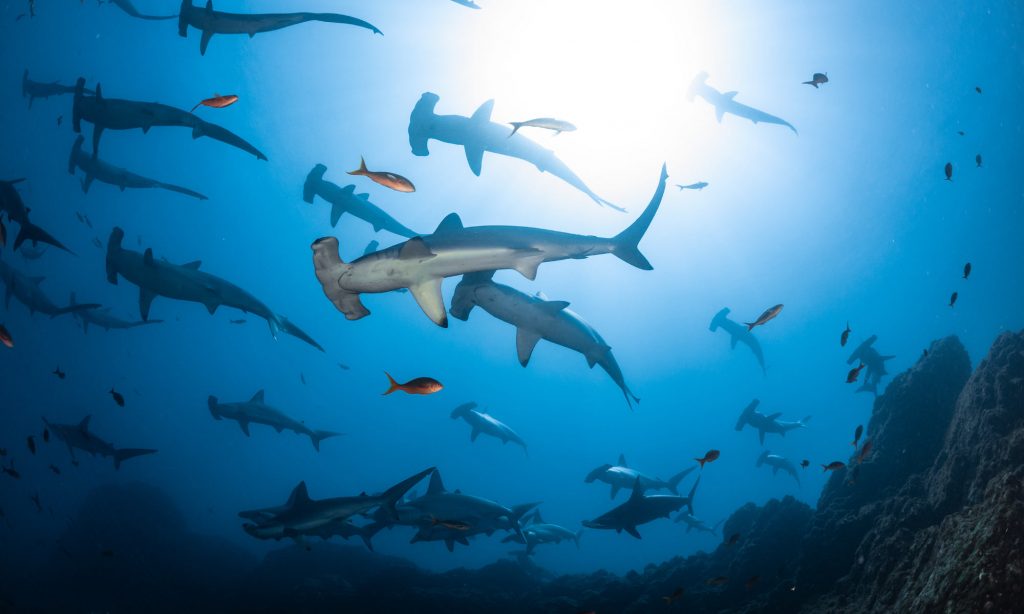 3. Whale Sharks. Open Ocean Wanderers.
It's our amazing good luck that we see the most whale sharks of the year at Socorro every November and December!
We recommend reading the Smithsonian Tropical Research Institute article on whale sharks: "A whale shark named Anne swam all the way across the Pacific from Coiba National Park in Panama to the Marianas Trench."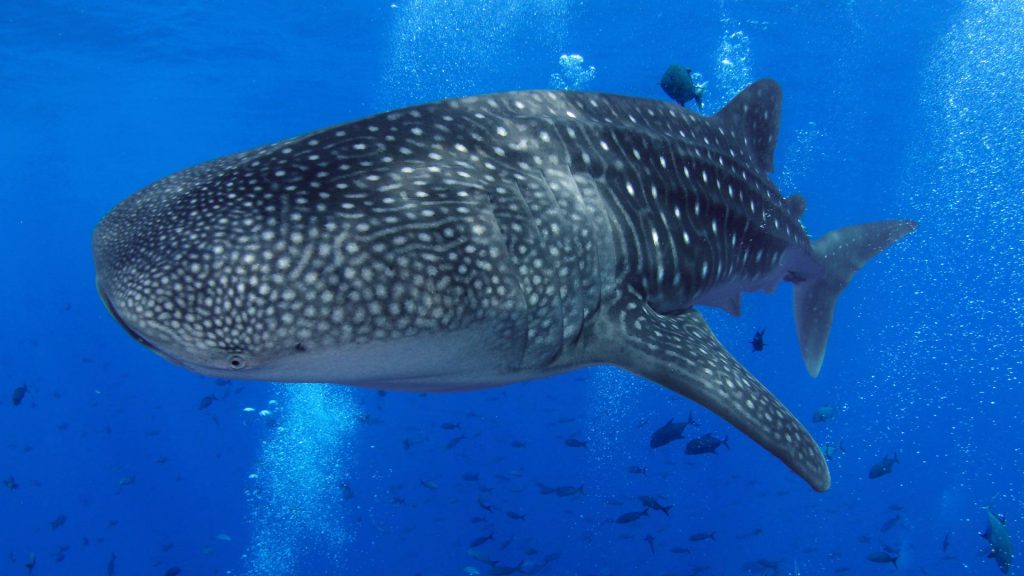 2. Dolphins
Earlier this year Ken Kurtis of ReefSeekers was on a Socorro trip aboard the Nautilus UnderSea, this is his unique dolphin interaction.
The next 10 minutes were some of the most magical ones I've had underwater. I'm convinced this dolphin, roughly 9 feet long, was somehow acclimated to humans. He slowly and methodically made his way around our group while those of us with cameras snapped away. He nibbled on fins, he nuzzled against divers, he went up to take a breath, and then came down to do it all again… Continue Reading

Ken Kurtis, Onboard: Nautilus UnderSea, Socorro, March 11-20, 2022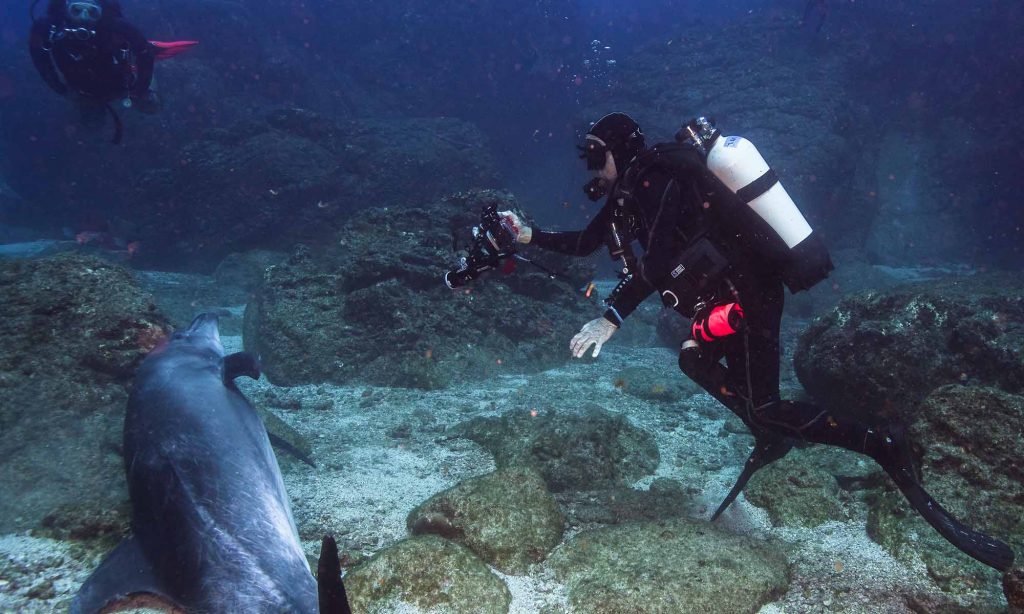 1. The Giant Mantas and Manta Love
We first experienced manta love on our exploratory expedition to Socorro in 1978. It was crazy. How do you begin to describe a 12- to 15-foot manta swimming overhead, and then circling back to look you right in the eye before positioning himself or herself for an intimate encounter. It was crazy. Nobody ashore believed it. We all came home with "manta hand" in those early days, long before Socorro became a national park or a UNESCO World Heritage Site, and long before any other dive boats showed up in the Islas. Through all the ups and downs of illegal fishing and battles with the pirate fisherman, picking huge gill nets off the reefs, setting up aerial patrols and begging for government protection of the archipelago, the giant mantas never stopped loving or trusting us.

"Manta love can be exhausting". Many years ago, when I was a lot younger and a lot skinnier, we were taking a lunch break at El Canyon dive site on the southside of San Benedicto Island when a giant manta appeared on the surface right behind the Nautilus Explorer in that beautiful cobalt blue coloured water. "LET'S GO" I yelled, as I grabbed my mask and fins and jumped in the water along with a handful of guests. That big beautiful female manta immediately swam over to us and looked me straight in the eye. Manta love is all about eye contact and communication and despite being out of breath, I felt calm and relaxed and that I was sending a message of peace and love to the manta (yes, I'm a nutbar when it comes to mantas, sharks and whales and darned proud of it!). She gracefully swam under me and then turned around positioned herself immediately below me making it clear that we were going to do a free dive together. So we did. Not touching her but just drafting along inches above her gliding along on a magic carpet ride until I had to break free and swim to the surface. This gorgeous manta then reappeared right in front of me and hung there, making eye contact before repeating the same maneuver. We did it again and again until I was done and then she immediately swam over to one of our guests and started the whole process all over again. Looking back on it, I am still struck by the peace and intelligence and amazing communication from the manta and also reminded of a puppy in a dog park going from person to person looking for as many head scratches (and treats) as possible. Giant mantas?? Yes. Definitely the #1 reason to visit Socorro with us this fall
– Captain Mike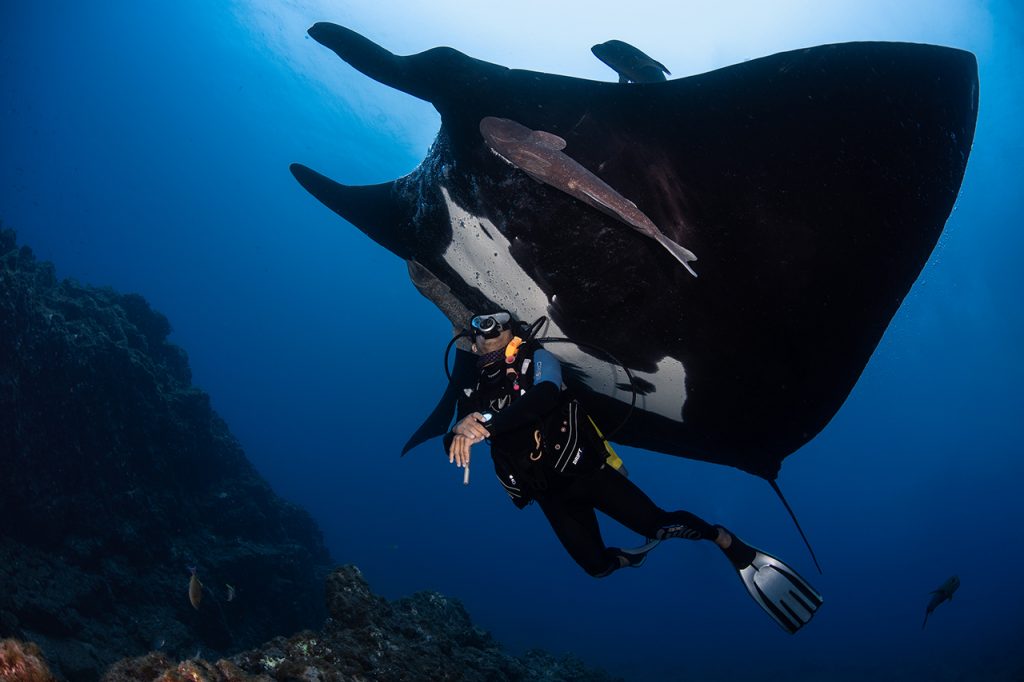 Image & video credits: Allie Vautin, Daniel Versteeg, David Serradell, Adil Schindler, Ken Kurtis, Annie Crawley