Sea sickness is unfair. But for some unlucky ones it is the price to pay to live such amazing experience as a diving cruise on the Nautilus Undersea Hunter. After five days of diving, I can honestly say these were the best ever.
Underwater, the rocks and pinnacles are bursting with life, attracting pelagic animals like magnets. On almost every dive, we encountered friendly giants mantas, massive tunas, and on 3 dives, the biggest fish of the ocean: a whale shark. Some of us were lucky enough to witness the few hours before birth of a baby dolphin, a couple of divers got the privilege to see the healthy baby 4 days later.
The dives were full of surprises and led by very professional dive masters, always as thrilled as the guests underwater, a great sharing experience. On board, the crew is very attentive and aware for every detail. We all share this intimate space in a friendly mood.
Thank you for this unforgettable experience.
– Caroline Schoenfelder, France
---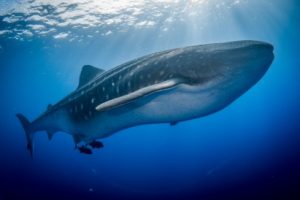 "Thank you for being part of the best dive of my live." Tim from Germany.
Those were his words after we finished our first dive in the morning at Roca Partida. As a dive guide those words hit you, I did not even knew what to say. But that absolutely blew my mind and made me feel incredibly good, a pure boost of energy after his words.
False Killer whales came in the right time and we were in the right spot, over 40 of them pass around us in the hunt for tuna. I heard their noises and I follow it and their noise became stronger and all of a sudden they were in front of us, a side and behind us. we had no current we just had to stay still and enjoy the show.
False killer whales in the search of tuna, massive walls of tunas from all sizes, Galapagos sharks swimming through theses walls of tuna…it's hard to find the words to describe the felling of being on these moments in the real wild world, with really great and authentic people that come here with their best vibes and everything puts together by itself.
Long life to Roca Partida, and thank you forever!