Our route to Guadalupe Island was a bit bumpy and let say this… there were a lot of leftovers for those that were up and about on our crossing! At 22:00, to the relief of many, we anchored in the flat calm water in the north east part of Guadalupe Island in shelter of the 1300 meter high island, protecting us from wind and waves.
A tip for those of you who get seasick: my wife gets extremely seasick and has tried it all, patches, anti-seasickness bracelets, etc, and nothing worked. We have now found out that taking seasickness pills two days before (not just an hour before) your voyage works much better, so that they can get in your system. She was recently able to come out on a 23 day dive safari with me without any seasickness at all. 
Back to Guadalupe. This morning I got up at 5:15 am and two guests were already dressed in their wetsuits! Now that's what I call being eager! It seems like the sharks knew they were waiting as we had our first shark passing by the cages as soon as we opened them. It got better and better during the day, with nonstop sharks until the last divers stepped out of the cages at 17:30.
Martin Graf, who knows all the sharks, spent a lot of time in the cages today, and I heard him say they saw 15-16 different sharks today, including a couple new, non-identified sharks as well as some younger ones. Tonight brings Taco Night on the sundeck, and a sleep and then we will see what day 2 will bring!
–DM Sten the "Vikingo," the Nautilus UnderSea
---
A new trip has started, we have new guests on board the Nautilus Explorer, and we haven't arrived at Guadalupe Island yet. We are all already very excited about what is waiting for us tomorrow morning in the water! Yesterday I got the chance to welcome this group of divers to our hospitality suite at the Best Western Island Palms in San Diego, then we all jumped on "Shredder," the Great White Shark Express luxury coach and started the trip to Ensenada where the Nautilus Explorer was waiting for us.
On the way South we were talking about the great whites, the guests were asking me a lot of questions about diving in Guadalupe and also about wonderful Socorro trips. It was lot of fun and I can tell that everybody in this group is very excited about the sharks! Tomorrow is going to be an awesome day!
–DM Victor, the Nautilus Explorer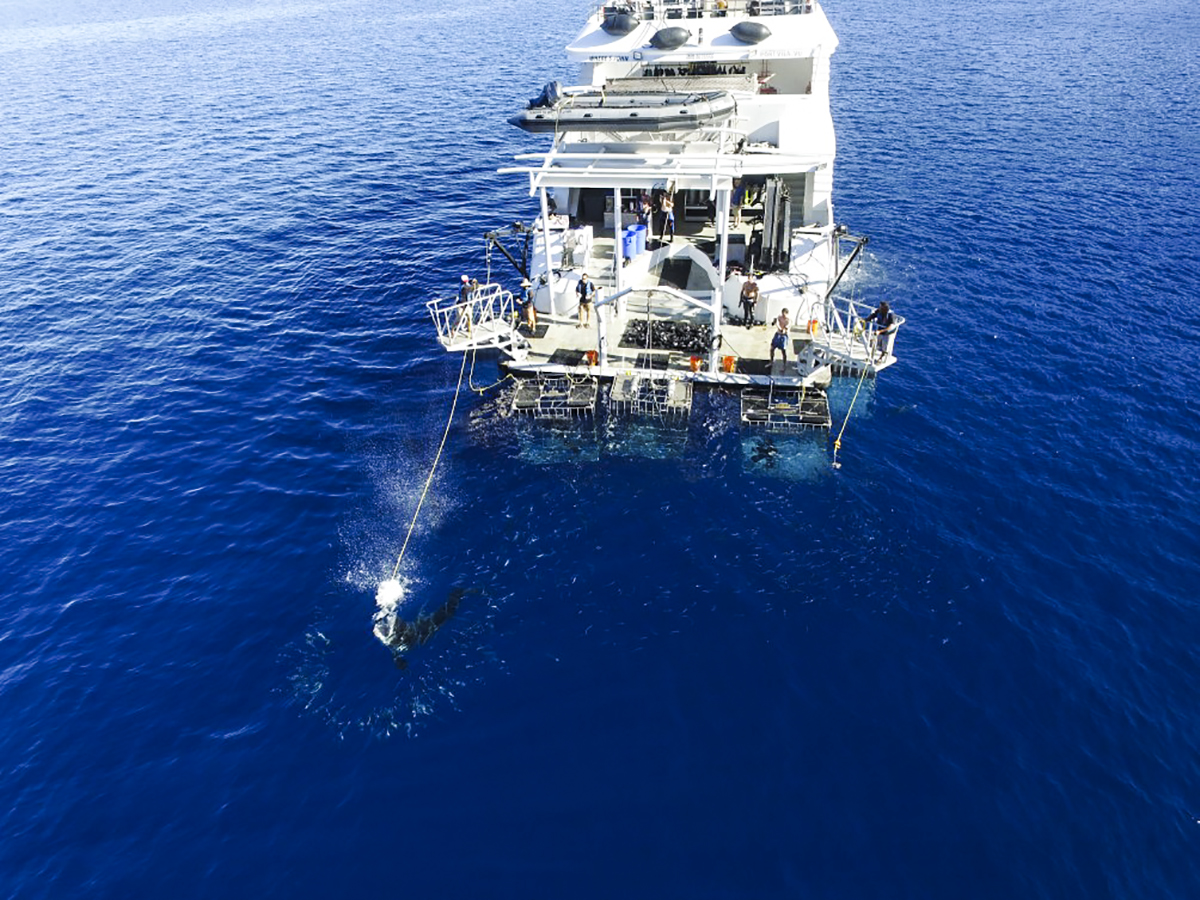 ---
Here we are back at Guadalupe Island. We just finished putting the cages down and our guests are excited to start diving in the cages tomorrow. Some of them will be diving for fist time, and some others have been here many, many times before. We have multiple nationalities on board but only one goal: to see great white sharks! We, as a crew, are having a really great time, working as a team and having fun and learning from each other every day.
–DM Mayo, the Nautilus Explorer
📷 by Louisa Kierman