We have arrived at "The Rock" for our 3rd day of diving. Roca Partida is a spectacle at the moment. The first dive gave us schooling Whitetips (50+ individuals), Silvertips, Galapagos and Scalloped Hammerhead Sharks. A chevron manta which was about 5m across (one of the biggest I've ever seen) played with us for about 10 minutes. A huge school of Bonito Tuna were being chased and hunted by two very large yellowfins, and there were also Black Jacks and Almaco Jacks up from the deep! The Pacific Ocean is almost flat with just a hint of gentle rolling swell, water temperature is 27°C (78°F) and visibility at least 40m with almost no current! Lets what the next dive will bring, there's still three dives to go so it should be another great day.
–DM Martyn, the Nautilus Belle Amie
---
What a beautiful day at the Boiler, this amazing day the manta interaction was so fantastic that the guests and I had goosebumps, it was the closest I have ever seen a manta swimming by the guests. The Boiler had lots of activity with some hammerheads around and a special male chevron manta who hung out over the Monterey Bay Aquarium group. They took some amazing pictures and videos, and of course they will never forget it. It was so much fun that at the end of the day everyone was happy, happy, happy!!
–DM Luis, the Nautilus Explorer
---
It has been a great trip with enthusiastic divers and plenty of marine life. The highlight of the trip was my first tiger shark of the season, which I accidentally ran into while looking for hammerheads at the Boiler yesterday. Today was a bit more relaxed with us doing our deck chores and preparing for the upcoming trip. Divemaster Ari did a really nice slideshow that everyone enjoyed and the lentil and vegetable soup by Chef Steve was top notch. I must admit that I will really miss Chef Steve's style of cooking since he leaves tomorrow and will be replaced by someone else. I am looking forward to the next trip and hopefully the tiger shark shows up again!
–DM Aldo, the Nautilus Explorer
---
On our first dive day, our first dive was a check out dive. It was at El Fondeadero at San Benedicto Island. We were swimming for a while, spotting some whitetip reef sharks, a nice size sting ray but still searching for the big animals when, suddenly, after passing a big pinnacle, we were face to face with a big black manta and a chevron manta. We spent the rest of the dive with them and everyone was so excited and happy.
Our second day at Cabo Pearce. It seems the mantas followed us! It was an incredible dive with no current and mantas, mantas, mantas! There were three of them swimming around us. On our second dive we saw a big tiger shark. When we first saw it I thought it was a baby whale shark, but as it passed by we realized it was a huge tiger shark! Tomorrow we head to the famous Roca Partida, so who knows what kind of encounters we might have! Visibility is 40ft, water temperature is at 77°F with a mild current, overcast sky. Winter is coming around here!
–DM Pedro, the Nautilus Belle Amie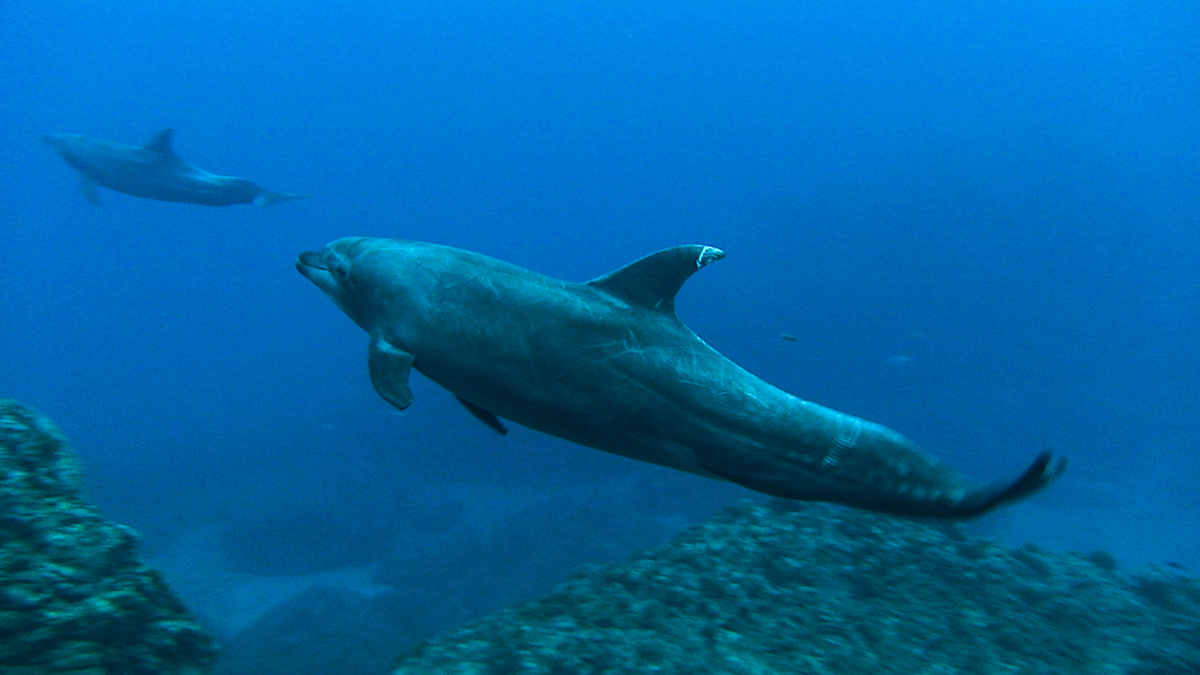 ---
Large schools of Hammerhead sharks and lots of giant mantas. We have also seen dolphins, big schools of fish, large schools of yellowfin tuna at Roca Partida plus wonderful, clear blue visibility which makes me happy!
–DM Juan, the Nautilus Belle Amie
---
Day 4 (2nd day at Roca Partida)
We saw a black manta, two Hammerheads and two massive Silvertips, 6 huge yellowfin Tuna (100kg each) and a school of smaller yellowfin Tuna at the same time! Forget the massive schools of creole fish, Cottonmouth Jacks and Big Eye Trevally and Whitetip reef sharks all around us! As for the other groups, two were near me so saw a similar spectacle of awesome! Group 4 saw 2 Mantas and a school of 20-30 Hammerheads also! All in all happy divers! Still 2 dives to go at the Rock! Bring on the hammers! Visiblity is at 30m and temperatures are at 26°C with a slight current.
– DM Martyn, the Nautilus Belle Amie