So, this was my first liveaboard experience. The Nautilus Belle Amie. Destination: Revillagigedo Archipelago, AKA – The Socorro Islands. WOW! It doesn't get any better than this! Captain TJ greeted us with a smile and is very happy go lucky. He also told us the rules. And yes we did do the fire drill. Safety first. All the staff are amazing and boy do they work hard. They are very friendly. And they took very good care of us in every way. The food was amazing and there was so much of it! Can't say enough about how wonderful they were to us. Plenty of hot water showers, dry towels warm drinks and treats post dives, on the dive deck itself.
The dive staff was knowledgeable. I consider myself a beginner diver and I must admit I was intimidated (okay maybe terrified of diving here). All the divemasters went out of their way to reassure and help me. The diving was unbelievable! Mantas galore and I swear they mimic the divers. They love the bubbles tickling their bellies. I was floating along directly under a mantas belly (thanks to the dive guides help) – close enough to touch it! Then along come the bottlenose dolphins. And they were dancing for us – seriously! A group of them was more cautious when a mamma had her baby with her. We also saw whale sharks, tiger sharks, Galapagos sharks, white tipped sharks, silver tipped sharks, black tipped sharks, sting rays, and eels. Truly an amazing experience with the amazing Nautilus Belle Amie staff.
–Pam Condlyffe, Michigan USA
---
This was our first liveaboard experience as well, and though I would consider this a more advanced diving experience, as a moderately skilled diver, I was taken care of very well, and I never felt uncomfortable. I appreciate that Nautilus considers level of diving experience in their dive groupings. Each group is tailored toward making each diver have a unique and safe experience. The divemasters were very knowledgeable and got to know us throughout the week, and were familiar with any issues that we might have, whether it be buoyancy, air usage, or equipment issues. The divemasters went above and beyond to take care of us.
The purpose of the trip is to see large marine live, such as sharks, giant Manta, and dolphins, plus lots of other marine life. I have seen and learned more on this trip than I was expecting. The marine life is stunning, and the divemasters know how to act with them which makes for a great underwater show.
The crew on the boat were exceptional as well. The service we had was beyond my expectations, the accommodations were excellent and the food was plentiful and professionally prepared. The skiff drivers were extremely helpful, as I was travelling with an injured knee, which made some of the logistics of getting back into the skiff more of a challenge. The guys took good care of getting us out of the water quickly, and made the job much easier for me in that regard, and I truly appreciate it.
Overall, this was one of the most unique, yet challenging diving experiences I have had. I would recommend it to anyone for an amazing experience with giant marine life.
–Roger & Dorothy Bosse, Battle Creek, USA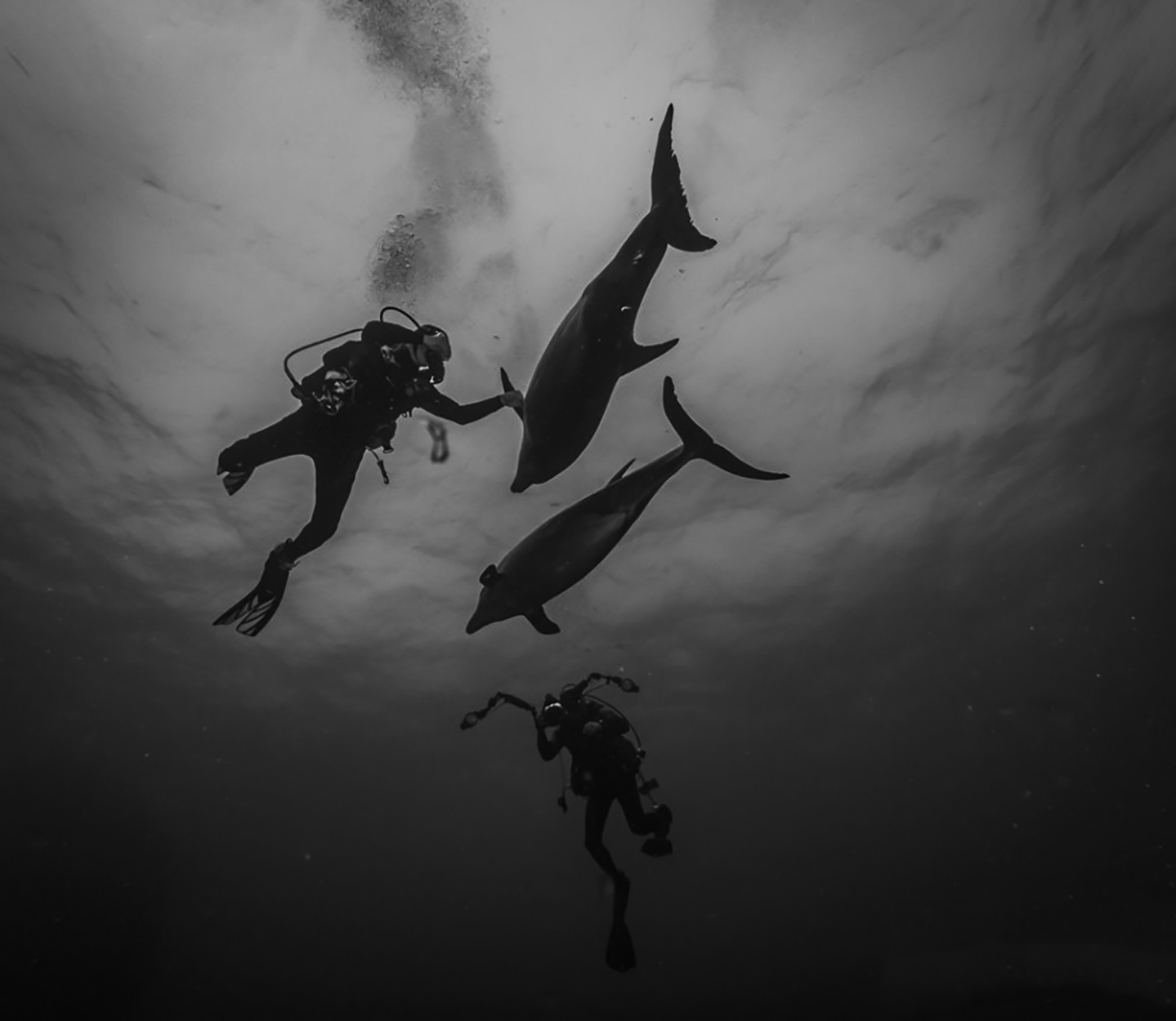 ---
Excelente primer dia, mucha corriente pero bastante diversidad (mantas. tiburones, langostas, morenas, escuelas de peces). La tripulacion te hace sentir como en casa, la comida de Yanis deliciosa y la cordialidad de anna memorable. Ansiosa porque llegue manana.
–Carola, Chile
---
Magnify ! Ce matin, quel spectacle ! Des dauphins, des raies manta, requin marteau, requins pointe blanche, tous etaient au rendez-vous. On est resorti de la plongee, avec de belles images dans les yeux. Wonderful.
–Fabienne, Belgique (Belgium)
---
Day 4 of diving just got underway and we all want to put on the brakes to keep this amazing adventure from ending. I just have to do a huge shout out about the crew headed by Captain Lowell. Everyone is so amazingly efficient, multi-talented and extraordinarily gracious, safety-conscious, kind, professional and full of humor. And in case of a medical issue – they all have emergency response training and are available and glad to treat any ailment (I personally had an issue with a scratched cornea and was able to get treatment and only missed one day diving for which I'm extremely grateful). Our trip includes visitors from Germany, Brazil, New York, Switzerland, Quebec, Austria, Belize, Thailand, Taiwan, Sacramento, Hawaii, Denmark, Italy, South Carolina, and Slovakia – and there is always someone in the crew who can translate if necessary.
AND THE FOOD!!! Dios mio! It's excellent! Our chef, Enrique, can prepare a feast for any diet restriction and is willing to do so. Most meals include plenty of vegetables that you actually want to eat! They have a full bar if you want to participate in cocktail hour, and snacks and sodas available all day long (if you're diving, you can eat the 4 meals a day with snacks and not gain weight – one fav perk!).
Then there are the critters! We have seen hammerheads, false killer whales, a SEA LION, (probably a stow away that ended up on Roca Partida) massively huge yellowfin tuna, humpbacks from the distance. Also massive lobsters, Mobula rays, flounder, four different types of eel, Galapagos, silkies, silver-tip, and white-tip reef sharks (about 30 baby white tips on a ledge and some stuffed in crevices on the wall – interesting nursery architecture) and of course, mantas.
I personally had an encounter with a manta headed right toward me on one Socorro dive on Day 2. I was at about 50ft when she swam down, and as I prayed to my deity that I wouldn't spit out my regulator screaming in awe, she came toward me as 2 other mantas – out of nowhere – joined her and they headed over to say "hola." It was one of those heart stopping moments. But I soon resuscitated and saw my team was quite deeper than I, and I'd best join them. One thing about being hypnotized by these amazing creatures is you do have to wake up and check your depth after screaming your head off like a little girl.
We had a blast of an evening, snorkeling with silky sharks behind the stern of our boat – under, not only a full moon, but a blood red moon! The brave participants were rewarded with a hot toddy consisting of hot chocolate spiked with Baileys and whip cream.
When we aren't underwater (4 dives a day), there are many activities (if one feels they don't need to rest on an adventurous trip such as this) including the option of watching presentations about the animals we're witnessing. There are two deck showers and plenty of hot water for everyone on the whole boat! Zodiac rides have been offered, exploring the beautiful geology of the small islands, or whale (or false killer whale in our case) watching. Mid-deck there is a hot tub available all day – and the top deck has chaise lounges and chairs – a fab place to witness the glorious sunsets and sunrises. Hugs and aloha!
–Lisa Barnes, Kaneohe, Hawaii, USA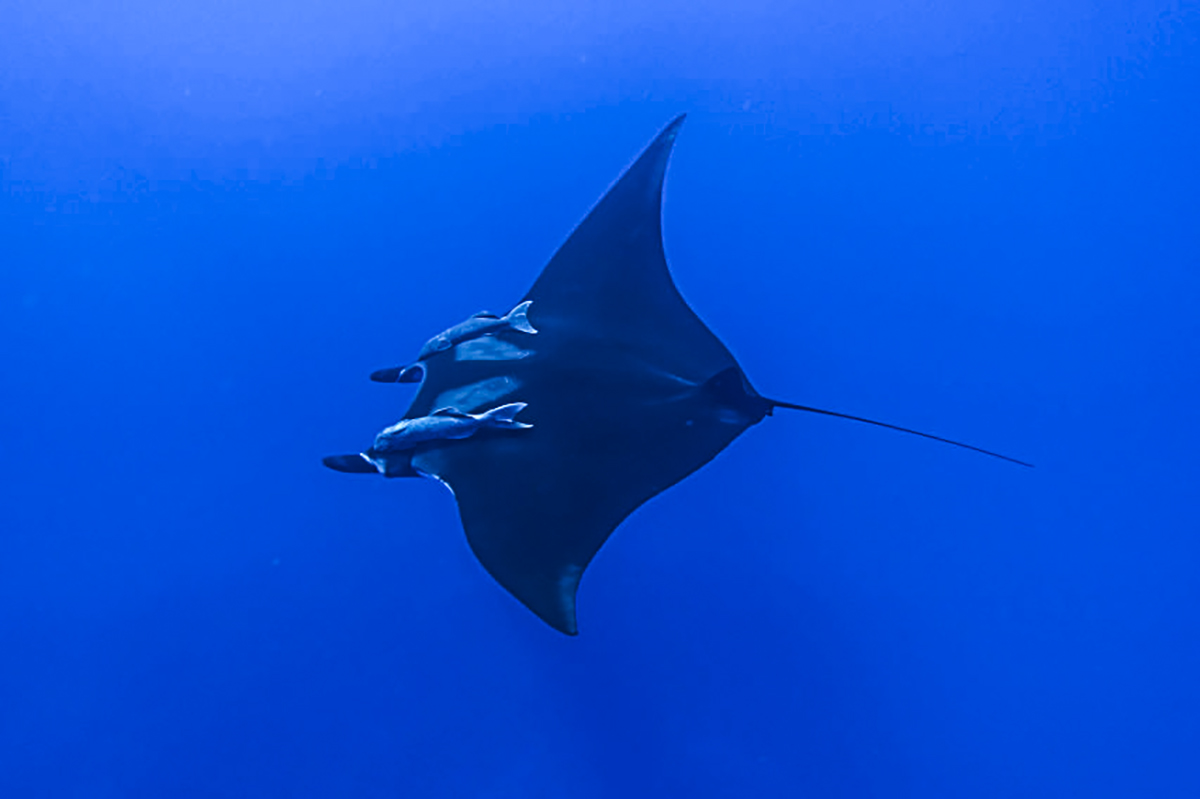 ---
Ejercito de Martillos, Black Mantasss, Chevron Mantasss, Delfinesss y Tiburon Ballena en un mismo buceo. 30 metros visibilidad. Cabo Pearce is on fire. Sin palabras la tripulacion de Nautilus UnderSea, atencion de primera. Ahora entiendo porque Bert y Michaela es su quinta vez en revillagigedo. Se me olvidaba el tiburon tigre.
–Juan, Nicaragua
---
Ein sehr, bewegender, besonderer Platz zum Tauchen. Es hat uns sehr gefallen. Wir fuellten uns verzaubert von all den Fischschwaermen, tanzenden Blackmantas und Chevronmantas, Haikinderstuben in den Hoelen, Hammerhaien in the Blue und flitzenden glaenzenden Tunas!
–Michael & Marina, Germany
---
Hola amigos! Awesome crew and staff, great food, the Captain is a great person, all the guides are 24/7 always trying to find the best dive site for the guest, safety is a is always first, and your dive experience is number one.
–Sonny, Mexico City, Mexico
---
Die Crew der Nautilus ist sehr darum bemueht, dem Taucher das Bestmoegliche zu bieten. Ich habe noch nie eine solch hart arbeitende Crew gesehen. Auch der Captain packt ueberall und staendig mit an! Wir haben schon diverse Giant-Mantas, Hammerhaie, Seidenhaie, Weissspitzenhaie, Silberspitzenhaie und Galapagoshaie gesehen. Ebenfalls schoene grosse Gelbflossentunfische. Ausserdem gestern noch falsche Orcas. Die Mutter mit Kind schwamm direkt unter mir vorbei. Das war ein absolut schoenes Erlebnis. Das Essen auf dem Schiff ist lecker und es ist fuer jeden etwas dabei. Auch das liegen und wieder aufwaermen im Whirlpool ist echt angenehm. Schoene Gruesse,
–Marcel & Ariana
---
My eyes are full of images and overwhelming scenery.
close encounters with playful mammals and gentle giants,
schools of lazy fish,
shadows of powerful hunters in the deep,
electric jellyfish lights,
recently melted rock, now petrified, motionless in the ever moving ocean, in a thousand shades of blue.
My senses are full of silence drawn from the big blue, my body is full of nitrogen, my heart is full of gratitude – being a guest in this big and endless sea. My mind is at peace.
–Kari, Denmark
---
Thank you for the awesome hospitality and an unforgettable honeymoon! This week was perfect! We had great dives, a fantastic crew and very tasty food. We will be returning for sure and can recommend Nautilus to everybody.
–Thomas & Nina,  the Germans on their honeymoon!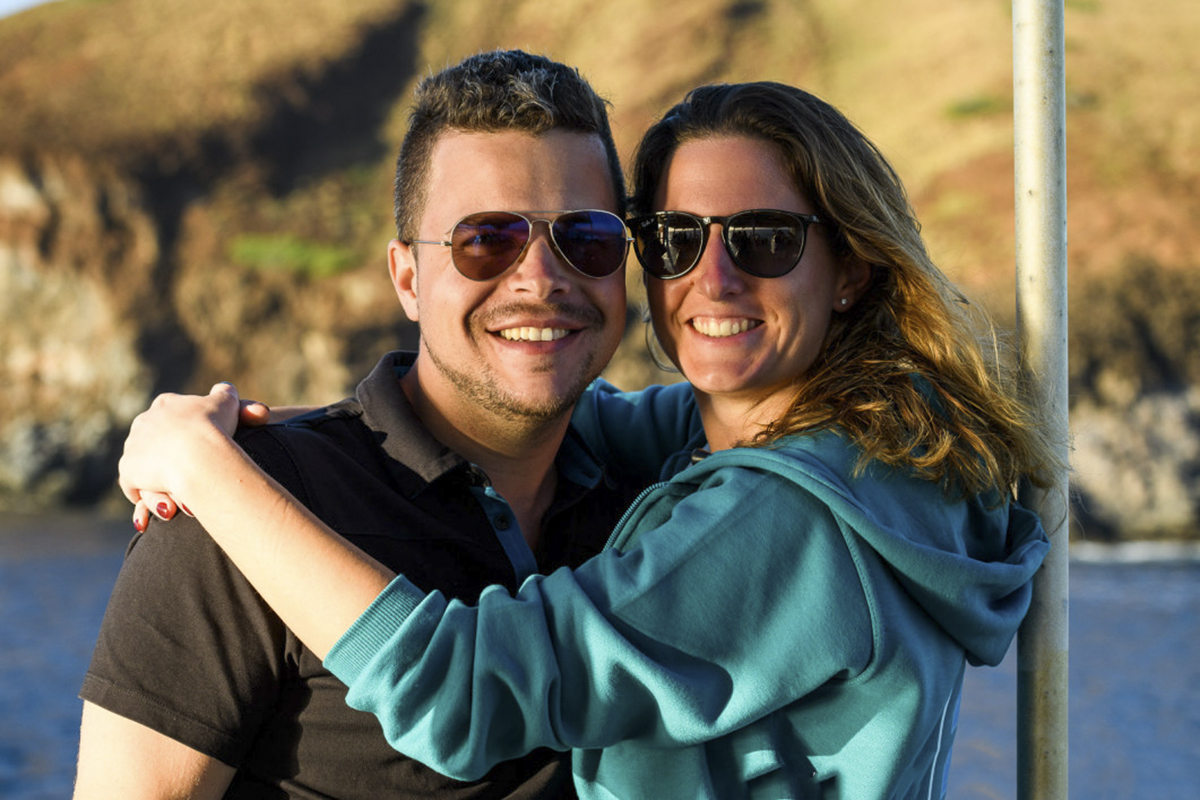 ---
De todas maneras vimos martillos, varios tiburones, algo de mantas y atunes. Nos sorprendieron las ballenas saltando temprano antes de meternos al agua. La tripulacion lo maximo, de verdad han hecho que uno de verdad disfrute en cada momento. Las charlas de Rodolfo sobre el lugar y su biodiversidad muy interesantes y entretenidas, de verdad ayudan mucho a conocer entender lo que uno ve debajo del agua. Inolvidable viaje!!
–Macaco, Chile
---
My 3rd trip to the Revillagigedos and it never disappoints. Dolphins, mantas, sharks, and it's only Day 1! Amazing crew and operation as always!
–Boogs Rosales, Philippines
---
Letzter Tauchtag: rein ins Wasser und gleich die erste Manta, und gleich danach die Zweite und die Dritte usw. So viele Mantas, da reichten die Finger nicht, die zu zaelen! Sie kreisten um uns herum, genossen die Luftblasen wie im Wirlpool und praesentierten sich von allen Seiten.
Vielen lieben Dank an die Guids Pablo, Iwan, Rodolfo und all The Crew, sie alle haben uns so gluecklich gemacht!
–Marina & Michael, Germany
---
Thanks Ivan for taking us all around this amazing dive site for four unforgettable dives on full moon where all the marine life the Revillagigedos have to offer showed up, just to name a few animals that invited us to share a bit of their life: elusive hammerheads, playful dolphins, friendly and graceful mantas, an adorable whale shark and even a majestic tiger shark joined us to celebrate our love of the Ocean.
–Anne, Reunion Island
---
Wenn du leidenschaftlicher Taucher bist, magst Grossfisch und du kommst nach Socoro und die umliegenden Inseln, du wirst begeistert sein! Wir haben bei nur einem Tauchgang viele Ozean Mantas, Hammerhead Haie, viele andere Haiarten, mit uns und Mantas spielende Delfine erlebt und nicht zu vergesssen den Walhai, der sehr an uns interessirt war und praesentierte sich wie ein Model. Komme nach Socorro und erlebe die unvergessliche Zeit mit der netten Leuten, die das gleiche Hobby haben wie du. Die Crew von Nautilius UnderSea wird dich verwoenen und deine Wuensche erfuellen! Bist du Vegetarier oder benoetigst glutenfreie Ernaehrung unser Koch Janis beachtet das und versorgt dich mit leckerem Essen. Es ist offener Ozean, bedenke, dass es schaukelt, gegen die Seekrankheit gibts am Bord Tabletten. Oder man besorgt sich gleich Stugeron Tabletten. Ist die Luft beim Tauchen schnell alle bekommst du fuers naechste Mal von Pablo eine extra Portion mehr. Frierst du nach dem Tauchen einwenig, kein Problem, der Heisse Whirpool am Sonnendeck wartet auf dich. Und die nette Anne hat immer heisse und kalte Getraenke parat. Das Bad , die Toilette, die Betten sind sehr komfortabel. Die Praesentationen von Rodolfo sind so mitreissend und faszinierend, man will nur mehr davon! Das Leben in unseren Meeren zu schuetzen muss das Moto aller Menschen werden!
–Michael & Marina, Germany